{"id":5610632872091,"title":"Women's summer spring breathable lightweight leisure air cushion sneakers thick soles","handle":"140119-womens-summer-spring-breathable-lightweight-leisure-air-cushion-sneakers-thick-soles","description":"\u003cdiv\u003e1. Lightweight and breathable mesh upper make the walking shoes wear more comfortable.\u003cbr\u003e2. Walking sneakers with nonslip MD soles provide flexibility, durability, and traction.\u003cbr\u003e3. Slip-on tennis shoes with back pull-tab which is convenient for you to put on and take off.\u003cbr\u003e4. Cushioning insole makes you wear athletic shoes more comfort and safety.\u003c\/div\u003e\n\u003cdiv\u003e\u003c\/div\u003e\n\u003cdiv\u003e\n\u003cdiv\u003e\u003cstrong\u003e\u003cspan\u003eProduct Parameters\u003c\/span\u003e\u003c\/strong\u003e\u003c\/div\u003e\n\u003cdiv\u003eToe Shape: Round-Toe\u003c\/div\u003e\n\u003cdiv\u003eOccasion: Casual, Party, Sport, Travel\u003c\/div\u003e\n\u003cdiv\u003eOutsole Material: Rubber\u003c\/div\u003e\n\u003cdiv\u003eHeel height: Low Heels£¨1-3cm£©\u003c\/div\u003e\n\u003cdiv\u003eShoe Width: Medium\u003c\/div\u003e\n\u003cdiv\u003eSeason: Spring, Summer, Autumn, Winter\u003c\/div\u003e\n\u003cdiv\u003eSole Hardness: Hard\u003c\/div\u003e\n\u003cdiv\u003e\u003c\/div\u003e\n\u003cdiv\u003e\u003cimg alt=\"\" src=\"https:\/\/cdn.shopifycdn.net\/s\/files\/1\/0451\/8520\/4379\/files\/womens-shoe-size-conversion-2020090802.jpg?v=1599529686\"\u003e\u003c\/div\u003e\n\u003c\/div\u003e\n\u003cp\u003e\u003cspan style=\"font-size: 12px;\"\u003e1.Please select a suitable size depending on your foot length;\u003c\/span\u003e\u003c\/p\u003e\n\u003cp\u003e\u003cspan style=\"font-size: 12px;\"\u003e2.Once you know your foot length, consult the Size Chart to determine which size you should purchase;\u003c\/span\u003e\u003c\/p\u003e\n\u003cdiv\u003e\u003cstrong\u003e\u003cspan style=\"color: #ff0000;\"\u003e\u003c\/span\u003e\u003c\/strong\u003e\u003c\/div\u003e","published_at":"2020-09-15T20:31:53-07:00","created_at":"2020-09-15T20:32:21-07:00","vendor":"mysite","type":"Women Shoes","tags":["Sneakers"],"price":3599,"price_min":3599,"price_max":3599,"available":true,"price_varies":false,"compare_at_price":4679,"compare_at_price_min":4679,"compare_at_price_max":4679,"compare_at_price_varies":false,"variants":[{"id":35976701870235,"title":"Black \/ US 5","option1":"Black","option2":"US 5","option3":null,"sku":"D09180451","requires_shipping":true,"taxable":true,"featured_image":{"id":19104033964187,"product_id":5610632872091,"position":23,"created_at":"2020-09-15T20:32:22-07:00","updated_at":"2020-09-15T20:32:22-07:00","alt":null,"width":800,"height":800,"src":"https:\/\/cdn.shopify.com\/s\/files\/1\/0451\/8520\/4379\/products\/201912201576811458226405358479022374912.jpg?v=1600227142","variant_ids":[35976701870235,35976701903003,35976701935771,35976701968539,35976702001307,35976702034075,35976702066843,35976702099611]},"available":true,"name":"Women's summer spring breathable lightweight leisure air cushion sneakers thick soles - Black \/ US 5","public_title":"Black \/ US 5","options":["Black","US 5"],"price":3599,"weight":0,"compare_at_price":4679,"inventory_management":"shopify","barcode":null,"featured_media":{"alt":null,"id":11279012593819,"position":23,"preview_image":{"aspect_ratio":1.0,"height":800,"width":800,"src":"https:\/\/cdn.shopify.com\/s\/files\/1\/0451\/8520\/4379\/products\/201912201576811458226405358479022374912.jpg?v=1600227142"}},"requires_selling_plan":false,"selling_plan_allocations":[]},{"id":35976701903003,"title":"Black \/ US 6","option1":"Black","option2":"US 6","option3":null,"sku":"D09180452","requires_shipping":true,"taxable":true,"featured_image":{"id":19104033964187,"product_id":5610632872091,"position":23,"created_at":"2020-09-15T20:32:22-07:00","updated_at":"2020-09-15T20:32:22-07:00","alt":null,"width":800,"height":800,"src":"https:\/\/cdn.shopify.com\/s\/files\/1\/0451\/8520\/4379\/products\/201912201576811458226405358479022374912.jpg?v=1600227142","variant_ids":[35976701870235,35976701903003,35976701935771,35976701968539,35976702001307,35976702034075,35976702066843,35976702099611]},"available":true,"name":"Women's summer spring breathable lightweight leisure air cushion sneakers thick soles - Black \/ US 6","public_title":"Black \/ US 6","options":["Black","US 6"],"price":3599,"weight":0,"compare_at_price":4679,"inventory_management":"shopify","barcode":null,"featured_media":{"alt":null,"id":11279012593819,"position":23,"preview_image":{"aspect_ratio":1.0,"height":800,"width":800,"src":"https:\/\/cdn.shopify.com\/s\/files\/1\/0451\/8520\/4379\/products\/201912201576811458226405358479022374912.jpg?v=1600227142"}},"requires_selling_plan":false,"selling_plan_allocations":[]},{"id":35976701935771,"title":"Black \/ US 7","option1":"Black","option2":"US 7","option3":null,"sku":"D09180453","requires_shipping":true,"taxable":true,"featured_image":{"id":19104033964187,"product_id":5610632872091,"position":23,"created_at":"2020-09-15T20:32:22-07:00","updated_at":"2020-09-15T20:32:22-07:00","alt":null,"width":800,"height":800,"src":"https:\/\/cdn.shopify.com\/s\/files\/1\/0451\/8520\/4379\/products\/201912201576811458226405358479022374912.jpg?v=1600227142","variant_ids":[35976701870235,35976701903003,35976701935771,35976701968539,35976702001307,35976702034075,35976702066843,35976702099611]},"available":true,"name":"Women's summer spring breathable lightweight leisure air cushion sneakers thick soles - Black \/ US 7","public_title":"Black \/ US 7","options":["Black","US 7"],"price":3599,"weight":0,"compare_at_price":4679,"inventory_management":"shopify","barcode":null,"featured_media":{"alt":null,"id":11279012593819,"position":23,"preview_image":{"aspect_ratio":1.0,"height":800,"width":800,"src":"https:\/\/cdn.shopify.com\/s\/files\/1\/0451\/8520\/4379\/products\/201912201576811458226405358479022374912.jpg?v=1600227142"}},"requires_selling_plan":false,"selling_plan_allocations":[]},{"id":35976701968539,"title":"Black \/ US 8","option1":"Black","option2":"US 8","option3":null,"sku":"D09180454","requires_shipping":true,"taxable":true,"featured_image":{"id":19104033964187,"product_id":5610632872091,"position":23,"created_at":"2020-09-15T20:32:22-07:00","updated_at":"2020-09-15T20:32:22-07:00","alt":null,"width":800,"height":800,"src":"https:\/\/cdn.shopify.com\/s\/files\/1\/0451\/8520\/4379\/products\/201912201576811458226405358479022374912.jpg?v=1600227142","variant_ids":[35976701870235,35976701903003,35976701935771,35976701968539,35976702001307,35976702034075,35976702066843,35976702099611]},"available":true,"name":"Women's summer spring breathable lightweight leisure air cushion sneakers thick soles - Black \/ US 8","public_title":"Black \/ US 8","options":["Black","US 8"],"price":3599,"weight":0,"compare_at_price":4679,"inventory_management":"shopify","barcode":null,"featured_media":{"alt":null,"id":11279012593819,"position":23,"preview_image":{"aspect_ratio":1.0,"height":800,"width":800,"src":"https:\/\/cdn.shopify.com\/s\/files\/1\/0451\/8520\/4379\/products\/201912201576811458226405358479022374912.jpg?v=1600227142"}},"requires_selling_plan":false,"selling_plan_allocations":[]},{"id":35976702001307,"title":"Black \/ US 9","option1":"Black","option2":"US 9","option3":null,"sku":"D09180455","requires_shipping":true,"taxable":true,"featured_image":{"id":19104033964187,"product_id":5610632872091,"position":23,"created_at":"2020-09-15T20:32:22-07:00","updated_at":"2020-09-15T20:32:22-07:00","alt":null,"width":800,"height":800,"src":"https:\/\/cdn.shopify.com\/s\/files\/1\/0451\/8520\/4379\/products\/201912201576811458226405358479022374912.jpg?v=1600227142","variant_ids":[35976701870235,35976701903003,35976701935771,35976701968539,35976702001307,35976702034075,35976702066843,35976702099611]},"available":true,"name":"Women's summer spring breathable lightweight leisure air cushion sneakers thick soles - Black \/ US 9","public_title":"Black \/ US 9","options":["Black","US 9"],"price":3599,"weight":0,"compare_at_price":4679,"inventory_management":"shopify","barcode":null,"featured_media":{"alt":null,"id":11279012593819,"position":23,"preview_image":{"aspect_ratio":1.0,"height":800,"width":800,"src":"https:\/\/cdn.shopify.com\/s\/files\/1\/0451\/8520\/4379\/products\/201912201576811458226405358479022374912.jpg?v=1600227142"}},"requires_selling_plan":false,"selling_plan_allocations":[]},{"id":35976702034075,"title":"Black \/ US 10","option1":"Black","option2":"US 10","option3":null,"sku":"D09180456","requires_shipping":true,"taxable":true,"featured_image":{"id":19104033964187,"product_id":5610632872091,"position":23,"created_at":"2020-09-15T20:32:22-07:00","updated_at":"2020-09-15T20:32:22-07:00","alt":null,"width":800,"height":800,"src":"https:\/\/cdn.shopify.com\/s\/files\/1\/0451\/8520\/4379\/products\/201912201576811458226405358479022374912.jpg?v=1600227142","variant_ids":[35976701870235,35976701903003,35976701935771,35976701968539,35976702001307,35976702034075,35976702066843,35976702099611]},"available":true,"name":"Women's summer spring breathable lightweight leisure air cushion sneakers thick soles - Black \/ US 10","public_title":"Black \/ US 10","options":["Black","US 10"],"price":3599,"weight":0,"compare_at_price":4679,"inventory_management":"shopify","barcode":null,"featured_media":{"alt":null,"id":11279012593819,"position":23,"preview_image":{"aspect_ratio":1.0,"height":800,"width":800,"src":"https:\/\/cdn.shopify.com\/s\/files\/1\/0451\/8520\/4379\/products\/201912201576811458226405358479022374912.jpg?v=1600227142"}},"requires_selling_plan":false,"selling_plan_allocations":[]},{"id":35976702066843,"title":"Black \/ US 11","option1":"Black","option2":"US 11","option3":null,"sku":"D09180457","requires_shipping":true,"taxable":true,"featured_image":{"id":19104033964187,"product_id":5610632872091,"position":23,"created_at":"2020-09-15T20:32:22-07:00","updated_at":"2020-09-15T20:32:22-07:00","alt":null,"width":800,"height":800,"src":"https:\/\/cdn.shopify.com\/s\/files\/1\/0451\/8520\/4379\/products\/201912201576811458226405358479022374912.jpg?v=1600227142","variant_ids":[35976701870235,35976701903003,35976701935771,35976701968539,35976702001307,35976702034075,35976702066843,35976702099611]},"available":true,"name":"Women's summer spring breathable lightweight leisure air cushion sneakers thick soles - Black \/ US 11","public_title":"Black \/ US 11","options":["Black","US 11"],"price":3599,"weight":0,"compare_at_price":4679,"inventory_management":"shopify","barcode":null,"featured_media":{"alt":null,"id":11279012593819,"position":23,"preview_image":{"aspect_ratio":1.0,"height":800,"width":800,"src":"https:\/\/cdn.shopify.com\/s\/files\/1\/0451\/8520\/4379\/products\/201912201576811458226405358479022374912.jpg?v=1600227142"}},"requires_selling_plan":false,"selling_plan_allocations":[]},{"id":35976702099611,"title":"Black \/ US 12","option1":"Black","option2":"US 12","option3":null,"sku":"D09180458","requires_shipping":true,"taxable":true,"featured_image":{"id":19104033964187,"product_id":5610632872091,"position":23,"created_at":"2020-09-15T20:32:22-07:00","updated_at":"2020-09-15T20:32:22-07:00","alt":null,"width":800,"height":800,"src":"https:\/\/cdn.shopify.com\/s\/files\/1\/0451\/8520\/4379\/products\/201912201576811458226405358479022374912.jpg?v=1600227142","variant_ids":[35976701870235,35976701903003,35976701935771,35976701968539,35976702001307,35976702034075,35976702066843,35976702099611]},"available":true,"name":"Women's summer spring breathable lightweight leisure air cushion sneakers thick soles - Black \/ US 12","public_title":"Black \/ US 12","options":["Black","US 12"],"price":3599,"weight":0,"compare_at_price":4679,"inventory_management":"shopify","barcode":null,"featured_media":{"alt":null,"id":11279012593819,"position":23,"preview_image":{"aspect_ratio":1.0,"height":800,"width":800,"src":"https:\/\/cdn.shopify.com\/s\/files\/1\/0451\/8520\/4379\/products\/201912201576811458226405358479022374912.jpg?v=1600227142"}},"requires_selling_plan":false,"selling_plan_allocations":[]},{"id":35976702132379,"title":"Dark Gray \/ US 5","option1":"Dark Gray","option2":"US 5","option3":null,"sku":"D09180459","requires_shipping":true,"taxable":true,"featured_image":{"id":19104034029723,"product_id":5610632872091,"position":24,"created_at":"2020-09-15T20:32:22-07:00","updated_at":"2020-09-15T20:32:22-07:00","alt":null,"width":800,"height":800,"src":"https:\/\/cdn.shopify.com\/s\/files\/1\/0451\/8520\/4379\/products\/201912201576811460103405358486895083520.jpg?v=1600227142","variant_ids":[35976702132379,35976702165147,35976702197915,35976702230683,35976702263451,35976702296219,35976702328987,35976702361755]},"available":true,"name":"Women's summer spring breathable lightweight leisure air cushion sneakers thick soles - Dark Gray \/ US 5","public_title":"Dark Gray \/ US 5","options":["Dark Gray","US 5"],"price":3599,"weight":0,"compare_at_price":4679,"inventory_management":"shopify","barcode":null,"featured_media":{"alt":null,"id":11279012626587,"position":24,"preview_image":{"aspect_ratio":1.0,"height":800,"width":800,"src":"https:\/\/cdn.shopify.com\/s\/files\/1\/0451\/8520\/4379\/products\/201912201576811460103405358486895083520.jpg?v=1600227142"}},"requires_selling_plan":false,"selling_plan_allocations":[]},{"id":35976702165147,"title":"Dark Gray \/ US 6","option1":"Dark Gray","option2":"US 6","option3":null,"sku":"D09180460","requires_shipping":true,"taxable":true,"featured_image":{"id":19104034029723,"product_id":5610632872091,"position":24,"created_at":"2020-09-15T20:32:22-07:00","updated_at":"2020-09-15T20:32:22-07:00","alt":null,"width":800,"height":800,"src":"https:\/\/cdn.shopify.com\/s\/files\/1\/0451\/8520\/4379\/products\/201912201576811460103405358486895083520.jpg?v=1600227142","variant_ids":[35976702132379,35976702165147,35976702197915,35976702230683,35976702263451,35976702296219,35976702328987,35976702361755]},"available":true,"name":"Women's summer spring breathable lightweight leisure air cushion sneakers thick soles - Dark Gray \/ US 6","public_title":"Dark Gray \/ US 6","options":["Dark Gray","US 6"],"price":3599,"weight":0,"compare_at_price":4679,"inventory_management":"shopify","barcode":null,"featured_media":{"alt":null,"id":11279012626587,"position":24,"preview_image":{"aspect_ratio":1.0,"height":800,"width":800,"src":"https:\/\/cdn.shopify.com\/s\/files\/1\/0451\/8520\/4379\/products\/201912201576811460103405358486895083520.jpg?v=1600227142"}},"requires_selling_plan":false,"selling_plan_allocations":[]},{"id":35976702197915,"title":"Dark Gray \/ US 7","option1":"Dark Gray","option2":"US 7","option3":null,"sku":"D09180461","requires_shipping":true,"taxable":true,"featured_image":{"id":19104034029723,"product_id":5610632872091,"position":24,"created_at":"2020-09-15T20:32:22-07:00","updated_at":"2020-09-15T20:32:22-07:00","alt":null,"width":800,"height":800,"src":"https:\/\/cdn.shopify.com\/s\/files\/1\/0451\/8520\/4379\/products\/201912201576811460103405358486895083520.jpg?v=1600227142","variant_ids":[35976702132379,35976702165147,35976702197915,35976702230683,35976702263451,35976702296219,35976702328987,35976702361755]},"available":true,"name":"Women's summer spring breathable lightweight leisure air cushion sneakers thick soles - Dark Gray \/ US 7","public_title":"Dark Gray \/ US 7","options":["Dark Gray","US 7"],"price":3599,"weight":0,"compare_at_price":4679,"inventory_management":"shopify","barcode":null,"featured_media":{"alt":null,"id":11279012626587,"position":24,"preview_image":{"aspect_ratio":1.0,"height":800,"width":800,"src":"https:\/\/cdn.shopify.com\/s\/files\/1\/0451\/8520\/4379\/products\/201912201576811460103405358486895083520.jpg?v=1600227142"}},"requires_selling_plan":false,"selling_plan_allocations":[]},{"id":35976702230683,"title":"Dark Gray \/ US 8","option1":"Dark Gray","option2":"US 8","option3":null,"sku":"D09180462","requires_shipping":true,"taxable":true,"featured_image":{"id":19104034029723,"product_id":5610632872091,"position":24,"created_at":"2020-09-15T20:32:22-07:00","updated_at":"2020-09-15T20:32:22-07:00","alt":null,"width":800,"height":800,"src":"https:\/\/cdn.shopify.com\/s\/files\/1\/0451\/8520\/4379\/products\/201912201576811460103405358486895083520.jpg?v=1600227142","variant_ids":[35976702132379,35976702165147,35976702197915,35976702230683,35976702263451,35976702296219,35976702328987,35976702361755]},"available":true,"name":"Women's summer spring breathable lightweight leisure air cushion sneakers thick soles - Dark Gray \/ US 8","public_title":"Dark Gray \/ US 8","options":["Dark Gray","US 8"],"price":3599,"weight":0,"compare_at_price":4679,"inventory_management":"shopify","barcode":null,"featured_media":{"alt":null,"id":11279012626587,"position":24,"preview_image":{"aspect_ratio":1.0,"height":800,"width":800,"src":"https:\/\/cdn.shopify.com\/s\/files\/1\/0451\/8520\/4379\/products\/201912201576811460103405358486895083520.jpg?v=1600227142"}},"requires_selling_plan":false,"selling_plan_allocations":[]},{"id":35976702263451,"title":"Dark Gray \/ US 9","option1":"Dark Gray","option2":"US 9","option3":null,"sku":"D09180463","requires_shipping":true,"taxable":true,"featured_image":{"id":19104034029723,"product_id":5610632872091,"position":24,"created_at":"2020-09-15T20:32:22-07:00","updated_at":"2020-09-15T20:32:22-07:00","alt":null,"width":800,"height":800,"src":"https:\/\/cdn.shopify.com\/s\/files\/1\/0451\/8520\/4379\/products\/201912201576811460103405358486895083520.jpg?v=1600227142","variant_ids":[35976702132379,35976702165147,35976702197915,35976702230683,35976702263451,35976702296219,35976702328987,35976702361755]},"available":true,"name":"Women's summer spring breathable lightweight leisure air cushion sneakers thick soles - Dark Gray \/ US 9","public_title":"Dark Gray \/ US 9","options":["Dark Gray","US 9"],"price":3599,"weight":0,"compare_at_price":4679,"inventory_management":"shopify","barcode":null,"featured_media":{"alt":null,"id":11279012626587,"position":24,"preview_image":{"aspect_ratio":1.0,"height":800,"width":800,"src":"https:\/\/cdn.shopify.com\/s\/files\/1\/0451\/8520\/4379\/products\/201912201576811460103405358486895083520.jpg?v=1600227142"}},"requires_selling_plan":false,"selling_plan_allocations":[]},{"id":35976702296219,"title":"Dark Gray \/ US 10","option1":"Dark Gray","option2":"US 10","option3":null,"sku":"D09180464","requires_shipping":true,"taxable":true,"featured_image":{"id":19104034029723,"product_id":5610632872091,"position":24,"created_at":"2020-09-15T20:32:22-07:00","updated_at":"2020-09-15T20:32:22-07:00","alt":null,"width":800,"height":800,"src":"https:\/\/cdn.shopify.com\/s\/files\/1\/0451\/8520\/4379\/products\/201912201576811460103405358486895083520.jpg?v=1600227142","variant_ids":[35976702132379,35976702165147,35976702197915,35976702230683,35976702263451,35976702296219,35976702328987,35976702361755]},"available":true,"name":"Women's summer spring breathable lightweight leisure air cushion sneakers thick soles - Dark Gray \/ US 10","public_title":"Dark Gray \/ US 10","options":["Dark Gray","US 10"],"price":3599,"weight":0,"compare_at_price":4679,"inventory_management":"shopify","barcode":null,"featured_media":{"alt":null,"id":11279012626587,"position":24,"preview_image":{"aspect_ratio":1.0,"height":800,"width":800,"src":"https:\/\/cdn.shopify.com\/s\/files\/1\/0451\/8520\/4379\/products\/201912201576811460103405358486895083520.jpg?v=1600227142"}},"requires_selling_plan":false,"selling_plan_allocations":[]},{"id":35976702328987,"title":"Dark Gray \/ US 11","option1":"Dark Gray","option2":"US 11","option3":null,"sku":"D09180465","requires_shipping":true,"taxable":true,"featured_image":{"id":19104034029723,"product_id":5610632872091,"position":24,"created_at":"2020-09-15T20:32:22-07:00","updated_at":"2020-09-15T20:32:22-07:00","alt":null,"width":800,"height":800,"src":"https:\/\/cdn.shopify.com\/s\/files\/1\/0451\/8520\/4379\/products\/201912201576811460103405358486895083520.jpg?v=1600227142","variant_ids":[35976702132379,35976702165147,35976702197915,35976702230683,35976702263451,35976702296219,35976702328987,35976702361755]},"available":true,"name":"Women's summer spring breathable lightweight leisure air cushion sneakers thick soles - Dark Gray \/ US 11","public_title":"Dark Gray \/ US 11","options":["Dark Gray","US 11"],"price":3599,"weight":0,"compare_at_price":4679,"inventory_management":"shopify","barcode":null,"featured_media":{"alt":null,"id":11279012626587,"position":24,"preview_image":{"aspect_ratio":1.0,"height":800,"width":800,"src":"https:\/\/cdn.shopify.com\/s\/files\/1\/0451\/8520\/4379\/products\/201912201576811460103405358486895083520.jpg?v=1600227142"}},"requires_selling_plan":false,"selling_plan_allocations":[]},{"id":35976702361755,"title":"Dark Gray \/ US 12","option1":"Dark Gray","option2":"US 12","option3":null,"sku":"D09180466","requires_shipping":true,"taxable":true,"featured_image":{"id":19104034029723,"product_id":5610632872091,"position":24,"created_at":"2020-09-15T20:32:22-07:00","updated_at":"2020-09-15T20:32:22-07:00","alt":null,"width":800,"height":800,"src":"https:\/\/cdn.shopify.com\/s\/files\/1\/0451\/8520\/4379\/products\/201912201576811460103405358486895083520.jpg?v=1600227142","variant_ids":[35976702132379,35976702165147,35976702197915,35976702230683,35976702263451,35976702296219,35976702328987,35976702361755]},"available":true,"name":"Women's summer spring breathable lightweight leisure air cushion sneakers thick soles - Dark Gray \/ US 12","public_title":"Dark Gray \/ US 12","options":["Dark Gray","US 12"],"price":3599,"weight":0,"compare_at_price":4679,"inventory_management":"shopify","barcode":null,"featured_media":{"alt":null,"id":11279012626587,"position":24,"preview_image":{"aspect_ratio":1.0,"height":800,"width":800,"src":"https:\/\/cdn.shopify.com\/s\/files\/1\/0451\/8520\/4379\/products\/201912201576811460103405358486895083520.jpg?v=1600227142"}},"requires_selling_plan":false,"selling_plan_allocations":[]},{"id":35976702394523,"title":"Black Purple \/ US 5","option1":"Black Purple","option2":"US 5","option3":null,"sku":"D09180467","requires_shipping":true,"taxable":true,"featured_image":{"id":19104034095259,"product_id":5610632872091,"position":25,"created_at":"2020-09-15T20:32:22-07:00","updated_at":"2020-09-15T20:32:22-07:00","alt":null,"width":800,"height":800,"src":"https:\/\/cdn.shopify.com\/s\/files\/1\/0451\/8520\/4379\/products\/201912201576811461717405358493664690176.jpg?v=1600227142","variant_ids":[35976702394523,35976702427291,35976702460059,35976702492827,35976702525595,35976702558363,35976702591131,35976702623899]},"available":true,"name":"Women's summer spring breathable lightweight leisure air cushion sneakers thick soles - Black Purple \/ US 5","public_title":"Black Purple \/ US 5","options":["Black Purple","US 5"],"price":3599,"weight":0,"compare_at_price":4679,"inventory_management":"shopify","barcode":null,"featured_media":{"alt":null,"id":11279012659355,"position":25,"preview_image":{"aspect_ratio":1.0,"height":800,"width":800,"src":"https:\/\/cdn.shopify.com\/s\/files\/1\/0451\/8520\/4379\/products\/201912201576811461717405358493664690176.jpg?v=1600227142"}},"requires_selling_plan":false,"selling_plan_allocations":[]},{"id":35976702427291,"title":"Black Purple \/ US 6","option1":"Black Purple","option2":"US 6","option3":null,"sku":"D09180468","requires_shipping":true,"taxable":true,"featured_image":{"id":19104034095259,"product_id":5610632872091,"position":25,"created_at":"2020-09-15T20:32:22-07:00","updated_at":"2020-09-15T20:32:22-07:00","alt":null,"width":800,"height":800,"src":"https:\/\/cdn.shopify.com\/s\/files\/1\/0451\/8520\/4379\/products\/201912201576811461717405358493664690176.jpg?v=1600227142","variant_ids":[35976702394523,35976702427291,35976702460059,35976702492827,35976702525595,35976702558363,35976702591131,35976702623899]},"available":true,"name":"Women's summer spring breathable lightweight leisure air cushion sneakers thick soles - Black Purple \/ US 6","public_title":"Black Purple \/ US 6","options":["Black Purple","US 6"],"price":3599,"weight":0,"compare_at_price":4679,"inventory_management":"shopify","barcode":null,"featured_media":{"alt":null,"id":11279012659355,"position":25,"preview_image":{"aspect_ratio":1.0,"height":800,"width":800,"src":"https:\/\/cdn.shopify.com\/s\/files\/1\/0451\/8520\/4379\/products\/201912201576811461717405358493664690176.jpg?v=1600227142"}},"requires_selling_plan":false,"selling_plan_allocations":[]},{"id":35976702460059,"title":"Black Purple \/ US 7","option1":"Black Purple","option2":"US 7","option3":null,"sku":"D09180469","requires_shipping":true,"taxable":true,"featured_image":{"id":19104034095259,"product_id":5610632872091,"position":25,"created_at":"2020-09-15T20:32:22-07:00","updated_at":"2020-09-15T20:32:22-07:00","alt":null,"width":800,"height":800,"src":"https:\/\/cdn.shopify.com\/s\/files\/1\/0451\/8520\/4379\/products\/201912201576811461717405358493664690176.jpg?v=1600227142","variant_ids":[35976702394523,35976702427291,35976702460059,35976702492827,35976702525595,35976702558363,35976702591131,35976702623899]},"available":true,"name":"Women's summer spring breathable lightweight leisure air cushion sneakers thick soles - Black Purple \/ US 7","public_title":"Black Purple \/ US 7","options":["Black Purple","US 7"],"price":3599,"weight":0,"compare_at_price":4679,"inventory_management":"shopify","barcode":null,"featured_media":{"alt":null,"id":11279012659355,"position":25,"preview_image":{"aspect_ratio":1.0,"height":800,"width":800,"src":"https:\/\/cdn.shopify.com\/s\/files\/1\/0451\/8520\/4379\/products\/201912201576811461717405358493664690176.jpg?v=1600227142"}},"requires_selling_plan":false,"selling_plan_allocations":[]},{"id":35976702492827,"title":"Black Purple \/ US 8","option1":"Black Purple","option2":"US 8","option3":null,"sku":"D09180470","requires_shipping":true,"taxable":true,"featured_image":{"id":19104034095259,"product_id":5610632872091,"position":25,"created_at":"2020-09-15T20:32:22-07:00","updated_at":"2020-09-15T20:32:22-07:00","alt":null,"width":800,"height":800,"src":"https:\/\/cdn.shopify.com\/s\/files\/1\/0451\/8520\/4379\/products\/201912201576811461717405358493664690176.jpg?v=1600227142","variant_ids":[35976702394523,35976702427291,35976702460059,35976702492827,35976702525595,35976702558363,35976702591131,35976702623899]},"available":true,"name":"Women's summer spring breathable lightweight leisure air cushion sneakers thick soles - Black Purple \/ US 8","public_title":"Black Purple \/ US 8","options":["Black Purple","US 8"],"price":3599,"weight":0,"compare_at_price":4679,"inventory_management":"shopify","barcode":null,"featured_media":{"alt":null,"id":11279012659355,"position":25,"preview_image":{"aspect_ratio":1.0,"height":800,"width":800,"src":"https:\/\/cdn.shopify.com\/s\/files\/1\/0451\/8520\/4379\/products\/201912201576811461717405358493664690176.jpg?v=1600227142"}},"requires_selling_plan":false,"selling_plan_allocations":[]},{"id":35976702525595,"title":"Black Purple \/ US 9","option1":"Black Purple","option2":"US 9","option3":null,"sku":"D09180471","requires_shipping":true,"taxable":true,"featured_image":{"id":19104034095259,"product_id":5610632872091,"position":25,"created_at":"2020-09-15T20:32:22-07:00","updated_at":"2020-09-15T20:32:22-07:00","alt":null,"width":800,"height":800,"src":"https:\/\/cdn.shopify.com\/s\/files\/1\/0451\/8520\/4379\/products\/201912201576811461717405358493664690176.jpg?v=1600227142","variant_ids":[35976702394523,35976702427291,35976702460059,35976702492827,35976702525595,35976702558363,35976702591131,35976702623899]},"available":true,"name":"Women's summer spring breathable lightweight leisure air cushion sneakers thick soles - Black Purple \/ US 9","public_title":"Black Purple \/ US 9","options":["Black Purple","US 9"],"price":3599,"weight":0,"compare_at_price":4679,"inventory_management":"shopify","barcode":null,"featured_media":{"alt":null,"id":11279012659355,"position":25,"preview_image":{"aspect_ratio":1.0,"height":800,"width":800,"src":"https:\/\/cdn.shopify.com\/s\/files\/1\/0451\/8520\/4379\/products\/201912201576811461717405358493664690176.jpg?v=1600227142"}},"requires_selling_plan":false,"selling_plan_allocations":[]},{"id":35976702558363,"title":"Black Purple \/ US 10","option1":"Black Purple","option2":"US 10","option3":null,"sku":"D09180472","requires_shipping":true,"taxable":true,"featured_image":{"id":19104034095259,"product_id":5610632872091,"position":25,"created_at":"2020-09-15T20:32:22-07:00","updated_at":"2020-09-15T20:32:22-07:00","alt":null,"width":800,"height":800,"src":"https:\/\/cdn.shopify.com\/s\/files\/1\/0451\/8520\/4379\/products\/201912201576811461717405358493664690176.jpg?v=1600227142","variant_ids":[35976702394523,35976702427291,35976702460059,35976702492827,35976702525595,35976702558363,35976702591131,35976702623899]},"available":true,"name":"Women's summer spring breathable lightweight leisure air cushion sneakers thick soles - Black Purple \/ US 10","public_title":"Black Purple \/ US 10","options":["Black Purple","US 10"],"price":3599,"weight":0,"compare_at_price":4679,"inventory_management":"shopify","barcode":null,"featured_media":{"alt":null,"id":11279012659355,"position":25,"preview_image":{"aspect_ratio":1.0,"height":800,"width":800,"src":"https:\/\/cdn.shopify.com\/s\/files\/1\/0451\/8520\/4379\/products\/201912201576811461717405358493664690176.jpg?v=1600227142"}},"requires_selling_plan":false,"selling_plan_allocations":[]},{"id":35976702591131,"title":"Black Purple \/ US 11","option1":"Black Purple","option2":"US 11","option3":null,"sku":"D09180473","requires_shipping":true,"taxable":true,"featured_image":{"id":19104034095259,"product_id":5610632872091,"position":25,"created_at":"2020-09-15T20:32:22-07:00","updated_at":"2020-09-15T20:32:22-07:00","alt":null,"width":800,"height":800,"src":"https:\/\/cdn.shopify.com\/s\/files\/1\/0451\/8520\/4379\/products\/201912201576811461717405358493664690176.jpg?v=1600227142","variant_ids":[35976702394523,35976702427291,35976702460059,35976702492827,35976702525595,35976702558363,35976702591131,35976702623899]},"available":true,"name":"Women's summer spring breathable lightweight leisure air cushion sneakers thick soles - Black Purple \/ US 11","public_title":"Black Purple \/ US 11","options":["Black Purple","US 11"],"price":3599,"weight":0,"compare_at_price":4679,"inventory_management":"shopify","barcode":null,"featured_media":{"alt":null,"id":11279012659355,"position":25,"preview_image":{"aspect_ratio":1.0,"height":800,"width":800,"src":"https:\/\/cdn.shopify.com\/s\/files\/1\/0451\/8520\/4379\/products\/201912201576811461717405358493664690176.jpg?v=1600227142"}},"requires_selling_plan":false,"selling_plan_allocations":[]},{"id":35976702623899,"title":"Black Purple \/ US 12","option1":"Black Purple","option2":"US 12","option3":null,"sku":"D09180474","requires_shipping":true,"taxable":true,"featured_image":{"id":19104034095259,"product_id":5610632872091,"position":25,"created_at":"2020-09-15T20:32:22-07:00","updated_at":"2020-09-15T20:32:22-07:00","alt":null,"width":800,"height":800,"src":"https:\/\/cdn.shopify.com\/s\/files\/1\/0451\/8520\/4379\/products\/201912201576811461717405358493664690176.jpg?v=1600227142","variant_ids":[35976702394523,35976702427291,35976702460059,35976702492827,35976702525595,35976702558363,35976702591131,35976702623899]},"available":true,"name":"Women's summer spring breathable lightweight leisure air cushion sneakers thick soles - Black Purple \/ US 12","public_title":"Black Purple \/ US 12","options":["Black Purple","US 12"],"price":3599,"weight":0,"compare_at_price":4679,"inventory_management":"shopify","barcode":null,"featured_media":{"alt":null,"id":11279012659355,"position":25,"preview_image":{"aspect_ratio":1.0,"height":800,"width":800,"src":"https:\/\/cdn.shopify.com\/s\/files\/1\/0451\/8520\/4379\/products\/201912201576811461717405358493664690176.jpg?v=1600227142"}},"requires_selling_plan":false,"selling_plan_allocations":[]},{"id":35976702656667,"title":"Dark Blue \/ US 5","option1":"Dark Blue","option2":"US 5","option3":null,"sku":"D09180475","requires_shipping":true,"taxable":true,"featured_image":{"id":19104034160795,"product_id":5610632872091,"position":26,"created_at":"2020-09-15T20:32:22-07:00","updated_at":"2020-09-15T20:32:22-07:00","alt":null,"width":800,"height":800,"src":"https:\/\/cdn.shopify.com\/s\/files\/1\/0451\/8520\/4379\/products\/201912201576811463601405358501566758912.jpg?v=1600227142","variant_ids":[35976702656667,35976702722203,35976702754971,35976702787739,35976702820507,35976702886043,35976702918811,35976702951579]},"available":true,"name":"Women's summer spring breathable lightweight leisure air cushion sneakers thick soles - Dark Blue \/ US 5","public_title":"Dark Blue \/ US 5","options":["Dark Blue","US 5"],"price":3599,"weight":0,"compare_at_price":4679,"inventory_management":"shopify","barcode":null,"featured_media":{"alt":null,"id":11279012692123,"position":26,"preview_image":{"aspect_ratio":1.0,"height":800,"width":800,"src":"https:\/\/cdn.shopify.com\/s\/files\/1\/0451\/8520\/4379\/products\/201912201576811463601405358501566758912.jpg?v=1600227142"}},"requires_selling_plan":false,"selling_plan_allocations":[]},{"id":35976702722203,"title":"Dark Blue \/ US 6","option1":"Dark Blue","option2":"US 6","option3":null,"sku":"D09180476","requires_shipping":true,"taxable":true,"featured_image":{"id":19104034160795,"product_id":5610632872091,"position":26,"created_at":"2020-09-15T20:32:22-07:00","updated_at":"2020-09-15T20:32:22-07:00","alt":null,"width":800,"height":800,"src":"https:\/\/cdn.shopify.com\/s\/files\/1\/0451\/8520\/4379\/products\/201912201576811463601405358501566758912.jpg?v=1600227142","variant_ids":[35976702656667,35976702722203,35976702754971,35976702787739,35976702820507,35976702886043,35976702918811,35976702951579]},"available":true,"name":"Women's summer spring breathable lightweight leisure air cushion sneakers thick soles - Dark Blue \/ US 6","public_title":"Dark Blue \/ US 6","options":["Dark Blue","US 6"],"price":3599,"weight":0,"compare_at_price":4679,"inventory_management":"shopify","barcode":null,"featured_media":{"alt":null,"id":11279012692123,"position":26,"preview_image":{"aspect_ratio":1.0,"height":800,"width":800,"src":"https:\/\/cdn.shopify.com\/s\/files\/1\/0451\/8520\/4379\/products\/201912201576811463601405358501566758912.jpg?v=1600227142"}},"requires_selling_plan":false,"selling_plan_allocations":[]},{"id":35976702754971,"title":"Dark Blue \/ US 7","option1":"Dark Blue","option2":"US 7","option3":null,"sku":"D09180477","requires_shipping":true,"taxable":true,"featured_image":{"id":19104034160795,"product_id":5610632872091,"position":26,"created_at":"2020-09-15T20:32:22-07:00","updated_at":"2020-09-15T20:32:22-07:00","alt":null,"width":800,"height":800,"src":"https:\/\/cdn.shopify.com\/s\/files\/1\/0451\/8520\/4379\/products\/201912201576811463601405358501566758912.jpg?v=1600227142","variant_ids":[35976702656667,35976702722203,35976702754971,35976702787739,35976702820507,35976702886043,35976702918811,35976702951579]},"available":true,"name":"Women's summer spring breathable lightweight leisure air cushion sneakers thick soles - Dark Blue \/ US 7","public_title":"Dark Blue \/ US 7","options":["Dark Blue","US 7"],"price":3599,"weight":0,"compare_at_price":4679,"inventory_management":"shopify","barcode":null,"featured_media":{"alt":null,"id":11279012692123,"position":26,"preview_image":{"aspect_ratio":1.0,"height":800,"width":800,"src":"https:\/\/cdn.shopify.com\/s\/files\/1\/0451\/8520\/4379\/products\/201912201576811463601405358501566758912.jpg?v=1600227142"}},"requires_selling_plan":false,"selling_plan_allocations":[]},{"id":35976702787739,"title":"Dark Blue \/ US 8","option1":"Dark Blue","option2":"US 8","option3":null,"sku":"D09180478","requires_shipping":true,"taxable":true,"featured_image":{"id":19104034160795,"product_id":5610632872091,"position":26,"created_at":"2020-09-15T20:32:22-07:00","updated_at":"2020-09-15T20:32:22-07:00","alt":null,"width":800,"height":800,"src":"https:\/\/cdn.shopify.com\/s\/files\/1\/0451\/8520\/4379\/products\/201912201576811463601405358501566758912.jpg?v=1600227142","variant_ids":[35976702656667,35976702722203,35976702754971,35976702787739,35976702820507,35976702886043,35976702918811,35976702951579]},"available":true,"name":"Women's summer spring breathable lightweight leisure air cushion sneakers thick soles - Dark Blue \/ US 8","public_title":"Dark Blue \/ US 8","options":["Dark Blue","US 8"],"price":3599,"weight":0,"compare_at_price":4679,"inventory_management":"shopify","barcode":null,"featured_media":{"alt":null,"id":11279012692123,"position":26,"preview_image":{"aspect_ratio":1.0,"height":800,"width":800,"src":"https:\/\/cdn.shopify.com\/s\/files\/1\/0451\/8520\/4379\/products\/201912201576811463601405358501566758912.jpg?v=1600227142"}},"requires_selling_plan":false,"selling_plan_allocations":[]},{"id":35976702820507,"title":"Dark Blue \/ US 9","option1":"Dark Blue","option2":"US 9","option3":null,"sku":"D09180479","requires_shipping":true,"taxable":true,"featured_image":{"id":19104034160795,"product_id":5610632872091,"position":26,"created_at":"2020-09-15T20:32:22-07:00","updated_at":"2020-09-15T20:32:22-07:00","alt":null,"width":800,"height":800,"src":"https:\/\/cdn.shopify.com\/s\/files\/1\/0451\/8520\/4379\/products\/201912201576811463601405358501566758912.jpg?v=1600227142","variant_ids":[35976702656667,35976702722203,35976702754971,35976702787739,35976702820507,35976702886043,35976702918811,35976702951579]},"available":true,"name":"Women's summer spring breathable lightweight leisure air cushion sneakers thick soles - Dark Blue \/ US 9","public_title":"Dark Blue \/ US 9","options":["Dark Blue","US 9"],"price":3599,"weight":0,"compare_at_price":4679,"inventory_management":"shopify","barcode":null,"featured_media":{"alt":null,"id":11279012692123,"position":26,"preview_image":{"aspect_ratio":1.0,"height":800,"width":800,"src":"https:\/\/cdn.shopify.com\/s\/files\/1\/0451\/8520\/4379\/products\/201912201576811463601405358501566758912.jpg?v=1600227142"}},"requires_selling_plan":false,"selling_plan_allocations":[]},{"id":35976702886043,"title":"Dark Blue \/ US 10","option1":"Dark Blue","option2":"US 10","option3":null,"sku":"D09180480","requires_shipping":true,"taxable":true,"featured_image":{"id":19104034160795,"product_id":5610632872091,"position":26,"created_at":"2020-09-15T20:32:22-07:00","updated_at":"2020-09-15T20:32:22-07:00","alt":null,"width":800,"height":800,"src":"https:\/\/cdn.shopify.com\/s\/files\/1\/0451\/8520\/4379\/products\/201912201576811463601405358501566758912.jpg?v=1600227142","variant_ids":[35976702656667,35976702722203,35976702754971,35976702787739,35976702820507,35976702886043,35976702918811,35976702951579]},"available":true,"name":"Women's summer spring breathable lightweight leisure air cushion sneakers thick soles - Dark Blue \/ US 10","public_title":"Dark Blue \/ US 10","options":["Dark Blue","US 10"],"price":3599,"weight":0,"compare_at_price":4679,"inventory_management":"shopify","barcode":null,"featured_media":{"alt":null,"id":11279012692123,"position":26,"preview_image":{"aspect_ratio":1.0,"height":800,"width":800,"src":"https:\/\/cdn.shopify.com\/s\/files\/1\/0451\/8520\/4379\/products\/201912201576811463601405358501566758912.jpg?v=1600227142"}},"requires_selling_plan":false,"selling_plan_allocations":[]},{"id":35976702918811,"title":"Dark Blue \/ US 11","option1":"Dark Blue","option2":"US 11","option3":null,"sku":"D09180481","requires_shipping":true,"taxable":true,"featured_image":{"id":19104034160795,"product_id":5610632872091,"position":26,"created_at":"2020-09-15T20:32:22-07:00","updated_at":"2020-09-15T20:32:22-07:00","alt":null,"width":800,"height":800,"src":"https:\/\/cdn.shopify.com\/s\/files\/1\/0451\/8520\/4379\/products\/201912201576811463601405358501566758912.jpg?v=1600227142","variant_ids":[35976702656667,35976702722203,35976702754971,35976702787739,35976702820507,35976702886043,35976702918811,35976702951579]},"available":true,"name":"Women's summer spring breathable lightweight leisure air cushion sneakers thick soles - Dark Blue \/ US 11","public_title":"Dark Blue \/ US 11","options":["Dark Blue","US 11"],"price":3599,"weight":0,"compare_at_price":4679,"inventory_management":"shopify","barcode":null,"featured_media":{"alt":null,"id":11279012692123,"position":26,"preview_image":{"aspect_ratio":1.0,"height":800,"width":800,"src":"https:\/\/cdn.shopify.com\/s\/files\/1\/0451\/8520\/4379\/products\/201912201576811463601405358501566758912.jpg?v=1600227142"}},"requires_selling_plan":false,"selling_plan_allocations":[]},{"id":35976702951579,"title":"Dark Blue \/ US 12","option1":"Dark Blue","option2":"US 12","option3":null,"sku":"D09180482","requires_shipping":true,"taxable":true,"featured_image":{"id":19104034160795,"product_id":5610632872091,"position":26,"created_at":"2020-09-15T20:32:22-07:00","updated_at":"2020-09-15T20:32:22-07:00","alt":null,"width":800,"height":800,"src":"https:\/\/cdn.shopify.com\/s\/files\/1\/0451\/8520\/4379\/products\/201912201576811463601405358501566758912.jpg?v=1600227142","variant_ids":[35976702656667,35976702722203,35976702754971,35976702787739,35976702820507,35976702886043,35976702918811,35976702951579]},"available":true,"name":"Women's summer spring breathable lightweight leisure air cushion sneakers thick soles - Dark Blue \/ US 12","public_title":"Dark Blue \/ US 12","options":["Dark Blue","US 12"],"price":3599,"weight":0,"compare_at_price":4679,"inventory_management":"shopify","barcode":null,"featured_media":{"alt":null,"id":11279012692123,"position":26,"preview_image":{"aspect_ratio":1.0,"height":800,"width":800,"src":"https:\/\/cdn.shopify.com\/s\/files\/1\/0451\/8520\/4379\/products\/201912201576811463601405358501566758912.jpg?v=1600227142"}},"requires_selling_plan":false,"selling_plan_allocations":[]}],"images":["\/\/cdn.shopify.com\/s\/files\/1\/0451\/8520\/4379\/products\/201912201576811911054Ygiil.jpg?v=1600227141","\/\/cdn.shopify.com\/s\/files\/1\/0451\/8520\/4379\/products\/201912201576811854138ASEKg.jpg?v=1600227141","\/\/cdn.shopify.com\/s\/files\/1\/0451\/8520\/4379\/products\/201912201576811855380IQxxJ.jpg?v=1600227142","\/\/cdn.shopify.com\/s\/files\/1\/0451\/8520\/4379\/products\/201912201576811855163SPQke.jpg?v=1600227142","\/\/cdn.shopify.com\/s\/files\/1\/0451\/8520\/4379\/products\/201912201576811853327jqWmY.jpg?v=1600227142","\/\/cdn.shopify.com\/s\/files\/1\/0451\/8520\/4379\/products\/201912201576811853628svTrj.jpg?v=1600227142","\/\/cdn.shopify.com\/s\/files\/1\/0451\/8520\/4379\/products\/201912201576811855649WKonD.jpg?v=1600227142","\/\/cdn.shopify.com\/s\/files\/1\/0451\/8520\/4379\/products\/201912201576811851170hHXmz.jpg?v=1600227142","\/\/cdn.shopify.com\/s\/files\/1\/0451\/8520\/4379\/products\/201912201576811850491mIvlv.jpg?v=1600227142","\/\/cdn.shopify.com\/s\/files\/1\/0451\/8520\/4379\/products\/201912201576811850752ArezL.jpg?v=1600227142","\/\/cdn.shopify.com\/s\/files\/1\/0451\/8520\/4379\/products\/201912201576811850893deGvF.jpg?v=1600227142","\/\/cdn.shopify.com\/s\/files\/1\/0451\/8520\/4379\/products\/201912201576811851125DOVEF.jpg?v=1600227142","\/\/cdn.shopify.com\/s\/files\/1\/0451\/8520\/4379\/products\/201912201576811851578TJQkT.jpg?v=1600227142","\/\/cdn.shopify.com\/s\/files\/1\/0451\/8520\/4379\/products\/201912201576811851845aCexL.jpg?v=1600227142","\/\/cdn.shopify.com\/s\/files\/1\/0451\/8520\/4379\/products\/201912201576811852072hxPgs.jpg?v=1600227142","\/\/cdn.shopify.com\/s\/files\/1\/0451\/8520\/4379\/products\/201912201576811852362MrzVn.jpg?v=1600227142","\/\/cdn.shopify.com\/s\/files\/1\/0451\/8520\/4379\/products\/201912201576811852600xGTuD.jpg?v=1600227142","\/\/cdn.shopify.com\/s\/files\/1\/0451\/8520\/4379\/products\/201912201576811852830dBHSu.jpg?v=1600227142","\/\/cdn.shopify.com\/s\/files\/1\/0451\/8520\/4379\/products\/201912201576811853101fmfVe.jpg?v=1600227142","\/\/cdn.shopify.com\/s\/files\/1\/0451\/8520\/4379\/products\/201912201576811853892TWVuT.jpg?v=1600227142","\/\/cdn.shopify.com\/s\/files\/1\/0451\/8520\/4379\/products\/201912201576811854643feJHs.jpg?v=1600227142","\/\/cdn.shopify.com\/s\/files\/1\/0451\/8520\/4379\/products\/201912201576811854892DApRB.jpg?v=1600227142","\/\/cdn.shopify.com\/s\/files\/1\/0451\/8520\/4379\/products\/201912201576811458226405358479022374912.jpg?v=1600227142","\/\/cdn.shopify.com\/s\/files\/1\/0451\/8520\/4379\/products\/201912201576811460103405358486895083520.jpg?v=1600227142","\/\/cdn.shopify.com\/s\/files\/1\/0451\/8520\/4379\/products\/201912201576811461717405358493664690176.jpg?v=1600227142","\/\/cdn.shopify.com\/s\/files\/1\/0451\/8520\/4379\/products\/201912201576811463601405358501566758912.jpg?v=1600227142"],"featured_image":"\/\/cdn.shopify.com\/s\/files\/1\/0451\/8520\/4379\/products\/201912201576811911054Ygiil.jpg?v=1600227141","options":["Color","Size"],"media":[{"alt":null,"id":11279011741851,"position":1,"preview_image":{"aspect_ratio":1.0,"height":800,"width":800,"src":"https:\/\/cdn.shopify.com\/s\/files\/1\/0451\/8520\/4379\/products\/201912201576811911054Ygiil.jpg?v=1600227141"},"aspect_ratio":1.0,"height":800,"media_type":"image","src":"https:\/\/cdn.shopify.com\/s\/files\/1\/0451\/8520\/4379\/products\/201912201576811911054Ygiil.jpg?v=1600227141","width":800},{"alt":null,"id":11279011807387,"position":2,"preview_image":{"aspect_ratio":1.0,"height":720,"width":720,"src":"https:\/\/cdn.shopify.com\/s\/files\/1\/0451\/8520\/4379\/products\/201912201576811854138ASEKg.jpg?v=1600227141"},"aspect_ratio":1.0,"height":720,"media_type":"image","src":"https:\/\/cdn.shopify.com\/s\/files\/1\/0451\/8520\/4379\/products\/201912201576811854138ASEKg.jpg?v=1600227141","width":720},{"alt":null,"id":11279011872923,"position":3,"preview_image":{"aspect_ratio":1.0,"height":720,"width":720,"src":"https:\/\/cdn.shopify.com\/s\/files\/1\/0451\/8520\/4379\/products\/201912201576811855380IQxxJ.jpg?v=1600227141"},"aspect_ratio":1.0,"height":720,"media_type":"image","src":"https:\/\/cdn.shopify.com\/s\/files\/1\/0451\/8520\/4379\/products\/201912201576811855380IQxxJ.jpg?v=1600227141","width":720},{"alt":null,"id":11279011938459,"position":4,"preview_image":{"aspect_ratio":1.0,"height":720,"width":720,"src":"https:\/\/cdn.shopify.com\/s\/files\/1\/0451\/8520\/4379\/products\/201912201576811855163SPQke.jpg?v=1600227142"},"aspect_ratio":1.0,"height":720,"media_type":"image","src":"https:\/\/cdn.shopify.com\/s\/files\/1\/0451\/8520\/4379\/products\/201912201576811855163SPQke.jpg?v=1600227142","width":720},{"alt":null,"id":11279012003995,"position":5,"preview_image":{"aspect_ratio":1.0,"height":720,"width":720,"src":"https:\/\/cdn.shopify.com\/s\/files\/1\/0451\/8520\/4379\/products\/201912201576811853327jqWmY.jpg?v=1600227142"},"aspect_ratio":1.0,"height":720,"media_type":"image","src":"https:\/\/cdn.shopify.com\/s\/files\/1\/0451\/8520\/4379\/products\/201912201576811853327jqWmY.jpg?v=1600227142","width":720},{"alt":null,"id":11279012036763,"position":6,"preview_image":{"aspect_ratio":1.0,"height":720,"width":720,"src":"https:\/\/cdn.shopify.com\/s\/files\/1\/0451\/8520\/4379\/products\/201912201576811853628svTrj.jpg?v=1600227142"},"aspect_ratio":1.0,"height":720,"media_type":"image","src":"https:\/\/cdn.shopify.com\/s\/files\/1\/0451\/8520\/4379\/products\/201912201576811853628svTrj.jpg?v=1600227142","width":720},{"alt":null,"id":11279012069531,"position":7,"preview_image":{"aspect_ratio":1.0,"height":800,"width":800,"src":"https:\/\/cdn.shopify.com\/s\/files\/1\/0451\/8520\/4379\/products\/201912201576811855649WKonD.jpg?v=1600227142"},"aspect_ratio":1.0,"height":800,"media_type":"image","src":"https:\/\/cdn.shopify.com\/s\/files\/1\/0451\/8520\/4379\/products\/201912201576811855649WKonD.jpg?v=1600227142","width":800},{"alt":null,"id":11279012102299,"position":8,"preview_image":{"aspect_ratio":1.0,"height":800,"width":800,"src":"https:\/\/cdn.shopify.com\/s\/files\/1\/0451\/8520\/4379\/products\/201912201576811851170hHXmz.jpg?v=1600227142"},"aspect_ratio":1.0,"height":800,"media_type":"image","src":"https:\/\/cdn.shopify.com\/s\/files\/1\/0451\/8520\/4379\/products\/201912201576811851170hHXmz.jpg?v=1600227142","width":800},{"alt":null,"id":11279012135067,"position":9,"preview_image":{"aspect_ratio":1.0,"height":800,"width":800,"src":"https:\/\/cdn.shopify.com\/s\/files\/1\/0451\/8520\/4379\/products\/201912201576811850491mIvlv.jpg?v=1600227142"},"aspect_ratio":1.0,"height":800,"media_type":"image","src":"https:\/\/cdn.shopify.com\/s\/files\/1\/0451\/8520\/4379\/products\/201912201576811850491mIvlv.jpg?v=1600227142","width":800},{"alt":null,"id":11279012167835,"position":10,"preview_image":{"aspect_ratio":1.0,"height":800,"width":800,"src":"https:\/\/cdn.shopify.com\/s\/files\/1\/0451\/8520\/4379\/products\/201912201576811850752ArezL.jpg?v=1600227142"},"aspect_ratio":1.0,"height":800,"media_type":"image","src":"https:\/\/cdn.shopify.com\/s\/files\/1\/0451\/8520\/4379\/products\/201912201576811850752ArezL.jpg?v=1600227142","width":800},{"alt":null,"id":11279012200603,"position":11,"preview_image":{"aspect_ratio":1.0,"height":720,"width":720,"src":"https:\/\/cdn.shopify.com\/s\/files\/1\/0451\/8520\/4379\/products\/201912201576811850893deGvF.jpg?v=1600227142"},"aspect_ratio":1.0,"height":720,"media_type":"image","src":"https:\/\/cdn.shopify.com\/s\/files\/1\/0451\/8520\/4379\/products\/201912201576811850893deGvF.jpg?v=1600227142","width":720},{"alt":null,"id":11279012233371,"position":12,"preview_image":{"aspect_ratio":1.0,"height":800,"width":800,"src":"https:\/\/cdn.shopify.com\/s\/files\/1\/0451\/8520\/4379\/products\/201912201576811851125DOVEF.jpg?v=1600227142"},"aspect_ratio":1.0,"height":800,"media_type":"image","src":"https:\/\/cdn.shopify.com\/s\/files\/1\/0451\/8520\/4379\/products\/201912201576811851125DOVEF.jpg?v=1600227142","width":800},{"alt":null,"id":11279012266139,"position":13,"preview_image":{"aspect_ratio":1.0,"height":720,"width":720,"src":"https:\/\/cdn.shopify.com\/s\/files\/1\/0451\/8520\/4379\/products\/201912201576811851578TJQkT.jpg?v=1600227142"},"aspect_ratio":1.0,"height":720,"media_type":"image","src":"https:\/\/cdn.shopify.com\/s\/files\/1\/0451\/8520\/4379\/products\/201912201576811851578TJQkT.jpg?v=1600227142","width":720},{"alt":null,"id":11279012298907,"position":14,"preview_image":{"aspect_ratio":1.0,"height":720,"width":720,"src":"https:\/\/cdn.shopify.com\/s\/files\/1\/0451\/8520\/4379\/products\/201912201576811851845aCexL.jpg?v=1600227142"},"aspect_ratio":1.0,"height":720,"media_type":"image","src":"https:\/\/cdn.shopify.com\/s\/files\/1\/0451\/8520\/4379\/products\/201912201576811851845aCexL.jpg?v=1600227142","width":720},{"alt":null,"id":11279012331675,"position":15,"preview_image":{"aspect_ratio":1.0,"height":720,"width":720,"src":"https:\/\/cdn.shopify.com\/s\/files\/1\/0451\/8520\/4379\/products\/201912201576811852072hxPgs.jpg?v=1600227142"},"aspect_ratio":1.0,"height":720,"media_type":"image","src":"https:\/\/cdn.shopify.com\/s\/files\/1\/0451\/8520\/4379\/products\/201912201576811852072hxPgs.jpg?v=1600227142","width":720},{"alt":null,"id":11279012364443,"position":16,"preview_image":{"aspect_ratio":1.0,"height":720,"width":720,"src":"https:\/\/cdn.shopify.com\/s\/files\/1\/0451\/8520\/4379\/products\/201912201576811852362MrzVn.jpg?v=1600227142"},"aspect_ratio":1.0,"height":720,"media_type":"image","src":"https:\/\/cdn.shopify.com\/s\/files\/1\/0451\/8520\/4379\/products\/201912201576811852362MrzVn.jpg?v=1600227142","width":720},{"alt":null,"id":11279012397211,"position":17,"preview_image":{"aspect_ratio":1.0,"height":720,"width":720,"src":"https:\/\/cdn.shopify.com\/s\/files\/1\/0451\/8520\/4379\/products\/201912201576811852600xGTuD.jpg?v=1600227142"},"aspect_ratio":1.0,"height":720,"media_type":"image","src":"https:\/\/cdn.shopify.com\/s\/files\/1\/0451\/8520\/4379\/products\/201912201576811852600xGTuD.jpg?v=1600227142","width":720},{"alt":null,"id":11279012429979,"position":18,"preview_image":{"aspect_ratio":1.0,"height":720,"width":720,"src":"https:\/\/cdn.shopify.com\/s\/files\/1\/0451\/8520\/4379\/products\/201912201576811852830dBHSu.jpg?v=1600227142"},"aspect_ratio":1.0,"height":720,"media_type":"image","src":"https:\/\/cdn.shopify.com\/s\/files\/1\/0451\/8520\/4379\/products\/201912201576811852830dBHSu.jpg?v=1600227142","width":720},{"alt":null,"id":11279012462747,"position":19,"preview_image":{"aspect_ratio":1.0,"height":720,"width":720,"src":"https:\/\/cdn.shopify.com\/s\/files\/1\/0451\/8520\/4379\/products\/201912201576811853101fmfVe.jpg?v=1600227142"},"aspect_ratio":1.0,"height":720,"media_type":"image","src":"https:\/\/cdn.shopify.com\/s\/files\/1\/0451\/8520\/4379\/products\/201912201576811853101fmfVe.jpg?v=1600227142","width":720},{"alt":null,"id":11279012495515,"position":20,"preview_image":{"aspect_ratio":1.0,"height":720,"width":720,"src":"https:\/\/cdn.shopify.com\/s\/files\/1\/0451\/8520\/4379\/products\/201912201576811853892TWVuT.jpg?v=1600227142"},"aspect_ratio":1.0,"height":720,"media_type":"image","src":"https:\/\/cdn.shopify.com\/s\/files\/1\/0451\/8520\/4379\/products\/201912201576811853892TWVuT.jpg?v=1600227142","width":720},{"alt":null,"id":11279012528283,"position":21,"preview_image":{"aspect_ratio":1.0,"height":720,"width":720,"src":"https:\/\/cdn.shopify.com\/s\/files\/1\/0451\/8520\/4379\/products\/201912201576811854643feJHs.jpg?v=1600227142"},"aspect_ratio":1.0,"height":720,"media_type":"image","src":"https:\/\/cdn.shopify.com\/s\/files\/1\/0451\/8520\/4379\/products\/201912201576811854643feJHs.jpg?v=1600227142","width":720},{"alt":null,"id":11279012561051,"position":22,"preview_image":{"aspect_ratio":1.0,"height":720,"width":720,"src":"https:\/\/cdn.shopify.com\/s\/files\/1\/0451\/8520\/4379\/products\/201912201576811854892DApRB.jpg?v=1600227142"},"aspect_ratio":1.0,"height":720,"media_type":"image","src":"https:\/\/cdn.shopify.com\/s\/files\/1\/0451\/8520\/4379\/products\/201912201576811854892DApRB.jpg?v=1600227142","width":720},{"alt":null,"id":11279012593819,"position":23,"preview_image":{"aspect_ratio":1.0,"height":800,"width":800,"src":"https:\/\/cdn.shopify.com\/s\/files\/1\/0451\/8520\/4379\/products\/201912201576811458226405358479022374912.jpg?v=1600227142"},"aspect_ratio":1.0,"height":800,"media_type":"image","src":"https:\/\/cdn.shopify.com\/s\/files\/1\/0451\/8520\/4379\/products\/201912201576811458226405358479022374912.jpg?v=1600227142","width":800},{"alt":null,"id":11279012626587,"position":24,"preview_image":{"aspect_ratio":1.0,"height":800,"width":800,"src":"https:\/\/cdn.shopify.com\/s\/files\/1\/0451\/8520\/4379\/products\/201912201576811460103405358486895083520.jpg?v=1600227142"},"aspect_ratio":1.0,"height":800,"media_type":"image","src":"https:\/\/cdn.shopify.com\/s\/files\/1\/0451\/8520\/4379\/products\/201912201576811460103405358486895083520.jpg?v=1600227142","width":800},{"alt":null,"id":11279012659355,"position":25,"preview_image":{"aspect_ratio":1.0,"height":800,"width":800,"src":"https:\/\/cdn.shopify.com\/s\/files\/1\/0451\/8520\/4379\/products\/201912201576811461717405358493664690176.jpg?v=1600227142"},"aspect_ratio":1.0,"height":800,"media_type":"image","src":"https:\/\/cdn.shopify.com\/s\/files\/1\/0451\/8520\/4379\/products\/201912201576811461717405358493664690176.jpg?v=1600227142","width":800},{"alt":null,"id":11279012692123,"position":26,"preview_image":{"aspect_ratio":1.0,"height":800,"width":800,"src":"https:\/\/cdn.shopify.com\/s\/files\/1\/0451\/8520\/4379\/products\/201912201576811463601405358501566758912.jpg?v=1600227142"},"aspect_ratio":1.0,"height":800,"media_type":"image","src":"https:\/\/cdn.shopify.com\/s\/files\/1\/0451\/8520\/4379\/products\/201912201576811463601405358501566758912.jpg?v=1600227142","width":800}],"requires_selling_plan":false,"selling_plan_groups":[],"content":"\u003cdiv\u003e1. Lightweight and breathable mesh upper make the walking shoes wear more comfortable.\u003cbr\u003e2. Walking sneakers with nonslip MD soles provide flexibility, durability, and traction.\u003cbr\u003e3. Slip-on tennis shoes with back pull-tab which is convenient for you to put on and take off.\u003cbr\u003e4. Cushioning insole makes you wear athletic shoes more comfort and safety.\u003c\/div\u003e\n\u003cdiv\u003e\u003c\/div\u003e\n\u003cdiv\u003e\n\u003cdiv\u003e\u003cstrong\u003e\u003cspan\u003eProduct Parameters\u003c\/span\u003e\u003c\/strong\u003e\u003c\/div\u003e\n\u003cdiv\u003eToe Shape: Round-Toe\u003c\/div\u003e\n\u003cdiv\u003eOccasion: Casual, Party, Sport, Travel\u003c\/div\u003e\n\u003cdiv\u003eOutsole Material: Rubber\u003c\/div\u003e\n\u003cdiv\u003eHeel height: Low Heels£¨1-3cm£©\u003c\/div\u003e\n\u003cdiv\u003eShoe Width: Medium\u003c\/div\u003e\n\u003cdiv\u003eSeason: Spring, Summer, Autumn, Winter\u003c\/div\u003e\n\u003cdiv\u003eSole Hardness: Hard\u003c\/div\u003e\n\u003cdiv\u003e\u003c\/div\u003e\n\u003cdiv\u003e\u003cimg alt=\"\" src=\"https:\/\/cdn.shopifycdn.net\/s\/files\/1\/0451\/8520\/4379\/files\/womens-shoe-size-conversion-2020090802.jpg?v=1599529686\"\u003e\u003c\/div\u003e\n\u003c\/div\u003e\n\u003cp\u003e\u003cspan style=\"font-size: 12px;\"\u003e1.Please select a suitable size depending on your foot length;\u003c\/span\u003e\u003c\/p\u003e\n\u003cp\u003e\u003cspan style=\"font-size: 12px;\"\u003e2.Once you know your foot length, consult the Size Chart to determine which size you should purchase;\u003c\/span\u003e\u003c\/p\u003e\n\u003cdiv\u003e\u003cstrong\u003e\u003cspan style=\"color: #ff0000;\"\u003e\u003c\/span\u003e\u003c\/strong\u003e\u003c\/div\u003e"}
Women's summer spring breathable lightweight leisure air cushion sneakers thick soles
Product Description
1. Lightweight and breathable mesh upper make the walking shoes wear more comfortable.
2. Walking sneakers with nonslip MD soles provide flexibility, durability, and traction.
3. Slip-on tennis shoes with back pull-tab which is convenient for you to put on and take off.
4. Cushioning insole makes you wear athletic shoes more comfort and safety.
Toe Shape: Round-Toe
Occasion: Casual, Party, Sport, Travel
Outsole Material: Rubber
Heel height: Low Heels£¨1-3cm£©
Shoe Width: Medium
Season: Spring, Summer, Autumn, Winter
Sole Hardness: Hard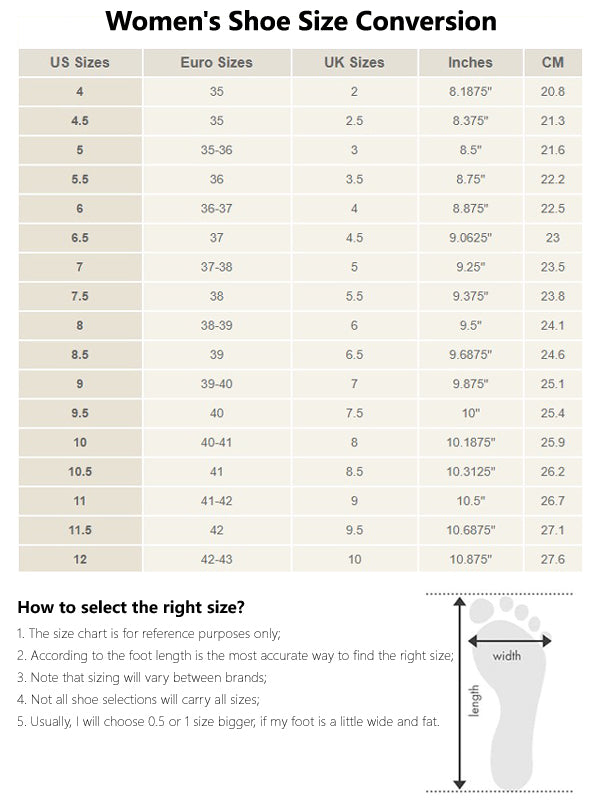 1.Please select a suitable size depending on your foot length;
2.Once you know your foot length, consult the Size Chart to determine which size you should purchase;