{"id":5610660069531,"title":"Women's Soft Casual Flying Woven Air Cushion Socks Sneakers","handle":"women-s-soft-casual-flying-woven-air-cushion-socks-sneakers","description":"\u003cdiv\u003e\u003c\/div\u003e\n\u003cdiv\u003e\n\u003cstrong\u003eAir Cushion Shockproof Design\u003c\/strong\u003e\u003cbr\u003eCombined rebound platform PU sole with air cushion technology for shock absorption\u003cbr\u003eAir cushion sole is shockproof, maximum cushioning, prevent your feet hurt.\u003cbr\u003eThese shoes use air cushion technology to make the shoes more light and elastic, relieve impact, and protect the feet from injury. Slip-resistant.\u003c\/div\u003e\n\u003cdiv\u003e\u003cstrong\u003e\u003cspan\u003e\u003c\/span\u003e\u003c\/strong\u003e\u003c\/div\u003e\n\u003cdiv\u003eThis sporty offering a convenient slip-on design and a thick sole for shock absorption in every step. A rubber sole keeps you grounded wherever you roam.\u003cbr\u003e\u003cbr\u003eSoft and elastic fabric mesh upper allows your feet to breathe freely and comfortably. Open mesh on the upper and hole on the sole provides for superior breathability and quick drying.\u003cbr\u003e\u003cbr\u003eFlexible body with soft and light mesh insole provides comfortable cushion, anti-wrinkle, no creases, fit your feet perfectly. Latex arch insert for added support.\u003cstrong\u003e\u003cspan\u003e\u003cbr\u003e\u003c\/span\u003e\u003c\/strong\u003e\n\u003c\/div\u003e\n\u003cdiv\u003e\u003c\/div\u003e\n\u003cdiv\u003e\u003cstrong\u003e\u003cspan\u003e\u003c\/span\u003e\u003c\/strong\u003e\u003c\/div\u003e\n\u003cdiv\u003e\u003cstrong\u003e\u003cspan\u003eProduct Parameters\u003c\/span\u003e\u003c\/strong\u003e\u003c\/div\u003e\n\u003cdiv\u003eToe Shape: Round-Toe\u003c\/div\u003e\n\u003cdiv\u003eOccasion: Casual, Party, Sport, Travel\u003c\/div\u003e\n\u003cdiv\u003eLining Material: Cotton Fabric\u003c\/div\u003e\n\u003cdiv\u003eOutsole Material: Rubber\u003c\/div\u003e\n\u003cdiv\u003eHeel height: Low Heels£¨1-3cm£©\u003c\/div\u003e\n\u003cdiv\u003eShoe Width: Medium\u003c\/div\u003e\n\u003cdiv\u003eShoe Style: Athletic Shoes\u003c\/div\u003e\n\u003cdiv\u003eSeason: Spring, Summer, Autumn, Winter\u003c\/div\u003e\n\u003cdiv\u003eUpper Material: Grid\u003c\/div\u003e\n\u003cdiv\u003eSole Hardness: Soft\u003c\/div\u003e\n\u003cp\u003e \u003c\/p\u003e\n\u003cp\u003e\u003cimg src=\"https:\/\/cdn.shopifycdn.net\/s\/files\/1\/0451\/8520\/4379\/files\/womens-shoe-size-conversion-2020090802.jpg?v=1599529686\" alt=\"\"\u003e\u003c\/p\u003e\n\u003cp\u003e\u003cspan style=\"font-size: 12px;\"\u003e1. Please select a suitable size depending on your foot length;\u003c\/span\u003e\u003c\/p\u003e\n\u003cp\u003e\u003cspan style=\"font-size: 12px;\"\u003e2. Once you know your foot length, consult the Size Chart to determine which size you should purchase;\u003c\/span\u003e\u003c\/p\u003e","published_at":"2020-09-15T20:37:39-07:00","created_at":"2020-09-15T20:37:47-07:00","vendor":"mysite","type":"women shoes","tags":["Sneakers","Sneakers \u0026 Athletic","Sports Shoes","women shoes"],"price":3799,"price_min":3799,"price_max":3799,"available":true,"price_varies":false,"compare_at_price":5533,"compare_at_price_min":5533,"compare_at_price_max":5533,"compare_at_price_varies":false,"variants":[{"id":35976791097499,"title":"Red \/ US 5","option1":"Red","option2":"US 5","option3":null,"sku":"BD09180244","requires_shipping":true,"taxable":true,"featured_image":{"id":19104123453595,"product_id":5610660069531,"position":1,"created_at":"2020-09-15T20:37:47-07:00","updated_at":"2020-09-15T20:37:47-07:00","alt":null,"width":800,"height":800,"src":"https:\/\/cdn.shopify.com\/s\/files\/1\/0451\/8520\/4379\/products\/202008171597643280368492733473959858176.jpg?v=1600227467","variant_ids":[35976791097499,35976791163035,35976791228571,35976791261339,35976791326875]},"available":true,"name":"Women's Soft Casual Flying Woven Air Cushion Socks Sneakers - Red \/ US 5","public_title":"Red \/ US 5","options":["Red","US 5"],"price":3799,"weight":0,"compare_at_price":5533,"inventory_management":"shopify","barcode":null,"featured_media":{"alt":null,"id":11279102115995,"position":1,"preview_image":{"aspect_ratio":1.0,"height":800,"width":800,"src":"https:\/\/cdn.shopify.com\/s\/files\/1\/0451\/8520\/4379\/products\/202008171597643280368492733473959858176.jpg?v=1600227467"}}},{"id":35976791163035,"title":"Red \/ US 6","option1":"Red","option2":"US 6","option3":null,"sku":"BD09180245","requires_shipping":true,"taxable":true,"featured_image":{"id":19104123453595,"product_id":5610660069531,"position":1,"created_at":"2020-09-15T20:37:47-07:00","updated_at":"2020-09-15T20:37:47-07:00","alt":null,"width":800,"height":800,"src":"https:\/\/cdn.shopify.com\/s\/files\/1\/0451\/8520\/4379\/products\/202008171597643280368492733473959858176.jpg?v=1600227467","variant_ids":[35976791097499,35976791163035,35976791228571,35976791261339,35976791326875]},"available":true,"name":"Women's Soft Casual Flying Woven Air Cushion Socks Sneakers - Red \/ US 6","public_title":"Red \/ US 6","options":["Red","US 6"],"price":3799,"weight":0,"compare_at_price":5533,"inventory_management":"shopify","barcode":null,"featured_media":{"alt":null,"id":11279102115995,"position":1,"preview_image":{"aspect_ratio":1.0,"height":800,"width":800,"src":"https:\/\/cdn.shopify.com\/s\/files\/1\/0451\/8520\/4379\/products\/202008171597643280368492733473959858176.jpg?v=1600227467"}}},{"id":35976791228571,"title":"Red \/ US 7","option1":"Red","option2":"US 7","option3":null,"sku":"BD09180246","requires_shipping":true,"taxable":true,"featured_image":{"id":19104123453595,"product_id":5610660069531,"position":1,"created_at":"2020-09-15T20:37:47-07:00","updated_at":"2020-09-15T20:37:47-07:00","alt":null,"width":800,"height":800,"src":"https:\/\/cdn.shopify.com\/s\/files\/1\/0451\/8520\/4379\/products\/202008171597643280368492733473959858176.jpg?v=1600227467","variant_ids":[35976791097499,35976791163035,35976791228571,35976791261339,35976791326875]},"available":true,"name":"Women's Soft Casual Flying Woven Air Cushion Socks Sneakers - Red \/ US 7","public_title":"Red \/ US 7","options":["Red","US 7"],"price":3799,"weight":0,"compare_at_price":5533,"inventory_management":"shopify","barcode":null,"featured_media":{"alt":null,"id":11279102115995,"position":1,"preview_image":{"aspect_ratio":1.0,"height":800,"width":800,"src":"https:\/\/cdn.shopify.com\/s\/files\/1\/0451\/8520\/4379\/products\/202008171597643280368492733473959858176.jpg?v=1600227467"}}},{"id":35976791261339,"title":"Red \/ US 8","option1":"Red","option2":"US 8","option3":null,"sku":"BD09180247","requires_shipping":true,"taxable":true,"featured_image":{"id":19104123453595,"product_id":5610660069531,"position":1,"created_at":"2020-09-15T20:37:47-07:00","updated_at":"2020-09-15T20:37:47-07:00","alt":null,"width":800,"height":800,"src":"https:\/\/cdn.shopify.com\/s\/files\/1\/0451\/8520\/4379\/products\/202008171597643280368492733473959858176.jpg?v=1600227467","variant_ids":[35976791097499,35976791163035,35976791228571,35976791261339,35976791326875]},"available":true,"name":"Women's Soft Casual Flying Woven Air Cushion Socks Sneakers - Red \/ US 8","public_title":"Red \/ US 8","options":["Red","US 8"],"price":3799,"weight":0,"compare_at_price":5533,"inventory_management":"shopify","barcode":null,"featured_media":{"alt":null,"id":11279102115995,"position":1,"preview_image":{"aspect_ratio":1.0,"height":800,"width":800,"src":"https:\/\/cdn.shopify.com\/s\/files\/1\/0451\/8520\/4379\/products\/202008171597643280368492733473959858176.jpg?v=1600227467"}}},{"id":35976791326875,"title":"Red \/ US 9","option1":"Red","option2":"US 9","option3":null,"sku":"BD09180248","requires_shipping":true,"taxable":true,"featured_image":{"id":19104123453595,"product_id":5610660069531,"position":1,"created_at":"2020-09-15T20:37:47-07:00","updated_at":"2020-09-15T20:37:47-07:00","alt":null,"width":800,"height":800,"src":"https:\/\/cdn.shopify.com\/s\/files\/1\/0451\/8520\/4379\/products\/202008171597643280368492733473959858176.jpg?v=1600227467","variant_ids":[35976791097499,35976791163035,35976791228571,35976791261339,35976791326875]},"available":true,"name":"Women's Soft Casual Flying Woven Air Cushion Socks Sneakers - Red \/ US 9","public_title":"Red \/ US 9","options":["Red","US 9"],"price":3799,"weight":0,"compare_at_price":5533,"inventory_management":"shopify","barcode":null,"featured_media":{"alt":null,"id":11279102115995,"position":1,"preview_image":{"aspect_ratio":1.0,"height":800,"width":800,"src":"https:\/\/cdn.shopify.com\/s\/files\/1\/0451\/8520\/4379\/products\/202008171597643280368492733473959858176.jpg?v=1600227467"}}},{"id":35976791359643,"title":"Black \/ US 5","option1":"Black","option2":"US 5","option3":null,"sku":"BD09180249","requires_shipping":true,"taxable":true,"featured_image":{"id":19104123682971,"product_id":5610660069531,"position":8,"created_at":"2020-09-15T20:37:47-07:00","updated_at":"2020-09-15T20:37:47-07:00","alt":null,"width":800,"height":800,"src":"https:\/\/cdn.shopify.com\/s\/files\/1\/0451\/8520\/4379\/products\/202008171597644420812qmAQi.jpg?v=1600227467","variant_ids":[35976791359643,35976791392411,35976791425179,35976791457947,35976791490715]},"available":true,"name":"Women's Soft Casual Flying Woven Air Cushion Socks Sneakers - Black \/ US 5","public_title":"Black \/ US 5","options":["Black","US 5"],"price":3799,"weight":0,"compare_at_price":5533,"inventory_management":"shopify","barcode":null,"featured_media":{"alt":null,"id":11279102345371,"position":8,"preview_image":{"aspect_ratio":1.0,"height":800,"width":800,"src":"https:\/\/cdn.shopify.com\/s\/files\/1\/0451\/8520\/4379\/products\/202008171597644420812qmAQi.jpg?v=1600227467"}}},{"id":35976791392411,"title":"Black \/ US 6","option1":"Black","option2":"US 6","option3":null,"sku":"BD09180250","requires_shipping":true,"taxable":true,"featured_image":{"id":19104123682971,"product_id":5610660069531,"position":8,"created_at":"2020-09-15T20:37:47-07:00","updated_at":"2020-09-15T20:37:47-07:00","alt":null,"width":800,"height":800,"src":"https:\/\/cdn.shopify.com\/s\/files\/1\/0451\/8520\/4379\/products\/202008171597644420812qmAQi.jpg?v=1600227467","variant_ids":[35976791359643,35976791392411,35976791425179,35976791457947,35976791490715]},"available":true,"name":"Women's Soft Casual Flying Woven Air Cushion Socks Sneakers - Black \/ US 6","public_title":"Black \/ US 6","options":["Black","US 6"],"price":3799,"weight":0,"compare_at_price":5533,"inventory_management":"shopify","barcode":null,"featured_media":{"alt":null,"id":11279102345371,"position":8,"preview_image":{"aspect_ratio":1.0,"height":800,"width":800,"src":"https:\/\/cdn.shopify.com\/s\/files\/1\/0451\/8520\/4379\/products\/202008171597644420812qmAQi.jpg?v=1600227467"}}},{"id":35976791425179,"title":"Black \/ US 7","option1":"Black","option2":"US 7","option3":null,"sku":"BD09180251","requires_shipping":true,"taxable":true,"featured_image":{"id":19104123682971,"product_id":5610660069531,"position":8,"created_at":"2020-09-15T20:37:47-07:00","updated_at":"2020-09-15T20:37:47-07:00","alt":null,"width":800,"height":800,"src":"https:\/\/cdn.shopify.com\/s\/files\/1\/0451\/8520\/4379\/products\/202008171597644420812qmAQi.jpg?v=1600227467","variant_ids":[35976791359643,35976791392411,35976791425179,35976791457947,35976791490715]},"available":true,"name":"Women's Soft Casual Flying Woven Air Cushion Socks Sneakers - Black \/ US 7","public_title":"Black \/ US 7","options":["Black","US 7"],"price":3799,"weight":0,"compare_at_price":5533,"inventory_management":"shopify","barcode":null,"featured_media":{"alt":null,"id":11279102345371,"position":8,"preview_image":{"aspect_ratio":1.0,"height":800,"width":800,"src":"https:\/\/cdn.shopify.com\/s\/files\/1\/0451\/8520\/4379\/products\/202008171597644420812qmAQi.jpg?v=1600227467"}}},{"id":35976791457947,"title":"Black \/ US 8","option1":"Black","option2":"US 8","option3":null,"sku":"BD09180252","requires_shipping":true,"taxable":true,"featured_image":{"id":19104123682971,"product_id":5610660069531,"position":8,"created_at":"2020-09-15T20:37:47-07:00","updated_at":"2020-09-15T20:37:47-07:00","alt":null,"width":800,"height":800,"src":"https:\/\/cdn.shopify.com\/s\/files\/1\/0451\/8520\/4379\/products\/202008171597644420812qmAQi.jpg?v=1600227467","variant_ids":[35976791359643,35976791392411,35976791425179,35976791457947,35976791490715]},"available":true,"name":"Women's Soft Casual Flying Woven Air Cushion Socks Sneakers - Black \/ US 8","public_title":"Black \/ US 8","options":["Black","US 8"],"price":3799,"weight":0,"compare_at_price":5533,"inventory_management":"shopify","barcode":null,"featured_media":{"alt":null,"id":11279102345371,"position":8,"preview_image":{"aspect_ratio":1.0,"height":800,"width":800,"src":"https:\/\/cdn.shopify.com\/s\/files\/1\/0451\/8520\/4379\/products\/202008171597644420812qmAQi.jpg?v=1600227467"}}},{"id":35976791490715,"title":"Black \/ US 9","option1":"Black","option2":"US 9","option3":null,"sku":"BD09180253","requires_shipping":true,"taxable":true,"featured_image":{"id":19104123682971,"product_id":5610660069531,"position":8,"created_at":"2020-09-15T20:37:47-07:00","updated_at":"2020-09-15T20:37:47-07:00","alt":null,"width":800,"height":800,"src":"https:\/\/cdn.shopify.com\/s\/files\/1\/0451\/8520\/4379\/products\/202008171597644420812qmAQi.jpg?v=1600227467","variant_ids":[35976791359643,35976791392411,35976791425179,35976791457947,35976791490715]},"available":true,"name":"Women's Soft Casual Flying Woven Air Cushion Socks Sneakers - Black \/ US 9","public_title":"Black \/ US 9","options":["Black","US 9"],"price":3799,"weight":0,"compare_at_price":5533,"inventory_management":"shopify","barcode":null,"featured_media":{"alt":null,"id":11279102345371,"position":8,"preview_image":{"aspect_ratio":1.0,"height":800,"width":800,"src":"https:\/\/cdn.shopify.com\/s\/files\/1\/0451\/8520\/4379\/products\/202008171597644420812qmAQi.jpg?v=1600227467"}}},{"id":35976791523483,"title":"Deep Blue \/ US 5","option1":"Deep Blue","option2":"US 5","option3":null,"sku":"BD09180254","requires_shipping":true,"taxable":true,"featured_image":{"id":19104123617435,"product_id":5610660069531,"position":6,"created_at":"2020-09-15T20:37:47-07:00","updated_at":"2020-09-15T20:37:47-07:00","alt":null,"width":800,"height":800,"src":"https:\/\/cdn.shopify.com\/s\/files\/1\/0451\/8520\/4379\/products\/202008171597643284364492733490720296960.jpg?v=1600227467","variant_ids":[35976791523483,35976791556251,35976791589019,35976791621787,35976791654555]},"available":true,"name":"Women's Soft Casual Flying Woven Air Cushion Socks Sneakers - Deep Blue \/ US 5","public_title":"Deep Blue \/ US 5","options":["Deep Blue","US 5"],"price":3799,"weight":0,"compare_at_price":5533,"inventory_management":"shopify","barcode":null,"featured_media":{"alt":null,"id":11279102279835,"position":6,"preview_image":{"aspect_ratio":1.0,"height":800,"width":800,"src":"https:\/\/cdn.shopify.com\/s\/files\/1\/0451\/8520\/4379\/products\/202008171597643284364492733490720296960.jpg?v=1600227467"}}},{"id":35976791556251,"title":"Deep Blue \/ US 6","option1":"Deep Blue","option2":"US 6","option3":null,"sku":"BD09180255","requires_shipping":true,"taxable":true,"featured_image":{"id":19104123617435,"product_id":5610660069531,"position":6,"created_at":"2020-09-15T20:37:47-07:00","updated_at":"2020-09-15T20:37:47-07:00","alt":null,"width":800,"height":800,"src":"https:\/\/cdn.shopify.com\/s\/files\/1\/0451\/8520\/4379\/products\/202008171597643284364492733490720296960.jpg?v=1600227467","variant_ids":[35976791523483,35976791556251,35976791589019,35976791621787,35976791654555]},"available":true,"name":"Women's Soft Casual Flying Woven Air Cushion Socks Sneakers - Deep Blue \/ US 6","public_title":"Deep Blue \/ US 6","options":["Deep Blue","US 6"],"price":3799,"weight":0,"compare_at_price":5533,"inventory_management":"shopify","barcode":null,"featured_media":{"alt":null,"id":11279102279835,"position":6,"preview_image":{"aspect_ratio":1.0,"height":800,"width":800,"src":"https:\/\/cdn.shopify.com\/s\/files\/1\/0451\/8520\/4379\/products\/202008171597643284364492733490720296960.jpg?v=1600227467"}}},{"id":35976791589019,"title":"Deep Blue \/ US 7","option1":"Deep Blue","option2":"US 7","option3":null,"sku":"BD09180256","requires_shipping":true,"taxable":true,"featured_image":{"id":19104123617435,"product_id":5610660069531,"position":6,"created_at":"2020-09-15T20:37:47-07:00","updated_at":"2020-09-15T20:37:47-07:00","alt":null,"width":800,"height":800,"src":"https:\/\/cdn.shopify.com\/s\/files\/1\/0451\/8520\/4379\/products\/202008171597643284364492733490720296960.jpg?v=1600227467","variant_ids":[35976791523483,35976791556251,35976791589019,35976791621787,35976791654555]},"available":true,"name":"Women's Soft Casual Flying Woven Air Cushion Socks Sneakers - Deep Blue \/ US 7","public_title":"Deep Blue \/ US 7","options":["Deep Blue","US 7"],"price":3799,"weight":0,"compare_at_price":5533,"inventory_management":"shopify","barcode":null,"featured_media":{"alt":null,"id":11279102279835,"position":6,"preview_image":{"aspect_ratio":1.0,"height":800,"width":800,"src":"https:\/\/cdn.shopify.com\/s\/files\/1\/0451\/8520\/4379\/products\/202008171597643284364492733490720296960.jpg?v=1600227467"}}},{"id":35976791621787,"title":"Deep Blue \/ US 8","option1":"Deep Blue","option2":"US 8","option3":null,"sku":"BD09180257","requires_shipping":true,"taxable":true,"featured_image":{"id":19104123617435,"product_id":5610660069531,"position":6,"created_at":"2020-09-15T20:37:47-07:00","updated_at":"2020-09-15T20:37:47-07:00","alt":null,"width":800,"height":800,"src":"https:\/\/cdn.shopify.com\/s\/files\/1\/0451\/8520\/4379\/products\/202008171597643284364492733490720296960.jpg?v=1600227467","variant_ids":[35976791523483,35976791556251,35976791589019,35976791621787,35976791654555]},"available":true,"name":"Women's Soft Casual Flying Woven Air Cushion Socks Sneakers - Deep Blue \/ US 8","public_title":"Deep Blue \/ US 8","options":["Deep Blue","US 8"],"price":3799,"weight":0,"compare_at_price":5533,"inventory_management":"shopify","barcode":null,"featured_media":{"alt":null,"id":11279102279835,"position":6,"preview_image":{"aspect_ratio":1.0,"height":800,"width":800,"src":"https:\/\/cdn.shopify.com\/s\/files\/1\/0451\/8520\/4379\/products\/202008171597643284364492733490720296960.jpg?v=1600227467"}}},{"id":35976791654555,"title":"Deep Blue \/ US 9","option1":"Deep Blue","option2":"US 9","option3":null,"sku":"BD09180258","requires_shipping":true,"taxable":true,"featured_image":{"id":19104123617435,"product_id":5610660069531,"position":6,"created_at":"2020-09-15T20:37:47-07:00","updated_at":"2020-09-15T20:37:47-07:00","alt":null,"width":800,"height":800,"src":"https:\/\/cdn.shopify.com\/s\/files\/1\/0451\/8520\/4379\/products\/202008171597643284364492733490720296960.jpg?v=1600227467","variant_ids":[35976791523483,35976791556251,35976791589019,35976791621787,35976791654555]},"available":true,"name":"Women's Soft Casual Flying Woven Air Cushion Socks Sneakers - Deep Blue \/ US 9","public_title":"Deep Blue \/ US 9","options":["Deep Blue","US 9"],"price":3799,"weight":0,"compare_at_price":5533,"inventory_management":"shopify","barcode":null,"featured_media":{"alt":null,"id":11279102279835,"position":6,"preview_image":{"aspect_ratio":1.0,"height":800,"width":800,"src":"https:\/\/cdn.shopify.com\/s\/files\/1\/0451\/8520\/4379\/products\/202008171597643284364492733490720296960.jpg?v=1600227467"}}},{"id":35976791687323,"title":"Light gray \/ US 5","option1":"Light gray","option2":"US 5","option3":null,"sku":"BD09180259","requires_shipping":true,"taxable":true,"featured_image":{"id":19104123519131,"product_id":5610660069531,"position":3,"created_at":"2020-09-15T20:37:47-07:00","updated_at":"2020-09-15T20:37:47-07:00","alt":null,"width":800,"height":800,"src":"https:\/\/cdn.shopify.com\/s\/files\/1\/0451\/8520\/4379\/products\/202008171597643277167492733460533891072.jpg?v=1600227467","variant_ids":[35976791687323,35976791720091,35976791752859,35976791785627,35976791851163]},"available":true,"name":"Women's Soft Casual Flying Woven Air Cushion Socks Sneakers - Light gray \/ US 5","public_title":"Light gray \/ US 5","options":["Light gray","US 5"],"price":3799,"weight":0,"compare_at_price":5533,"inventory_management":"shopify","barcode":null,"featured_media":{"alt":null,"id":11279102181531,"position":3,"preview_image":{"aspect_ratio":1.0,"height":800,"width":800,"src":"https:\/\/cdn.shopify.com\/s\/files\/1\/0451\/8520\/4379\/products\/202008171597643277167492733460533891072.jpg?v=1600227467"}}},{"id":35976791720091,"title":"Light gray \/ US 6","option1":"Light gray","option2":"US 6","option3":null,"sku":"BD09180260","requires_shipping":true,"taxable":true,"featured_image":{"id":19104123519131,"product_id":5610660069531,"position":3,"created_at":"2020-09-15T20:37:47-07:00","updated_at":"2020-09-15T20:37:47-07:00","alt":null,"width":800,"height":800,"src":"https:\/\/cdn.shopify.com\/s\/files\/1\/0451\/8520\/4379\/products\/202008171597643277167492733460533891072.jpg?v=1600227467","variant_ids":[35976791687323,35976791720091,35976791752859,35976791785627,35976791851163]},"available":true,"name":"Women's Soft Casual Flying Woven Air Cushion Socks Sneakers - Light gray \/ US 6","public_title":"Light gray \/ US 6","options":["Light gray","US 6"],"price":3799,"weight":0,"compare_at_price":5533,"inventory_management":"shopify","barcode":null,"featured_media":{"alt":null,"id":11279102181531,"position":3,"preview_image":{"aspect_ratio":1.0,"height":800,"width":800,"src":"https:\/\/cdn.shopify.com\/s\/files\/1\/0451\/8520\/4379\/products\/202008171597643277167492733460533891072.jpg?v=1600227467"}}},{"id":35976791752859,"title":"Light gray \/ US 7","option1":"Light gray","option2":"US 7","option3":null,"sku":"BD09180261","requires_shipping":true,"taxable":true,"featured_image":{"id":19104123519131,"product_id":5610660069531,"position":3,"created_at":"2020-09-15T20:37:47-07:00","updated_at":"2020-09-15T20:37:47-07:00","alt":null,"width":800,"height":800,"src":"https:\/\/cdn.shopify.com\/s\/files\/1\/0451\/8520\/4379\/products\/202008171597643277167492733460533891072.jpg?v=1600227467","variant_ids":[35976791687323,35976791720091,35976791752859,35976791785627,35976791851163]},"available":true,"name":"Women's Soft Casual Flying Woven Air Cushion Socks Sneakers - Light gray \/ US 7","public_title":"Light gray \/ US 7","options":["Light gray","US 7"],"price":3799,"weight":0,"compare_at_price":5533,"inventory_management":"shopify","barcode":null,"featured_media":{"alt":null,"id":11279102181531,"position":3,"preview_image":{"aspect_ratio":1.0,"height":800,"width":800,"src":"https:\/\/cdn.shopify.com\/s\/files\/1\/0451\/8520\/4379\/products\/202008171597643277167492733460533891072.jpg?v=1600227467"}}},{"id":35976791785627,"title":"Light gray \/ US 8","option1":"Light gray","option2":"US 8","option3":null,"sku":"BD09180262","requires_shipping":true,"taxable":true,"featured_image":{"id":19104123519131,"product_id":5610660069531,"position":3,"created_at":"2020-09-15T20:37:47-07:00","updated_at":"2020-09-15T20:37:47-07:00","alt":null,"width":800,"height":800,"src":"https:\/\/cdn.shopify.com\/s\/files\/1\/0451\/8520\/4379\/products\/202008171597643277167492733460533891072.jpg?v=1600227467","variant_ids":[35976791687323,35976791720091,35976791752859,35976791785627,35976791851163]},"available":true,"name":"Women's Soft Casual Flying Woven Air Cushion Socks Sneakers - Light gray \/ US 8","public_title":"Light gray \/ US 8","options":["Light gray","US 8"],"price":3799,"weight":0,"compare_at_price":5533,"inventory_management":"shopify","barcode":null,"featured_media":{"alt":null,"id":11279102181531,"position":3,"preview_image":{"aspect_ratio":1.0,"height":800,"width":800,"src":"https:\/\/cdn.shopify.com\/s\/files\/1\/0451\/8520\/4379\/products\/202008171597643277167492733460533891072.jpg?v=1600227467"}}},{"id":35976791851163,"title":"Light gray \/ US 9","option1":"Light gray","option2":"US 9","option3":null,"sku":"BD09180263","requires_shipping":true,"taxable":true,"featured_image":{"id":19104123519131,"product_id":5610660069531,"position":3,"created_at":"2020-09-15T20:37:47-07:00","updated_at":"2020-09-15T20:37:47-07:00","alt":null,"width":800,"height":800,"src":"https:\/\/cdn.shopify.com\/s\/files\/1\/0451\/8520\/4379\/products\/202008171597643277167492733460533891072.jpg?v=1600227467","variant_ids":[35976791687323,35976791720091,35976791752859,35976791785627,35976791851163]},"available":true,"name":"Women's Soft Casual Flying Woven Air Cushion Socks Sneakers - Light gray \/ US 9","public_title":"Light gray \/ US 9","options":["Light gray","US 9"],"price":3799,"weight":0,"compare_at_price":5533,"inventory_management":"shopify","barcode":null,"featured_media":{"alt":null,"id":11279102181531,"position":3,"preview_image":{"aspect_ratio":1.0,"height":800,"width":800,"src":"https:\/\/cdn.shopify.com\/s\/files\/1\/0451\/8520\/4379\/products\/202008171597643277167492733460533891072.jpg?v=1600227467"}}}],"images":["\/\/cdn.shopify.com\/s\/files\/1\/0451\/8520\/4379\/products\/202008171597643280368492733473959858176.jpg?v=1600227467","\/\/cdn.shopify.com\/s\/files\/1\/0451\/8520\/4379\/products\/202008171597644429103BMYtZ.jpg?v=1600227467","\/\/cdn.shopify.com\/s\/files\/1\/0451\/8520\/4379\/products\/202008171597643277167492733460533891072.jpg?v=1600227467","\/\/cdn.shopify.com\/s\/files\/1\/0451\/8520\/4379\/products\/202008171597643273904492733446847877120.jpg?v=1600227467","\/\/cdn.shopify.com\/s\/files\/1\/0451\/8520\/4379\/products\/202008171597644426204CCvIs.jpg?v=1600227467","\/\/cdn.shopify.com\/s\/files\/1\/0451\/8520\/4379\/products\/202008171597643284364492733490720296960.jpg?v=1600227467","\/\/cdn.shopify.com\/s\/files\/1\/0451\/8520\/4379\/products\/202008171597644423756xUdNY.jpg?v=1600227467","\/\/cdn.shopify.com\/s\/files\/1\/0451\/8520\/4379\/products\/202008171597644420812qmAQi.jpg?v=1600227467"],"featured_image":"\/\/cdn.shopify.com\/s\/files\/1\/0451\/8520\/4379\/products\/202008171597643280368492733473959858176.jpg?v=1600227467","options":["Color","Size"],"media":[{"alt":null,"id":11279102115995,"position":1,"preview_image":{"aspect_ratio":1.0,"height":800,"width":800,"src":"https:\/\/cdn.shopify.com\/s\/files\/1\/0451\/8520\/4379\/products\/202008171597643280368492733473959858176.jpg?v=1600227467"},"aspect_ratio":1.0,"height":800,"media_type":"image","src":"https:\/\/cdn.shopify.com\/s\/files\/1\/0451\/8520\/4379\/products\/202008171597643280368492733473959858176.jpg?v=1600227467","width":800},{"alt":null,"id":11279102148763,"position":2,"preview_image":{"aspect_ratio":1.0,"height":800,"width":800,"src":"https:\/\/cdn.shopify.com\/s\/files\/1\/0451\/8520\/4379\/products\/202008171597644429103BMYtZ.jpg?v=1600227467"},"aspect_ratio":1.0,"height":800,"media_type":"image","src":"https:\/\/cdn.shopify.com\/s\/files\/1\/0451\/8520\/4379\/products\/202008171597644429103BMYtZ.jpg?v=1600227467","width":800},{"alt":null,"id":11279102181531,"position":3,"preview_image":{"aspect_ratio":1.0,"height":800,"width":800,"src":"https:\/\/cdn.shopify.com\/s\/files\/1\/0451\/8520\/4379\/products\/202008171597643277167492733460533891072.jpg?v=1600227467"},"aspect_ratio":1.0,"height":800,"media_type":"image","src":"https:\/\/cdn.shopify.com\/s\/files\/1\/0451\/8520\/4379\/products\/202008171597643277167492733460533891072.jpg?v=1600227467","width":800},{"alt":null,"id":11279102214299,"position":4,"preview_image":{"aspect_ratio":1.0,"height":800,"width":800,"src":"https:\/\/cdn.shopify.com\/s\/files\/1\/0451\/8520\/4379\/products\/202008171597643273904492733446847877120.jpg?v=1600227467"},"aspect_ratio":1.0,"height":800,"media_type":"image","src":"https:\/\/cdn.shopify.com\/s\/files\/1\/0451\/8520\/4379\/products\/202008171597643273904492733446847877120.jpg?v=1600227467","width":800},{"alt":null,"id":11279102247067,"position":5,"preview_image":{"aspect_ratio":1.0,"height":800,"width":800,"src":"https:\/\/cdn.shopify.com\/s\/files\/1\/0451\/8520\/4379\/products\/202008171597644426204CCvIs.jpg?v=1600227467"},"aspect_ratio":1.0,"height":800,"media_type":"image","src":"https:\/\/cdn.shopify.com\/s\/files\/1\/0451\/8520\/4379\/products\/202008171597644426204CCvIs.jpg?v=1600227467","width":800},{"alt":null,"id":11279102279835,"position":6,"preview_image":{"aspect_ratio":1.0,"height":800,"width":800,"src":"https:\/\/cdn.shopify.com\/s\/files\/1\/0451\/8520\/4379\/products\/202008171597643284364492733490720296960.jpg?v=1600227467"},"aspect_ratio":1.0,"height":800,"media_type":"image","src":"https:\/\/cdn.shopify.com\/s\/files\/1\/0451\/8520\/4379\/products\/202008171597643284364492733490720296960.jpg?v=1600227467","width":800},{"alt":null,"id":11279102312603,"position":7,"preview_image":{"aspect_ratio":1.0,"height":800,"width":800,"src":"https:\/\/cdn.shopify.com\/s\/files\/1\/0451\/8520\/4379\/products\/202008171597644423756xUdNY.jpg?v=1600227467"},"aspect_ratio":1.0,"height":800,"media_type":"image","src":"https:\/\/cdn.shopify.com\/s\/files\/1\/0451\/8520\/4379\/products\/202008171597644423756xUdNY.jpg?v=1600227467","width":800},{"alt":null,"id":11279102345371,"position":8,"preview_image":{"aspect_ratio":1.0,"height":800,"width":800,"src":"https:\/\/cdn.shopify.com\/s\/files\/1\/0451\/8520\/4379\/products\/202008171597644420812qmAQi.jpg?v=1600227467"},"aspect_ratio":1.0,"height":800,"media_type":"image","src":"https:\/\/cdn.shopify.com\/s\/files\/1\/0451\/8520\/4379\/products\/202008171597644420812qmAQi.jpg?v=1600227467","width":800}],"content":"\u003cdiv\u003e\u003c\/div\u003e\n\u003cdiv\u003e\n\u003cstrong\u003eAir Cushion Shockproof Design\u003c\/strong\u003e\u003cbr\u003eCombined rebound platform PU sole with air cushion technology for shock absorption\u003cbr\u003eAir cushion sole is shockproof, maximum cushioning, prevent your feet hurt.\u003cbr\u003eThese shoes use air cushion technology to make the shoes more light and elastic, relieve impact, and protect the feet from injury. Slip-resistant.\u003c\/div\u003e\n\u003cdiv\u003e\u003cstrong\u003e\u003cspan\u003e\u003c\/span\u003e\u003c\/strong\u003e\u003c\/div\u003e\n\u003cdiv\u003eThis sporty offering a convenient slip-on design and a thick sole for shock absorption in every step. A rubber sole keeps you grounded wherever you roam.\u003cbr\u003e\u003cbr\u003eSoft and elastic fabric mesh upper allows your feet to breathe freely and comfortably. Open mesh on the upper and hole on the sole provides for superior breathability and quick drying.\u003cbr\u003e\u003cbr\u003eFlexible body with soft and light mesh insole provides comfortable cushion, anti-wrinkle, no creases, fit your feet perfectly. Latex arch insert for added support.\u003cstrong\u003e\u003cspan\u003e\u003cbr\u003e\u003c\/span\u003e\u003c\/strong\u003e\n\u003c\/div\u003e\n\u003cdiv\u003e\u003c\/div\u003e\n\u003cdiv\u003e\u003cstrong\u003e\u003cspan\u003e\u003c\/span\u003e\u003c\/strong\u003e\u003c\/div\u003e\n\u003cdiv\u003e\u003cstrong\u003e\u003cspan\u003eProduct Parameters\u003c\/span\u003e\u003c\/strong\u003e\u003c\/div\u003e\n\u003cdiv\u003eToe Shape: Round-Toe\u003c\/div\u003e\n\u003cdiv\u003eOccasion: Casual, Party, Sport, Travel\u003c\/div\u003e\n\u003cdiv\u003eLining Material: Cotton Fabric\u003c\/div\u003e\n\u003cdiv\u003eOutsole Material: Rubber\u003c\/div\u003e\n\u003cdiv\u003eHeel height: Low Heels£¨1-3cm£©\u003c\/div\u003e\n\u003cdiv\u003eShoe Width: Medium\u003c\/div\u003e\n\u003cdiv\u003eShoe Style: Athletic Shoes\u003c\/div\u003e\n\u003cdiv\u003eSeason: Spring, Summer, Autumn, Winter\u003c\/div\u003e\n\u003cdiv\u003eUpper Material: Grid\u003c\/div\u003e\n\u003cdiv\u003eSole Hardness: Soft\u003c\/div\u003e\n\u003cp\u003e \u003c\/p\u003e\n\u003cp\u003e\u003cimg src=\"https:\/\/cdn.shopifycdn.net\/s\/files\/1\/0451\/8520\/4379\/files\/womens-shoe-size-conversion-2020090802.jpg?v=1599529686\" alt=\"\"\u003e\u003c\/p\u003e\n\u003cp\u003e\u003cspan style=\"font-size: 12px;\"\u003e1. Please select a suitable size depending on your foot length;\u003c\/span\u003e\u003c\/p\u003e\n\u003cp\u003e\u003cspan style=\"font-size: 12px;\"\u003e2. Once you know your foot length, consult the Size Chart to determine which size you should purchase;\u003c\/span\u003e\u003c\/p\u003e"}
Women's Soft Casual Flying Woven Air Cushion Socks Sneakers
Product Description
Air Cushion Shockproof Design
Combined rebound platform PU sole with air cushion technology for shock absorption
Air cushion sole is shockproof, maximum cushioning, prevent your feet hurt.
These shoes use air cushion technology to make the shoes more light and elastic, relieve impact, and protect the feet from injury. Slip-resistant.
This sporty offering a convenient slip-on design and a thick sole for shock absorption in every step. A rubber sole keeps you grounded wherever you roam.

Soft and elastic fabric mesh upper allows your feet to breathe freely and comfortably. Open mesh on the upper and hole on the sole provides for superior breathability and quick drying.

Flexible body with soft and light mesh insole provides comfortable cushion, anti-wrinkle, no creases, fit your feet perfectly. Latex arch insert for added support.

Toe Shape: Round-Toe
Occasion: Casual, Party, Sport, Travel
Lining Material: Cotton Fabric
Outsole Material: Rubber
Heel height: Low Heels£¨1-3cm£©
Shoe Width: Medium
Shoe Style: Athletic Shoes
Season: Spring, Summer, Autumn, Winter
Upper Material: Grid
Sole Hardness: Soft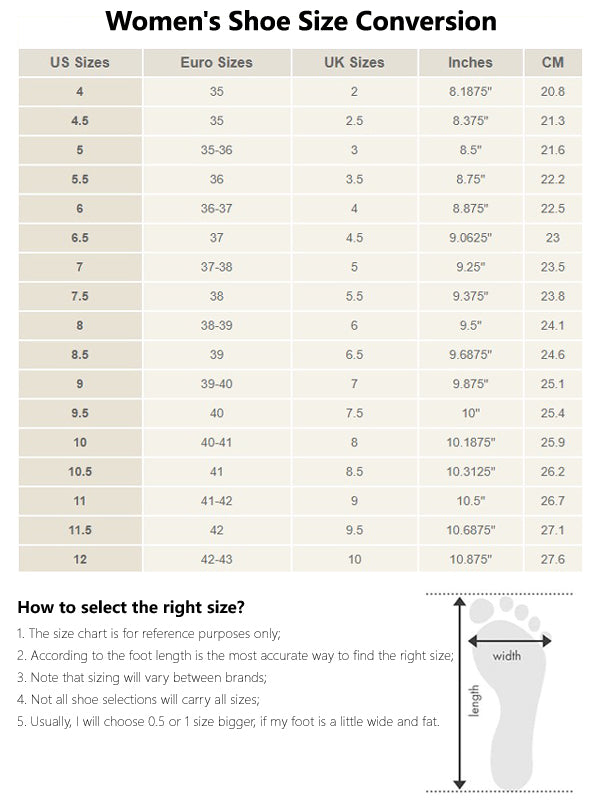 1. Please select a suitable size depending on your foot length;
2. Once you know your foot length, consult the Size Chart to determine which size you should purchase;