{"id":5657224675483,"title":"Women's Walking Shoes Slip-on - Sock Sneakers Ladies Nursing Work Air Cushion Mesh Casual Running Jogging Shoes","handle":"womens-walking-shoes-slip-on-sock-sneakers-ladies-nursing-work-air-cushion-mesh-casual-running-jogging-shoes","description":"\u003cp\u003e\u003cspan style=\"font-size: 1.4em;\"\u003eMD+Air Cushion sole\u003c\/span\u003e\u003c\/p\u003e\n\u003cp\u003e\u003cbr\u003e\u003cspan style=\"font-size: 1.4em;\"\u003eEASY SLIP-ON DESIGN: Women's walking shoes can be pulled on and off easily.\u003c\/span\u003e\u003c\/p\u003e\n\u003cp\u003e\u003cbr\u003e\u003cspan style=\"font-size: 1.4em;\"\u003eCOMFORTABLE AND BREATHABLE MATERIAL: \u003c\/span\u003e\u003cspan style=\"font-size: 1.4em;\"\u003eThis\u003c\/span\u003e\u003cspan style=\"font-size: 1.4em;\"\u003e road running shoes' Upper with breathable lightweight air fly woven, it is excellent, flexible, and comfortable.\u003c\/span\u003e\u003c\/p\u003e\n\u003cp\u003e\u003cbr\u003e\u003cspan style=\"font-size: 1.4em;\"\u003eMD PLATFORM SOLE: \u003c\/span\u003e\u003cspan style=\"font-size: 1.4em;\"\u003eWomen\u003c\/span\u003e\u003cspan style=\"font-size: 1.4em;\"\u003e sock sneakers' soft updated air-cushion sole is made from durable and MD sole, which provides the user with enough buffer between feet and ground.\u003c\/span\u003e\u003c\/p\u003e\n\u003cp\u003e\u003cbr\u003e\u003cspan style=\"font-size: 1.4em;\"\u003eSUITABLE FOR ALL OCCASION: Daily walking,casual running,nursing,working,tennis,shopping,traveling,long standing,outdoor sports,driving,yoga,pilates,dancing and indoor activities,etc.\u003c\/span\u003e\u003c\/p\u003e\n\u003cp\u003e\u003cspan style=\"font-size: 1.4em;\"\u003e\u003cimg alt=\"\" src=\"https:\/\/cdn.shopifycdn.net\/s\/files\/1\/0451\/8520\/4379\/files\/womens-walking-shoes-slip-on-sock-sneakers-ladies-nursing-work-air-cushion-mesh-casual-running-jogging-shoes-details.jpg?v=1601198233\"\u003e\u003c\/span\u003e\u003c\/p\u003e\n\u003cp\u003e\u003cbr\u003e\u003cspan style=\"font-size: 1.4em;\"\u003eABOUT SIZE: Please refer to our size chart to choose the size. if there's any question, please contact us.\u003c\/span\u003e\u003cbr\u003e\u003c\/p\u003e\n\u003cp\u003e\u003cspan style=\"font-size: 1.4em;\"\u003e\u003cimg alt=\"\" src=\"https:\/\/cdn.shopifycdn.net\/s\/files\/1\/0451\/8520\/4379\/files\/womens-shoe-size-conversion-2020090802.jpg?v=1599529686\" data-mce-selected=\"1\"\u003e\u003c\/span\u003e\u003c\/p\u003e","published_at":"2020-09-27T02:00:31-07:00","created_at":"2020-09-27T02:00:31-07:00","vendor":"Womenshoess","type":"","tags":[],"price":4999,"price_min":4999,"price_max":4999,"available":true,"price_varies":false,"compare_at_price":7585,"compare_at_price_min":7585,"compare_at_price_max":7585,"compare_at_price_varies":false,"variants":[{"id":36165032018075,"title":"All Black \/ 5.5","option1":"All Black","option2":"5.5","option3":null,"sku":"","requires_shipping":true,"taxable":true,"featured_image":{"id":19345133666459,"product_id":5657224675483,"position":7,"created_at":"2020-09-27T02:00:31-07:00","updated_at":"2020-09-27T02:00:31-07:00","alt":null,"width":1500,"height":1226,"src":"https:\/\/cdn.shopify.com\/s\/files\/1\/0451\/8520\/4379\/products\/91EjZnQJhaL._AC_UL1500.jpg?v=1601197231","variant_ids":[36165032018075,36165032050843,36165032116379,36165032149147,36165032181915,36165032214683,36165032247451,36165032280219]},"available":true,"name":"Women's Walking Shoes Slip-on - Sock Sneakers Ladies Nursing Work Air Cushion Mesh Casual Running Jogging Shoes - All Black \/ 5.5","public_title":"All Black \/ 5.5","options":["All Black","5.5"],"price":4999,"weight":0,"compare_at_price":7585,"inventory_management":null,"barcode":null,"featured_media":{"alt":null,"id":11520268206235,"position":7,"preview_image":{"aspect_ratio":1.223,"height":1226,"width":1500,"src":"https:\/\/cdn.shopify.com\/s\/files\/1\/0451\/8520\/4379\/products\/91EjZnQJhaL._AC_UL1500.jpg?v=1601197231"}},"requires_selling_plan":false,"selling_plan_allocations":[]},{"id":36165032050843,"title":"All Black \/ 6.5","option1":"All Black","option2":"6.5","option3":null,"sku":"","requires_shipping":true,"taxable":true,"featured_image":{"id":19345133666459,"product_id":5657224675483,"position":7,"created_at":"2020-09-27T02:00:31-07:00","updated_at":"2020-09-27T02:00:31-07:00","alt":null,"width":1500,"height":1226,"src":"https:\/\/cdn.shopify.com\/s\/files\/1\/0451\/8520\/4379\/products\/91EjZnQJhaL._AC_UL1500.jpg?v=1601197231","variant_ids":[36165032018075,36165032050843,36165032116379,36165032149147,36165032181915,36165032214683,36165032247451,36165032280219]},"available":true,"name":"Women's Walking Shoes Slip-on - Sock Sneakers Ladies Nursing Work Air Cushion Mesh Casual Running Jogging Shoes - All Black \/ 6.5","public_title":"All Black \/ 6.5","options":["All Black","6.5"],"price":4999,"weight":0,"compare_at_price":7585,"inventory_management":null,"barcode":null,"featured_media":{"alt":null,"id":11520268206235,"position":7,"preview_image":{"aspect_ratio":1.223,"height":1226,"width":1500,"src":"https:\/\/cdn.shopify.com\/s\/files\/1\/0451\/8520\/4379\/products\/91EjZnQJhaL._AC_UL1500.jpg?v=1601197231"}},"requires_selling_plan":false,"selling_plan_allocations":[]},{"id":36165032116379,"title":"All Black \/ 7","option1":"All Black","option2":"7","option3":null,"sku":"","requires_shipping":true,"taxable":true,"featured_image":{"id":19345133666459,"product_id":5657224675483,"position":7,"created_at":"2020-09-27T02:00:31-07:00","updated_at":"2020-09-27T02:00:31-07:00","alt":null,"width":1500,"height":1226,"src":"https:\/\/cdn.shopify.com\/s\/files\/1\/0451\/8520\/4379\/products\/91EjZnQJhaL._AC_UL1500.jpg?v=1601197231","variant_ids":[36165032018075,36165032050843,36165032116379,36165032149147,36165032181915,36165032214683,36165032247451,36165032280219]},"available":true,"name":"Women's Walking Shoes Slip-on - Sock Sneakers Ladies Nursing Work Air Cushion Mesh Casual Running Jogging Shoes - All Black \/ 7","public_title":"All Black \/ 7","options":["All Black","7"],"price":4999,"weight":0,"compare_at_price":7585,"inventory_management":null,"barcode":null,"featured_media":{"alt":null,"id":11520268206235,"position":7,"preview_image":{"aspect_ratio":1.223,"height":1226,"width":1500,"src":"https:\/\/cdn.shopify.com\/s\/files\/1\/0451\/8520\/4379\/products\/91EjZnQJhaL._AC_UL1500.jpg?v=1601197231"}},"requires_selling_plan":false,"selling_plan_allocations":[]},{"id":36165032149147,"title":"All Black \/ 8","option1":"All Black","option2":"8","option3":null,"sku":"","requires_shipping":true,"taxable":true,"featured_image":{"id":19345133666459,"product_id":5657224675483,"position":7,"created_at":"2020-09-27T02:00:31-07:00","updated_at":"2020-09-27T02:00:31-07:00","alt":null,"width":1500,"height":1226,"src":"https:\/\/cdn.shopify.com\/s\/files\/1\/0451\/8520\/4379\/products\/91EjZnQJhaL._AC_UL1500.jpg?v=1601197231","variant_ids":[36165032018075,36165032050843,36165032116379,36165032149147,36165032181915,36165032214683,36165032247451,36165032280219]},"available":true,"name":"Women's Walking Shoes Slip-on - Sock Sneakers Ladies Nursing Work Air Cushion Mesh Casual Running Jogging Shoes - All Black \/ 8","public_title":"All Black \/ 8","options":["All Black","8"],"price":4999,"weight":0,"compare_at_price":7585,"inventory_management":null,"barcode":null,"featured_media":{"alt":null,"id":11520268206235,"position":7,"preview_image":{"aspect_ratio":1.223,"height":1226,"width":1500,"src":"https:\/\/cdn.shopify.com\/s\/files\/1\/0451\/8520\/4379\/products\/91EjZnQJhaL._AC_UL1500.jpg?v=1601197231"}},"requires_selling_plan":false,"selling_plan_allocations":[]},{"id":36165032181915,"title":"All Black \/ 8.5","option1":"All Black","option2":"8.5","option3":null,"sku":"","requires_shipping":true,"taxable":true,"featured_image":{"id":19345133666459,"product_id":5657224675483,"position":7,"created_at":"2020-09-27T02:00:31-07:00","updated_at":"2020-09-27T02:00:31-07:00","alt":null,"width":1500,"height":1226,"src":"https:\/\/cdn.shopify.com\/s\/files\/1\/0451\/8520\/4379\/products\/91EjZnQJhaL._AC_UL1500.jpg?v=1601197231","variant_ids":[36165032018075,36165032050843,36165032116379,36165032149147,36165032181915,36165032214683,36165032247451,36165032280219]},"available":true,"name":"Women's Walking Shoes Slip-on - Sock Sneakers Ladies Nursing Work Air Cushion Mesh Casual Running Jogging Shoes - All Black \/ 8.5","public_title":"All Black \/ 8.5","options":["All Black","8.5"],"price":4999,"weight":0,"compare_at_price":7585,"inventory_management":null,"barcode":null,"featured_media":{"alt":null,"id":11520268206235,"position":7,"preview_image":{"aspect_ratio":1.223,"height":1226,"width":1500,"src":"https:\/\/cdn.shopify.com\/s\/files\/1\/0451\/8520\/4379\/products\/91EjZnQJhaL._AC_UL1500.jpg?v=1601197231"}},"requires_selling_plan":false,"selling_plan_allocations":[]},{"id":36165032214683,"title":"All Black \/ 9.5","option1":"All Black","option2":"9.5","option3":null,"sku":"","requires_shipping":true,"taxable":true,"featured_image":{"id":19345133666459,"product_id":5657224675483,"position":7,"created_at":"2020-09-27T02:00:31-07:00","updated_at":"2020-09-27T02:00:31-07:00","alt":null,"width":1500,"height":1226,"src":"https:\/\/cdn.shopify.com\/s\/files\/1\/0451\/8520\/4379\/products\/91EjZnQJhaL._AC_UL1500.jpg?v=1601197231","variant_ids":[36165032018075,36165032050843,36165032116379,36165032149147,36165032181915,36165032214683,36165032247451,36165032280219]},"available":true,"name":"Women's Walking Shoes Slip-on - Sock Sneakers Ladies Nursing Work Air Cushion Mesh Casual Running Jogging Shoes - All Black \/ 9.5","public_title":"All Black \/ 9.5","options":["All Black","9.5"],"price":4999,"weight":0,"compare_at_price":7585,"inventory_management":null,"barcode":null,"featured_media":{"alt":null,"id":11520268206235,"position":7,"preview_image":{"aspect_ratio":1.223,"height":1226,"width":1500,"src":"https:\/\/cdn.shopify.com\/s\/files\/1\/0451\/8520\/4379\/products\/91EjZnQJhaL._AC_UL1500.jpg?v=1601197231"}},"requires_selling_plan":false,"selling_plan_allocations":[]},{"id":36165032247451,"title":"All Black \/ 10","option1":"All Black","option2":"10","option3":null,"sku":"","requires_shipping":true,"taxable":true,"featured_image":{"id":19345133666459,"product_id":5657224675483,"position":7,"created_at":"2020-09-27T02:00:31-07:00","updated_at":"2020-09-27T02:00:31-07:00","alt":null,"width":1500,"height":1226,"src":"https:\/\/cdn.shopify.com\/s\/files\/1\/0451\/8520\/4379\/products\/91EjZnQJhaL._AC_UL1500.jpg?v=1601197231","variant_ids":[36165032018075,36165032050843,36165032116379,36165032149147,36165032181915,36165032214683,36165032247451,36165032280219]},"available":true,"name":"Women's Walking Shoes Slip-on - Sock Sneakers Ladies Nursing Work Air Cushion Mesh Casual Running Jogging Shoes - All Black \/ 10","public_title":"All Black \/ 10","options":["All Black","10"],"price":4999,"weight":0,"compare_at_price":7585,"inventory_management":null,"barcode":null,"featured_media":{"alt":null,"id":11520268206235,"position":7,"preview_image":{"aspect_ratio":1.223,"height":1226,"width":1500,"src":"https:\/\/cdn.shopify.com\/s\/files\/1\/0451\/8520\/4379\/products\/91EjZnQJhaL._AC_UL1500.jpg?v=1601197231"}},"requires_selling_plan":false,"selling_plan_allocations":[]},{"id":36165032280219,"title":"All Black \/ 11","option1":"All Black","option2":"11","option3":null,"sku":"","requires_shipping":true,"taxable":true,"featured_image":{"id":19345133666459,"product_id":5657224675483,"position":7,"created_at":"2020-09-27T02:00:31-07:00","updated_at":"2020-09-27T02:00:31-07:00","alt":null,"width":1500,"height":1226,"src":"https:\/\/cdn.shopify.com\/s\/files\/1\/0451\/8520\/4379\/products\/91EjZnQJhaL._AC_UL1500.jpg?v=1601197231","variant_ids":[36165032018075,36165032050843,36165032116379,36165032149147,36165032181915,36165032214683,36165032247451,36165032280219]},"available":true,"name":"Women's Walking Shoes Slip-on - Sock Sneakers Ladies Nursing Work Air Cushion Mesh Casual Running Jogging Shoes - All Black \/ 11","public_title":"All Black \/ 11","options":["All Black","11"],"price":4999,"weight":0,"compare_at_price":7585,"inventory_management":null,"barcode":null,"featured_media":{"alt":null,"id":11520268206235,"position":7,"preview_image":{"aspect_ratio":1.223,"height":1226,"width":1500,"src":"https:\/\/cdn.shopify.com\/s\/files\/1\/0451\/8520\/4379\/products\/91EjZnQJhaL._AC_UL1500.jpg?v=1601197231"}},"requires_selling_plan":false,"selling_plan_allocations":[]},{"id":36165032312987,"title":"Dark Grey \/ 5.5","option1":"Dark Grey","option2":"5.5","option3":null,"sku":"","requires_shipping":true,"taxable":true,"featured_image":{"id":19345280237723,"product_id":5657224675483,"position":9,"created_at":"2020-09-27T02:12:10-07:00","updated_at":"2020-09-27T02:12:10-07:00","alt":null,"width":500,"height":500,"src":"https:\/\/cdn.shopify.com\/s\/files\/1\/0451\/8520\/4379\/products\/womens-walking-shoes-slip-on-sock-sneakers-ladies-nursing-work-air-cushion-mesh-casual-running-jogging-shoes-Dark-gray.jpg?v=1601197930","variant_ids":[36165032312987,36165032345755,36165032378523,36165032411291,36165032444059,36165032476827,36165032509595,36165032542363]},"available":true,"name":"Women's Walking Shoes Slip-on - Sock Sneakers Ladies Nursing Work Air Cushion Mesh Casual Running Jogging Shoes - Dark Grey \/ 5.5","public_title":"Dark Grey \/ 5.5","options":["Dark Grey","5.5"],"price":4999,"weight":0,"compare_at_price":7585,"inventory_management":null,"barcode":null,"featured_media":{"alt":null,"id":11520414417051,"position":9,"preview_image":{"aspect_ratio":1.0,"height":500,"width":500,"src":"https:\/\/cdn.shopify.com\/s\/files\/1\/0451\/8520\/4379\/products\/womens-walking-shoes-slip-on-sock-sneakers-ladies-nursing-work-air-cushion-mesh-casual-running-jogging-shoes-Dark-gray.jpg?v=1601197930"}},"requires_selling_plan":false,"selling_plan_allocations":[]},{"id":36165032345755,"title":"Dark Grey \/ 6.5","option1":"Dark Grey","option2":"6.5","option3":null,"sku":"","requires_shipping":true,"taxable":true,"featured_image":{"id":19345280237723,"product_id":5657224675483,"position":9,"created_at":"2020-09-27T02:12:10-07:00","updated_at":"2020-09-27T02:12:10-07:00","alt":null,"width":500,"height":500,"src":"https:\/\/cdn.shopify.com\/s\/files\/1\/0451\/8520\/4379\/products\/womens-walking-shoes-slip-on-sock-sneakers-ladies-nursing-work-air-cushion-mesh-casual-running-jogging-shoes-Dark-gray.jpg?v=1601197930","variant_ids":[36165032312987,36165032345755,36165032378523,36165032411291,36165032444059,36165032476827,36165032509595,36165032542363]},"available":true,"name":"Women's Walking Shoes Slip-on - Sock Sneakers Ladies Nursing Work Air Cushion Mesh Casual Running Jogging Shoes - Dark Grey \/ 6.5","public_title":"Dark Grey \/ 6.5","options":["Dark Grey","6.5"],"price":4999,"weight":0,"compare_at_price":7585,"inventory_management":null,"barcode":null,"featured_media":{"alt":null,"id":11520414417051,"position":9,"preview_image":{"aspect_ratio":1.0,"height":500,"width":500,"src":"https:\/\/cdn.shopify.com\/s\/files\/1\/0451\/8520\/4379\/products\/womens-walking-shoes-slip-on-sock-sneakers-ladies-nursing-work-air-cushion-mesh-casual-running-jogging-shoes-Dark-gray.jpg?v=1601197930"}},"requires_selling_plan":false,"selling_plan_allocations":[]},{"id":36165032378523,"title":"Dark Grey \/ 7","option1":"Dark Grey","option2":"7","option3":null,"sku":"","requires_shipping":true,"taxable":true,"featured_image":{"id":19345280237723,"product_id":5657224675483,"position":9,"created_at":"2020-09-27T02:12:10-07:00","updated_at":"2020-09-27T02:12:10-07:00","alt":null,"width":500,"height":500,"src":"https:\/\/cdn.shopify.com\/s\/files\/1\/0451\/8520\/4379\/products\/womens-walking-shoes-slip-on-sock-sneakers-ladies-nursing-work-air-cushion-mesh-casual-running-jogging-shoes-Dark-gray.jpg?v=1601197930","variant_ids":[36165032312987,36165032345755,36165032378523,36165032411291,36165032444059,36165032476827,36165032509595,36165032542363]},"available":true,"name":"Women's Walking Shoes Slip-on - Sock Sneakers Ladies Nursing Work Air Cushion Mesh Casual Running Jogging Shoes - Dark Grey \/ 7","public_title":"Dark Grey \/ 7","options":["Dark Grey","7"],"price":4999,"weight":0,"compare_at_price":7585,"inventory_management":null,"barcode":null,"featured_media":{"alt":null,"id":11520414417051,"position":9,"preview_image":{"aspect_ratio":1.0,"height":500,"width":500,"src":"https:\/\/cdn.shopify.com\/s\/files\/1\/0451\/8520\/4379\/products\/womens-walking-shoes-slip-on-sock-sneakers-ladies-nursing-work-air-cushion-mesh-casual-running-jogging-shoes-Dark-gray.jpg?v=1601197930"}},"requires_selling_plan":false,"selling_plan_allocations":[]},{"id":36165032411291,"title":"Dark Grey \/ 8","option1":"Dark Grey","option2":"8","option3":null,"sku":"","requires_shipping":true,"taxable":true,"featured_image":{"id":19345280237723,"product_id":5657224675483,"position":9,"created_at":"2020-09-27T02:12:10-07:00","updated_at":"2020-09-27T02:12:10-07:00","alt":null,"width":500,"height":500,"src":"https:\/\/cdn.shopify.com\/s\/files\/1\/0451\/8520\/4379\/products\/womens-walking-shoes-slip-on-sock-sneakers-ladies-nursing-work-air-cushion-mesh-casual-running-jogging-shoes-Dark-gray.jpg?v=1601197930","variant_ids":[36165032312987,36165032345755,36165032378523,36165032411291,36165032444059,36165032476827,36165032509595,36165032542363]},"available":true,"name":"Women's Walking Shoes Slip-on - Sock Sneakers Ladies Nursing Work Air Cushion Mesh Casual Running Jogging Shoes - Dark Grey \/ 8","public_title":"Dark Grey \/ 8","options":["Dark Grey","8"],"price":4999,"weight":0,"compare_at_price":7585,"inventory_management":null,"barcode":null,"featured_media":{"alt":null,"id":11520414417051,"position":9,"preview_image":{"aspect_ratio":1.0,"height":500,"width":500,"src":"https:\/\/cdn.shopify.com\/s\/files\/1\/0451\/8520\/4379\/products\/womens-walking-shoes-slip-on-sock-sneakers-ladies-nursing-work-air-cushion-mesh-casual-running-jogging-shoes-Dark-gray.jpg?v=1601197930"}},"requires_selling_plan":false,"selling_plan_allocations":[]},{"id":36165032444059,"title":"Dark Grey \/ 8.5","option1":"Dark Grey","option2":"8.5","option3":null,"sku":"","requires_shipping":true,"taxable":true,"featured_image":{"id":19345280237723,"product_id":5657224675483,"position":9,"created_at":"2020-09-27T02:12:10-07:00","updated_at":"2020-09-27T02:12:10-07:00","alt":null,"width":500,"height":500,"src":"https:\/\/cdn.shopify.com\/s\/files\/1\/0451\/8520\/4379\/products\/womens-walking-shoes-slip-on-sock-sneakers-ladies-nursing-work-air-cushion-mesh-casual-running-jogging-shoes-Dark-gray.jpg?v=1601197930","variant_ids":[36165032312987,36165032345755,36165032378523,36165032411291,36165032444059,36165032476827,36165032509595,36165032542363]},"available":true,"name":"Women's Walking Shoes Slip-on - Sock Sneakers Ladies Nursing Work Air Cushion Mesh Casual Running Jogging Shoes - Dark Grey \/ 8.5","public_title":"Dark Grey \/ 8.5","options":["Dark Grey","8.5"],"price":4999,"weight":0,"compare_at_price":7585,"inventory_management":null,"barcode":null,"featured_media":{"alt":null,"id":11520414417051,"position":9,"preview_image":{"aspect_ratio":1.0,"height":500,"width":500,"src":"https:\/\/cdn.shopify.com\/s\/files\/1\/0451\/8520\/4379\/products\/womens-walking-shoes-slip-on-sock-sneakers-ladies-nursing-work-air-cushion-mesh-casual-running-jogging-shoes-Dark-gray.jpg?v=1601197930"}},"requires_selling_plan":false,"selling_plan_allocations":[]},{"id":36165032476827,"title":"Dark Grey \/ 9.5","option1":"Dark Grey","option2":"9.5","option3":null,"sku":"","requires_shipping":true,"taxable":true,"featured_image":{"id":19345280237723,"product_id":5657224675483,"position":9,"created_at":"2020-09-27T02:12:10-07:00","updated_at":"2020-09-27T02:12:10-07:00","alt":null,"width":500,"height":500,"src":"https:\/\/cdn.shopify.com\/s\/files\/1\/0451\/8520\/4379\/products\/womens-walking-shoes-slip-on-sock-sneakers-ladies-nursing-work-air-cushion-mesh-casual-running-jogging-shoes-Dark-gray.jpg?v=1601197930","variant_ids":[36165032312987,36165032345755,36165032378523,36165032411291,36165032444059,36165032476827,36165032509595,36165032542363]},"available":true,"name":"Women's Walking Shoes Slip-on - Sock Sneakers Ladies Nursing Work Air Cushion Mesh Casual Running Jogging Shoes - Dark Grey \/ 9.5","public_title":"Dark Grey \/ 9.5","options":["Dark Grey","9.5"],"price":4999,"weight":0,"compare_at_price":7585,"inventory_management":null,"barcode":null,"featured_media":{"alt":null,"id":11520414417051,"position":9,"preview_image":{"aspect_ratio":1.0,"height":500,"width":500,"src":"https:\/\/cdn.shopify.com\/s\/files\/1\/0451\/8520\/4379\/products\/womens-walking-shoes-slip-on-sock-sneakers-ladies-nursing-work-air-cushion-mesh-casual-running-jogging-shoes-Dark-gray.jpg?v=1601197930"}},"requires_selling_plan":false,"selling_plan_allocations":[]},{"id":36165032509595,"title":"Dark Grey \/ 10","option1":"Dark Grey","option2":"10","option3":null,"sku":"","requires_shipping":true,"taxable":true,"featured_image":{"id":19345280237723,"product_id":5657224675483,"position":9,"created_at":"2020-09-27T02:12:10-07:00","updated_at":"2020-09-27T02:12:10-07:00","alt":null,"width":500,"height":500,"src":"https:\/\/cdn.shopify.com\/s\/files\/1\/0451\/8520\/4379\/products\/womens-walking-shoes-slip-on-sock-sneakers-ladies-nursing-work-air-cushion-mesh-casual-running-jogging-shoes-Dark-gray.jpg?v=1601197930","variant_ids":[36165032312987,36165032345755,36165032378523,36165032411291,36165032444059,36165032476827,36165032509595,36165032542363]},"available":true,"name":"Women's Walking Shoes Slip-on - Sock Sneakers Ladies Nursing Work Air Cushion Mesh Casual Running Jogging Shoes - Dark Grey \/ 10","public_title":"Dark Grey \/ 10","options":["Dark Grey","10"],"price":4999,"weight":0,"compare_at_price":7585,"inventory_management":null,"barcode":null,"featured_media":{"alt":null,"id":11520414417051,"position":9,"preview_image":{"aspect_ratio":1.0,"height":500,"width":500,"src":"https:\/\/cdn.shopify.com\/s\/files\/1\/0451\/8520\/4379\/products\/womens-walking-shoes-slip-on-sock-sneakers-ladies-nursing-work-air-cushion-mesh-casual-running-jogging-shoes-Dark-gray.jpg?v=1601197930"}},"requires_selling_plan":false,"selling_plan_allocations":[]},{"id":36165032542363,"title":"Dark Grey \/ 11","option1":"Dark Grey","option2":"11","option3":null,"sku":"","requires_shipping":true,"taxable":true,"featured_image":{"id":19345280237723,"product_id":5657224675483,"position":9,"created_at":"2020-09-27T02:12:10-07:00","updated_at":"2020-09-27T02:12:10-07:00","alt":null,"width":500,"height":500,"src":"https:\/\/cdn.shopify.com\/s\/files\/1\/0451\/8520\/4379\/products\/womens-walking-shoes-slip-on-sock-sneakers-ladies-nursing-work-air-cushion-mesh-casual-running-jogging-shoes-Dark-gray.jpg?v=1601197930","variant_ids":[36165032312987,36165032345755,36165032378523,36165032411291,36165032444059,36165032476827,36165032509595,36165032542363]},"available":true,"name":"Women's Walking Shoes Slip-on - Sock Sneakers Ladies Nursing Work Air Cushion Mesh Casual Running Jogging Shoes - Dark Grey \/ 11","public_title":"Dark Grey \/ 11","options":["Dark Grey","11"],"price":4999,"weight":0,"compare_at_price":7585,"inventory_management":null,"barcode":null,"featured_media":{"alt":null,"id":11520414417051,"position":9,"preview_image":{"aspect_ratio":1.0,"height":500,"width":500,"src":"https:\/\/cdn.shopify.com\/s\/files\/1\/0451\/8520\/4379\/products\/womens-walking-shoes-slip-on-sock-sneakers-ladies-nursing-work-air-cushion-mesh-casual-running-jogging-shoes-Dark-gray.jpg?v=1601197930"}},"requires_selling_plan":false,"selling_plan_allocations":[]},{"id":36165032575131,"title":"Dark Purple \/ 5.5","option1":"Dark Purple","option2":"5.5","option3":null,"sku":"","requires_shipping":true,"taxable":true,"featured_image":{"id":19345280204955,"product_id":5657224675483,"position":10,"created_at":"2020-09-27T02:12:10-07:00","updated_at":"2020-09-27T02:12:10-07:00","alt":null,"width":500,"height":500,"src":"https:\/\/cdn.shopify.com\/s\/files\/1\/0451\/8520\/4379\/products\/womens-walking-shoes-slip-on-sock-sneakers-ladies-nursing-work-air-cushion-mesh-casual-running-jogging-shoes-dark-purple.jpg?v=1601197930","variant_ids":[36165032575131,36165032607899,36165032640667,36165032673435,36165032706203,36165032738971,36165032771739,36165032804507]},"available":true,"name":"Women's Walking Shoes Slip-on - Sock Sneakers Ladies Nursing Work Air Cushion Mesh Casual Running Jogging Shoes - Dark Purple \/ 5.5","public_title":"Dark Purple \/ 5.5","options":["Dark Purple","5.5"],"price":4999,"weight":0,"compare_at_price":7585,"inventory_management":null,"barcode":null,"featured_media":{"alt":null,"id":11520414449819,"position":10,"preview_image":{"aspect_ratio":1.0,"height":500,"width":500,"src":"https:\/\/cdn.shopify.com\/s\/files\/1\/0451\/8520\/4379\/products\/womens-walking-shoes-slip-on-sock-sneakers-ladies-nursing-work-air-cushion-mesh-casual-running-jogging-shoes-dark-purple.jpg?v=1601197930"}},"requires_selling_plan":false,"selling_plan_allocations":[]},{"id":36165032607899,"title":"Dark Purple \/ 6.5","option1":"Dark Purple","option2":"6.5","option3":null,"sku":"","requires_shipping":true,"taxable":true,"featured_image":{"id":19345280204955,"product_id":5657224675483,"position":10,"created_at":"2020-09-27T02:12:10-07:00","updated_at":"2020-09-27T02:12:10-07:00","alt":null,"width":500,"height":500,"src":"https:\/\/cdn.shopify.com\/s\/files\/1\/0451\/8520\/4379\/products\/womens-walking-shoes-slip-on-sock-sneakers-ladies-nursing-work-air-cushion-mesh-casual-running-jogging-shoes-dark-purple.jpg?v=1601197930","variant_ids":[36165032575131,36165032607899,36165032640667,36165032673435,36165032706203,36165032738971,36165032771739,36165032804507]},"available":true,"name":"Women's Walking Shoes Slip-on - Sock Sneakers Ladies Nursing Work Air Cushion Mesh Casual Running Jogging Shoes - Dark Purple \/ 6.5","public_title":"Dark Purple \/ 6.5","options":["Dark Purple","6.5"],"price":4999,"weight":0,"compare_at_price":7585,"inventory_management":null,"barcode":null,"featured_media":{"alt":null,"id":11520414449819,"position":10,"preview_image":{"aspect_ratio":1.0,"height":500,"width":500,"src":"https:\/\/cdn.shopify.com\/s\/files\/1\/0451\/8520\/4379\/products\/womens-walking-shoes-slip-on-sock-sneakers-ladies-nursing-work-air-cushion-mesh-casual-running-jogging-shoes-dark-purple.jpg?v=1601197930"}},"requires_selling_plan":false,"selling_plan_allocations":[]},{"id":36165032640667,"title":"Dark Purple \/ 7","option1":"Dark Purple","option2":"7","option3":null,"sku":"","requires_shipping":true,"taxable":true,"featured_image":{"id":19345280204955,"product_id":5657224675483,"position":10,"created_at":"2020-09-27T02:12:10-07:00","updated_at":"2020-09-27T02:12:10-07:00","alt":null,"width":500,"height":500,"src":"https:\/\/cdn.shopify.com\/s\/files\/1\/0451\/8520\/4379\/products\/womens-walking-shoes-slip-on-sock-sneakers-ladies-nursing-work-air-cushion-mesh-casual-running-jogging-shoes-dark-purple.jpg?v=1601197930","variant_ids":[36165032575131,36165032607899,36165032640667,36165032673435,36165032706203,36165032738971,36165032771739,36165032804507]},"available":true,"name":"Women's Walking Shoes Slip-on - Sock Sneakers Ladies Nursing Work Air Cushion Mesh Casual Running Jogging Shoes - Dark Purple \/ 7","public_title":"Dark Purple \/ 7","options":["Dark Purple","7"],"price":4999,"weight":0,"compare_at_price":7585,"inventory_management":null,"barcode":null,"featured_media":{"alt":null,"id":11520414449819,"position":10,"preview_image":{"aspect_ratio":1.0,"height":500,"width":500,"src":"https:\/\/cdn.shopify.com\/s\/files\/1\/0451\/8520\/4379\/products\/womens-walking-shoes-slip-on-sock-sneakers-ladies-nursing-work-air-cushion-mesh-casual-running-jogging-shoes-dark-purple.jpg?v=1601197930"}},"requires_selling_plan":false,"selling_plan_allocations":[]},{"id":36165032673435,"title":"Dark Purple \/ 8","option1":"Dark Purple","option2":"8","option3":null,"sku":"","requires_shipping":true,"taxable":true,"featured_image":{"id":19345280204955,"product_id":5657224675483,"position":10,"created_at":"2020-09-27T02:12:10-07:00","updated_at":"2020-09-27T02:12:10-07:00","alt":null,"width":500,"height":500,"src":"https:\/\/cdn.shopify.com\/s\/files\/1\/0451\/8520\/4379\/products\/womens-walking-shoes-slip-on-sock-sneakers-ladies-nursing-work-air-cushion-mesh-casual-running-jogging-shoes-dark-purple.jpg?v=1601197930","variant_ids":[36165032575131,36165032607899,36165032640667,36165032673435,36165032706203,36165032738971,36165032771739,36165032804507]},"available":true,"name":"Women's Walking Shoes Slip-on - Sock Sneakers Ladies Nursing Work Air Cushion Mesh Casual Running Jogging Shoes - Dark Purple \/ 8","public_title":"Dark Purple \/ 8","options":["Dark Purple","8"],"price":4999,"weight":0,"compare_at_price":7585,"inventory_management":null,"barcode":null,"featured_media":{"alt":null,"id":11520414449819,"position":10,"preview_image":{"aspect_ratio":1.0,"height":500,"width":500,"src":"https:\/\/cdn.shopify.com\/s\/files\/1\/0451\/8520\/4379\/products\/womens-walking-shoes-slip-on-sock-sneakers-ladies-nursing-work-air-cushion-mesh-casual-running-jogging-shoes-dark-purple.jpg?v=1601197930"}},"requires_selling_plan":false,"selling_plan_allocations":[]},{"id":36165032706203,"title":"Dark Purple \/ 8.5","option1":"Dark Purple","option2":"8.5","option3":null,"sku":"","requires_shipping":true,"taxable":true,"featured_image":{"id":19345280204955,"product_id":5657224675483,"position":10,"created_at":"2020-09-27T02:12:10-07:00","updated_at":"2020-09-27T02:12:10-07:00","alt":null,"width":500,"height":500,"src":"https:\/\/cdn.shopify.com\/s\/files\/1\/0451\/8520\/4379\/products\/womens-walking-shoes-slip-on-sock-sneakers-ladies-nursing-work-air-cushion-mesh-casual-running-jogging-shoes-dark-purple.jpg?v=1601197930","variant_ids":[36165032575131,36165032607899,36165032640667,36165032673435,36165032706203,36165032738971,36165032771739,36165032804507]},"available":true,"name":"Women's Walking Shoes Slip-on - Sock Sneakers Ladies Nursing Work Air Cushion Mesh Casual Running Jogging Shoes - Dark Purple \/ 8.5","public_title":"Dark Purple \/ 8.5","options":["Dark Purple","8.5"],"price":4999,"weight":0,"compare_at_price":7585,"inventory_management":null,"barcode":null,"featured_media":{"alt":null,"id":11520414449819,"position":10,"preview_image":{"aspect_ratio":1.0,"height":500,"width":500,"src":"https:\/\/cdn.shopify.com\/s\/files\/1\/0451\/8520\/4379\/products\/womens-walking-shoes-slip-on-sock-sneakers-ladies-nursing-work-air-cushion-mesh-casual-running-jogging-shoes-dark-purple.jpg?v=1601197930"}},"requires_selling_plan":false,"selling_plan_allocations":[]},{"id":36165032738971,"title":"Dark Purple \/ 9.5","option1":"Dark Purple","option2":"9.5","option3":null,"sku":"","requires_shipping":true,"taxable":true,"featured_image":{"id":19345280204955,"product_id":5657224675483,"position":10,"created_at":"2020-09-27T02:12:10-07:00","updated_at":"2020-09-27T02:12:10-07:00","alt":null,"width":500,"height":500,"src":"https:\/\/cdn.shopify.com\/s\/files\/1\/0451\/8520\/4379\/products\/womens-walking-shoes-slip-on-sock-sneakers-ladies-nursing-work-air-cushion-mesh-casual-running-jogging-shoes-dark-purple.jpg?v=1601197930","variant_ids":[36165032575131,36165032607899,36165032640667,36165032673435,36165032706203,36165032738971,36165032771739,36165032804507]},"available":true,"name":"Women's Walking Shoes Slip-on - Sock Sneakers Ladies Nursing Work Air Cushion Mesh Casual Running Jogging Shoes - Dark Purple \/ 9.5","public_title":"Dark Purple \/ 9.5","options":["Dark Purple","9.5"],"price":4999,"weight":0,"compare_at_price":7585,"inventory_management":null,"barcode":null,"featured_media":{"alt":null,"id":11520414449819,"position":10,"preview_image":{"aspect_ratio":1.0,"height":500,"width":500,"src":"https:\/\/cdn.shopify.com\/s\/files\/1\/0451\/8520\/4379\/products\/womens-walking-shoes-slip-on-sock-sneakers-ladies-nursing-work-air-cushion-mesh-casual-running-jogging-shoes-dark-purple.jpg?v=1601197930"}},"requires_selling_plan":false,"selling_plan_allocations":[]},{"id":36165032771739,"title":"Dark Purple \/ 10","option1":"Dark Purple","option2":"10","option3":null,"sku":"","requires_shipping":true,"taxable":true,"featured_image":{"id":19345280204955,"product_id":5657224675483,"position":10,"created_at":"2020-09-27T02:12:10-07:00","updated_at":"2020-09-27T02:12:10-07:00","alt":null,"width":500,"height":500,"src":"https:\/\/cdn.shopify.com\/s\/files\/1\/0451\/8520\/4379\/products\/womens-walking-shoes-slip-on-sock-sneakers-ladies-nursing-work-air-cushion-mesh-casual-running-jogging-shoes-dark-purple.jpg?v=1601197930","variant_ids":[36165032575131,36165032607899,36165032640667,36165032673435,36165032706203,36165032738971,36165032771739,36165032804507]},"available":true,"name":"Women's Walking Shoes Slip-on - Sock Sneakers Ladies Nursing Work Air Cushion Mesh Casual Running Jogging Shoes - Dark Purple \/ 10","public_title":"Dark Purple \/ 10","options":["Dark Purple","10"],"price":4999,"weight":0,"compare_at_price":7585,"inventory_management":null,"barcode":null,"featured_media":{"alt":null,"id":11520414449819,"position":10,"preview_image":{"aspect_ratio":1.0,"height":500,"width":500,"src":"https:\/\/cdn.shopify.com\/s\/files\/1\/0451\/8520\/4379\/products\/womens-walking-shoes-slip-on-sock-sneakers-ladies-nursing-work-air-cushion-mesh-casual-running-jogging-shoes-dark-purple.jpg?v=1601197930"}},"requires_selling_plan":false,"selling_plan_allocations":[]},{"id":36165032804507,"title":"Dark Purple \/ 11","option1":"Dark Purple","option2":"11","option3":null,"sku":"","requires_shipping":true,"taxable":true,"featured_image":{"id":19345280204955,"product_id":5657224675483,"position":10,"created_at":"2020-09-27T02:12:10-07:00","updated_at":"2020-09-27T02:12:10-07:00","alt":null,"width":500,"height":500,"src":"https:\/\/cdn.shopify.com\/s\/files\/1\/0451\/8520\/4379\/products\/womens-walking-shoes-slip-on-sock-sneakers-ladies-nursing-work-air-cushion-mesh-casual-running-jogging-shoes-dark-purple.jpg?v=1601197930","variant_ids":[36165032575131,36165032607899,36165032640667,36165032673435,36165032706203,36165032738971,36165032771739,36165032804507]},"available":true,"name":"Women's Walking Shoes Slip-on - Sock Sneakers Ladies Nursing Work Air Cushion Mesh Casual Running Jogging Shoes - Dark Purple \/ 11","public_title":"Dark Purple \/ 11","options":["Dark Purple","11"],"price":4999,"weight":0,"compare_at_price":7585,"inventory_management":null,"barcode":null,"featured_media":{"alt":null,"id":11520414449819,"position":10,"preview_image":{"aspect_ratio":1.0,"height":500,"width":500,"src":"https:\/\/cdn.shopify.com\/s\/files\/1\/0451\/8520\/4379\/products\/womens-walking-shoes-slip-on-sock-sneakers-ladies-nursing-work-air-cushion-mesh-casual-running-jogging-shoes-dark-purple.jpg?v=1601197930"}},"requires_selling_plan":false,"selling_plan_allocations":[]},{"id":36165032837275,"title":"Light Blue \/ 5.5","option1":"Light Blue","option2":"5.5","option3":null,"sku":"","requires_shipping":true,"taxable":true,"featured_image":{"id":19345280565403,"product_id":5657224675483,"position":11,"created_at":"2020-09-27T02:12:11-07:00","updated_at":"2020-09-27T02:12:11-07:00","alt":null,"width":500,"height":500,"src":"https:\/\/cdn.shopify.com\/s\/files\/1\/0451\/8520\/4379\/products\/womens-walking-shoes-slip-on-sock-sneakers-ladies-nursing-work-air-cushion-mesh-casual-running-jogging-shoes-light-blue.jpg?v=1601197931","variant_ids":[36165032837275,36165032870043,36165032902811,36165032935579,36165032968347,36165033001115,36165033033883,36165033066651]},"available":true,"name":"Women's Walking Shoes Slip-on - Sock Sneakers Ladies Nursing Work Air Cushion Mesh Casual Running Jogging Shoes - Light Blue \/ 5.5","public_title":"Light Blue \/ 5.5","options":["Light Blue","5.5"],"price":4999,"weight":0,"compare_at_price":7585,"inventory_management":null,"barcode":null,"featured_media":{"alt":null,"id":11520414482587,"position":11,"preview_image":{"aspect_ratio":1.0,"height":500,"width":500,"src":"https:\/\/cdn.shopify.com\/s\/files\/1\/0451\/8520\/4379\/products\/womens-walking-shoes-slip-on-sock-sneakers-ladies-nursing-work-air-cushion-mesh-casual-running-jogging-shoes-light-blue.jpg?v=1601197931"}},"requires_selling_plan":false,"selling_plan_allocations":[]},{"id":36165032870043,"title":"Light Blue \/ 6.5","option1":"Light Blue","option2":"6.5","option3":null,"sku":"","requires_shipping":true,"taxable":true,"featured_image":{"id":19345280565403,"product_id":5657224675483,"position":11,"created_at":"2020-09-27T02:12:11-07:00","updated_at":"2020-09-27T02:12:11-07:00","alt":null,"width":500,"height":500,"src":"https:\/\/cdn.shopify.com\/s\/files\/1\/0451\/8520\/4379\/products\/womens-walking-shoes-slip-on-sock-sneakers-ladies-nursing-work-air-cushion-mesh-casual-running-jogging-shoes-light-blue.jpg?v=1601197931","variant_ids":[36165032837275,36165032870043,36165032902811,36165032935579,36165032968347,36165033001115,36165033033883,36165033066651]},"available":true,"name":"Women's Walking Shoes Slip-on - Sock Sneakers Ladies Nursing Work Air Cushion Mesh Casual Running Jogging Shoes - Light Blue \/ 6.5","public_title":"Light Blue \/ 6.5","options":["Light Blue","6.5"],"price":4999,"weight":0,"compare_at_price":7585,"inventory_management":null,"barcode":null,"featured_media":{"alt":null,"id":11520414482587,"position":11,"preview_image":{"aspect_ratio":1.0,"height":500,"width":500,"src":"https:\/\/cdn.shopify.com\/s\/files\/1\/0451\/8520\/4379\/products\/womens-walking-shoes-slip-on-sock-sneakers-ladies-nursing-work-air-cushion-mesh-casual-running-jogging-shoes-light-blue.jpg?v=1601197931"}},"requires_selling_plan":false,"selling_plan_allocations":[]},{"id":36165032902811,"title":"Light Blue \/ 7","option1":"Light Blue","option2":"7","option3":null,"sku":"","requires_shipping":true,"taxable":true,"featured_image":{"id":19345280565403,"product_id":5657224675483,"position":11,"created_at":"2020-09-27T02:12:11-07:00","updated_at":"2020-09-27T02:12:11-07:00","alt":null,"width":500,"height":500,"src":"https:\/\/cdn.shopify.com\/s\/files\/1\/0451\/8520\/4379\/products\/womens-walking-shoes-slip-on-sock-sneakers-ladies-nursing-work-air-cushion-mesh-casual-running-jogging-shoes-light-blue.jpg?v=1601197931","variant_ids":[36165032837275,36165032870043,36165032902811,36165032935579,36165032968347,36165033001115,36165033033883,36165033066651]},"available":true,"name":"Women's Walking Shoes Slip-on - Sock Sneakers Ladies Nursing Work Air Cushion Mesh Casual Running Jogging Shoes - Light Blue \/ 7","public_title":"Light Blue \/ 7","options":["Light Blue","7"],"price":4999,"weight":0,"compare_at_price":7585,"inventory_management":null,"barcode":null,"featured_media":{"alt":null,"id":11520414482587,"position":11,"preview_image":{"aspect_ratio":1.0,"height":500,"width":500,"src":"https:\/\/cdn.shopify.com\/s\/files\/1\/0451\/8520\/4379\/products\/womens-walking-shoes-slip-on-sock-sneakers-ladies-nursing-work-air-cushion-mesh-casual-running-jogging-shoes-light-blue.jpg?v=1601197931"}},"requires_selling_plan":false,"selling_plan_allocations":[]},{"id":36165032935579,"title":"Light Blue \/ 8","option1":"Light Blue","option2":"8","option3":null,"sku":"","requires_shipping":true,"taxable":true,"featured_image":{"id":19345280565403,"product_id":5657224675483,"position":11,"created_at":"2020-09-27T02:12:11-07:00","updated_at":"2020-09-27T02:12:11-07:00","alt":null,"width":500,"height":500,"src":"https:\/\/cdn.shopify.com\/s\/files\/1\/0451\/8520\/4379\/products\/womens-walking-shoes-slip-on-sock-sneakers-ladies-nursing-work-air-cushion-mesh-casual-running-jogging-shoes-light-blue.jpg?v=1601197931","variant_ids":[36165032837275,36165032870043,36165032902811,36165032935579,36165032968347,36165033001115,36165033033883,36165033066651]},"available":true,"name":"Women's Walking Shoes Slip-on - Sock Sneakers Ladies Nursing Work Air Cushion Mesh Casual Running Jogging Shoes - Light Blue \/ 8","public_title":"Light Blue \/ 8","options":["Light Blue","8"],"price":4999,"weight":0,"compare_at_price":7585,"inventory_management":null,"barcode":null,"featured_media":{"alt":null,"id":11520414482587,"position":11,"preview_image":{"aspect_ratio":1.0,"height":500,"width":500,"src":"https:\/\/cdn.shopify.com\/s\/files\/1\/0451\/8520\/4379\/products\/womens-walking-shoes-slip-on-sock-sneakers-ladies-nursing-work-air-cushion-mesh-casual-running-jogging-shoes-light-blue.jpg?v=1601197931"}},"requires_selling_plan":false,"selling_plan_allocations":[]},{"id":36165032968347,"title":"Light Blue \/ 8.5","option1":"Light Blue","option2":"8.5","option3":null,"sku":"","requires_shipping":true,"taxable":true,"featured_image":{"id":19345280565403,"product_id":5657224675483,"position":11,"created_at":"2020-09-27T02:12:11-07:00","updated_at":"2020-09-27T02:12:11-07:00","alt":null,"width":500,"height":500,"src":"https:\/\/cdn.shopify.com\/s\/files\/1\/0451\/8520\/4379\/products\/womens-walking-shoes-slip-on-sock-sneakers-ladies-nursing-work-air-cushion-mesh-casual-running-jogging-shoes-light-blue.jpg?v=1601197931","variant_ids":[36165032837275,36165032870043,36165032902811,36165032935579,36165032968347,36165033001115,36165033033883,36165033066651]},"available":true,"name":"Women's Walking Shoes Slip-on - Sock Sneakers Ladies Nursing Work Air Cushion Mesh Casual Running Jogging Shoes - Light Blue \/ 8.5","public_title":"Light Blue \/ 8.5","options":["Light Blue","8.5"],"price":4999,"weight":0,"compare_at_price":7585,"inventory_management":null,"barcode":null,"featured_media":{"alt":null,"id":11520414482587,"position":11,"preview_image":{"aspect_ratio":1.0,"height":500,"width":500,"src":"https:\/\/cdn.shopify.com\/s\/files\/1\/0451\/8520\/4379\/products\/womens-walking-shoes-slip-on-sock-sneakers-ladies-nursing-work-air-cushion-mesh-casual-running-jogging-shoes-light-blue.jpg?v=1601197931"}},"requires_selling_plan":false,"selling_plan_allocations":[]},{"id":36165033001115,"title":"Light Blue \/ 9.5","option1":"Light Blue","option2":"9.5","option3":null,"sku":"","requires_shipping":true,"taxable":true,"featured_image":{"id":19345280565403,"product_id":5657224675483,"position":11,"created_at":"2020-09-27T02:12:11-07:00","updated_at":"2020-09-27T02:12:11-07:00","alt":null,"width":500,"height":500,"src":"https:\/\/cdn.shopify.com\/s\/files\/1\/0451\/8520\/4379\/products\/womens-walking-shoes-slip-on-sock-sneakers-ladies-nursing-work-air-cushion-mesh-casual-running-jogging-shoes-light-blue.jpg?v=1601197931","variant_ids":[36165032837275,36165032870043,36165032902811,36165032935579,36165032968347,36165033001115,36165033033883,36165033066651]},"available":true,"name":"Women's Walking Shoes Slip-on - Sock Sneakers Ladies Nursing Work Air Cushion Mesh Casual Running Jogging Shoes - Light Blue \/ 9.5","public_title":"Light Blue \/ 9.5","options":["Light Blue","9.5"],"price":4999,"weight":0,"compare_at_price":7585,"inventory_management":null,"barcode":null,"featured_media":{"alt":null,"id":11520414482587,"position":11,"preview_image":{"aspect_ratio":1.0,"height":500,"width":500,"src":"https:\/\/cdn.shopify.com\/s\/files\/1\/0451\/8520\/4379\/products\/womens-walking-shoes-slip-on-sock-sneakers-ladies-nursing-work-air-cushion-mesh-casual-running-jogging-shoes-light-blue.jpg?v=1601197931"}},"requires_selling_plan":false,"selling_plan_allocations":[]},{"id":36165033033883,"title":"Light Blue \/ 10","option1":"Light Blue","option2":"10","option3":null,"sku":"","requires_shipping":true,"taxable":true,"featured_image":{"id":19345280565403,"product_id":5657224675483,"position":11,"created_at":"2020-09-27T02:12:11-07:00","updated_at":"2020-09-27T02:12:11-07:00","alt":null,"width":500,"height":500,"src":"https:\/\/cdn.shopify.com\/s\/files\/1\/0451\/8520\/4379\/products\/womens-walking-shoes-slip-on-sock-sneakers-ladies-nursing-work-air-cushion-mesh-casual-running-jogging-shoes-light-blue.jpg?v=1601197931","variant_ids":[36165032837275,36165032870043,36165032902811,36165032935579,36165032968347,36165033001115,36165033033883,36165033066651]},"available":true,"name":"Women's Walking Shoes Slip-on - Sock Sneakers Ladies Nursing Work Air Cushion Mesh Casual Running Jogging Shoes - Light Blue \/ 10","public_title":"Light Blue \/ 10","options":["Light Blue","10"],"price":4999,"weight":0,"compare_at_price":7585,"inventory_management":null,"barcode":null,"featured_media":{"alt":null,"id":11520414482587,"position":11,"preview_image":{"aspect_ratio":1.0,"height":500,"width":500,"src":"https:\/\/cdn.shopify.com\/s\/files\/1\/0451\/8520\/4379\/products\/womens-walking-shoes-slip-on-sock-sneakers-ladies-nursing-work-air-cushion-mesh-casual-running-jogging-shoes-light-blue.jpg?v=1601197931"}},"requires_selling_plan":false,"selling_plan_allocations":[]},{"id":36165033066651,"title":"Light Blue \/ 11","option1":"Light Blue","option2":"11","option3":null,"sku":"","requires_shipping":true,"taxable":true,"featured_image":{"id":19345280565403,"product_id":5657224675483,"position":11,"created_at":"2020-09-27T02:12:11-07:00","updated_at":"2020-09-27T02:12:11-07:00","alt":null,"width":500,"height":500,"src":"https:\/\/cdn.shopify.com\/s\/files\/1\/0451\/8520\/4379\/products\/womens-walking-shoes-slip-on-sock-sneakers-ladies-nursing-work-air-cushion-mesh-casual-running-jogging-shoes-light-blue.jpg?v=1601197931","variant_ids":[36165032837275,36165032870043,36165032902811,36165032935579,36165032968347,36165033001115,36165033033883,36165033066651]},"available":true,"name":"Women's Walking Shoes Slip-on - Sock Sneakers Ladies Nursing Work Air Cushion Mesh Casual Running Jogging Shoes - Light Blue \/ 11","public_title":"Light Blue \/ 11","options":["Light Blue","11"],"price":4999,"weight":0,"compare_at_price":7585,"inventory_management":null,"barcode":null,"featured_media":{"alt":null,"id":11520414482587,"position":11,"preview_image":{"aspect_ratio":1.0,"height":500,"width":500,"src":"https:\/\/cdn.shopify.com\/s\/files\/1\/0451\/8520\/4379\/products\/womens-walking-shoes-slip-on-sock-sneakers-ladies-nursing-work-air-cushion-mesh-casual-running-jogging-shoes-light-blue.jpg?v=1601197931"}},"requires_selling_plan":false,"selling_plan_allocations":[]},{"id":36165033099419,"title":"Light Grey \/ 5.5","option1":"Light Grey","option2":"5.5","option3":null,"sku":"","requires_shipping":true,"taxable":true,"featured_image":{"id":19345280106651,"product_id":5657224675483,"position":12,"created_at":"2020-09-27T02:12:10-07:00","updated_at":"2020-09-27T02:12:11-07:00","alt":null,"width":500,"height":500,"src":"https:\/\/cdn.shopify.com\/s\/files\/1\/0451\/8520\/4379\/products\/womens-walking-shoes-slip-on-sock-sneakers-ladies-nursing-work-air-cushion-mesh-casual-running-jogging-shoes-light-grey.jpg?v=1601197931","variant_ids":[36165033099419,36165033132187,36165033164955,36165033197723,36165033230491,36165033263259,36165033296027,36165033328795]},"available":true,"name":"Women's Walking Shoes Slip-on - Sock Sneakers Ladies Nursing Work Air Cushion Mesh Casual Running Jogging Shoes - Light Grey \/ 5.5","public_title":"Light Grey \/ 5.5","options":["Light Grey","5.5"],"price":4999,"weight":0,"compare_at_price":7585,"inventory_management":null,"barcode":null,"featured_media":{"alt":null,"id":11520414515355,"position":12,"preview_image":{"aspect_ratio":1.0,"height":500,"width":500,"src":"https:\/\/cdn.shopify.com\/s\/files\/1\/0451\/8520\/4379\/products\/womens-walking-shoes-slip-on-sock-sneakers-ladies-nursing-work-air-cushion-mesh-casual-running-jogging-shoes-light-grey.jpg?v=1601197930"}},"requires_selling_plan":false,"selling_plan_allocations":[]},{"id":36165033132187,"title":"Light Grey \/ 6.5","option1":"Light Grey","option2":"6.5","option3":null,"sku":"","requires_shipping":true,"taxable":true,"featured_image":{"id":19345280106651,"product_id":5657224675483,"position":12,"created_at":"2020-09-27T02:12:10-07:00","updated_at":"2020-09-27T02:12:11-07:00","alt":null,"width":500,"height":500,"src":"https:\/\/cdn.shopify.com\/s\/files\/1\/0451\/8520\/4379\/products\/womens-walking-shoes-slip-on-sock-sneakers-ladies-nursing-work-air-cushion-mesh-casual-running-jogging-shoes-light-grey.jpg?v=1601197931","variant_ids":[36165033099419,36165033132187,36165033164955,36165033197723,36165033230491,36165033263259,36165033296027,36165033328795]},"available":true,"name":"Women's Walking Shoes Slip-on - Sock Sneakers Ladies Nursing Work Air Cushion Mesh Casual Running Jogging Shoes - Light Grey \/ 6.5","public_title":"Light Grey \/ 6.5","options":["Light Grey","6.5"],"price":4999,"weight":0,"compare_at_price":7585,"inventory_management":null,"barcode":null,"featured_media":{"alt":null,"id":11520414515355,"position":12,"preview_image":{"aspect_ratio":1.0,"height":500,"width":500,"src":"https:\/\/cdn.shopify.com\/s\/files\/1\/0451\/8520\/4379\/products\/womens-walking-shoes-slip-on-sock-sneakers-ladies-nursing-work-air-cushion-mesh-casual-running-jogging-shoes-light-grey.jpg?v=1601197930"}},"requires_selling_plan":false,"selling_plan_allocations":[]},{"id":36165033164955,"title":"Light Grey \/ 7","option1":"Light Grey","option2":"7","option3":null,"sku":"","requires_shipping":true,"taxable":true,"featured_image":{"id":19345280106651,"product_id":5657224675483,"position":12,"created_at":"2020-09-27T02:12:10-07:00","updated_at":"2020-09-27T02:12:11-07:00","alt":null,"width":500,"height":500,"src":"https:\/\/cdn.shopify.com\/s\/files\/1\/0451\/8520\/4379\/products\/womens-walking-shoes-slip-on-sock-sneakers-ladies-nursing-work-air-cushion-mesh-casual-running-jogging-shoes-light-grey.jpg?v=1601197931","variant_ids":[36165033099419,36165033132187,36165033164955,36165033197723,36165033230491,36165033263259,36165033296027,36165033328795]},"available":true,"name":"Women's Walking Shoes Slip-on - Sock Sneakers Ladies Nursing Work Air Cushion Mesh Casual Running Jogging Shoes - Light Grey \/ 7","public_title":"Light Grey \/ 7","options":["Light Grey","7"],"price":4999,"weight":0,"compare_at_price":7585,"inventory_management":null,"barcode":null,"featured_media":{"alt":null,"id":11520414515355,"position":12,"preview_image":{"aspect_ratio":1.0,"height":500,"width":500,"src":"https:\/\/cdn.shopify.com\/s\/files\/1\/0451\/8520\/4379\/products\/womens-walking-shoes-slip-on-sock-sneakers-ladies-nursing-work-air-cushion-mesh-casual-running-jogging-shoes-light-grey.jpg?v=1601197930"}},"requires_selling_plan":false,"selling_plan_allocations":[]},{"id":36165033197723,"title":"Light Grey \/ 8","option1":"Light Grey","option2":"8","option3":null,"sku":"","requires_shipping":true,"taxable":true,"featured_image":{"id":19345280106651,"product_id":5657224675483,"position":12,"created_at":"2020-09-27T02:12:10-07:00","updated_at":"2020-09-27T02:12:11-07:00","alt":null,"width":500,"height":500,"src":"https:\/\/cdn.shopify.com\/s\/files\/1\/0451\/8520\/4379\/products\/womens-walking-shoes-slip-on-sock-sneakers-ladies-nursing-work-air-cushion-mesh-casual-running-jogging-shoes-light-grey.jpg?v=1601197931","variant_ids":[36165033099419,36165033132187,36165033164955,36165033197723,36165033230491,36165033263259,36165033296027,36165033328795]},"available":true,"name":"Women's Walking Shoes Slip-on - Sock Sneakers Ladies Nursing Work Air Cushion Mesh Casual Running Jogging Shoes - Light Grey \/ 8","public_title":"Light Grey \/ 8","options":["Light Grey","8"],"price":4999,"weight":0,"compare_at_price":7585,"inventory_management":null,"barcode":null,"featured_media":{"alt":null,"id":11520414515355,"position":12,"preview_image":{"aspect_ratio":1.0,"height":500,"width":500,"src":"https:\/\/cdn.shopify.com\/s\/files\/1\/0451\/8520\/4379\/products\/womens-walking-shoes-slip-on-sock-sneakers-ladies-nursing-work-air-cushion-mesh-casual-running-jogging-shoes-light-grey.jpg?v=1601197930"}},"requires_selling_plan":false,"selling_plan_allocations":[]},{"id":36165033230491,"title":"Light Grey \/ 8.5","option1":"Light Grey","option2":"8.5","option3":null,"sku":"","requires_shipping":true,"taxable":true,"featured_image":{"id":19345280106651,"product_id":5657224675483,"position":12,"created_at":"2020-09-27T02:12:10-07:00","updated_at":"2020-09-27T02:12:11-07:00","alt":null,"width":500,"height":500,"src":"https:\/\/cdn.shopify.com\/s\/files\/1\/0451\/8520\/4379\/products\/womens-walking-shoes-slip-on-sock-sneakers-ladies-nursing-work-air-cushion-mesh-casual-running-jogging-shoes-light-grey.jpg?v=1601197931","variant_ids":[36165033099419,36165033132187,36165033164955,36165033197723,36165033230491,36165033263259,36165033296027,36165033328795]},"available":true,"name":"Women's Walking Shoes Slip-on - Sock Sneakers Ladies Nursing Work Air Cushion Mesh Casual Running Jogging Shoes - Light Grey \/ 8.5","public_title":"Light Grey \/ 8.5","options":["Light Grey","8.5"],"price":4999,"weight":0,"compare_at_price":7585,"inventory_management":null,"barcode":null,"featured_media":{"alt":null,"id":11520414515355,"position":12,"preview_image":{"aspect_ratio":1.0,"height":500,"width":500,"src":"https:\/\/cdn.shopify.com\/s\/files\/1\/0451\/8520\/4379\/products\/womens-walking-shoes-slip-on-sock-sneakers-ladies-nursing-work-air-cushion-mesh-casual-running-jogging-shoes-light-grey.jpg?v=1601197930"}},"requires_selling_plan":false,"selling_plan_allocations":[]},{"id":36165033263259,"title":"Light Grey \/ 9.5","option1":"Light Grey","option2":"9.5","option3":null,"sku":"","requires_shipping":true,"taxable":true,"featured_image":{"id":19345280106651,"product_id":5657224675483,"position":12,"created_at":"2020-09-27T02:12:10-07:00","updated_at":"2020-09-27T02:12:11-07:00","alt":null,"width":500,"height":500,"src":"https:\/\/cdn.shopify.com\/s\/files\/1\/0451\/8520\/4379\/products\/womens-walking-shoes-slip-on-sock-sneakers-ladies-nursing-work-air-cushion-mesh-casual-running-jogging-shoes-light-grey.jpg?v=1601197931","variant_ids":[36165033099419,36165033132187,36165033164955,36165033197723,36165033230491,36165033263259,36165033296027,36165033328795]},"available":true,"name":"Women's Walking Shoes Slip-on - Sock Sneakers Ladies Nursing Work Air Cushion Mesh Casual Running Jogging Shoes - Light Grey \/ 9.5","public_title":"Light Grey \/ 9.5","options":["Light Grey","9.5"],"price":4999,"weight":0,"compare_at_price":7585,"inventory_management":null,"barcode":null,"featured_media":{"alt":null,"id":11520414515355,"position":12,"preview_image":{"aspect_ratio":1.0,"height":500,"width":500,"src":"https:\/\/cdn.shopify.com\/s\/files\/1\/0451\/8520\/4379\/products\/womens-walking-shoes-slip-on-sock-sneakers-ladies-nursing-work-air-cushion-mesh-casual-running-jogging-shoes-light-grey.jpg?v=1601197930"}},"requires_selling_plan":false,"selling_plan_allocations":[]},{"id":36165033296027,"title":"Light Grey \/ 10","option1":"Light Grey","option2":"10","option3":null,"sku":"","requires_shipping":true,"taxable":true,"featured_image":{"id":19345280106651,"product_id":5657224675483,"position":12,"created_at":"2020-09-27T02:12:10-07:00","updated_at":"2020-09-27T02:12:11-07:00","alt":null,"width":500,"height":500,"src":"https:\/\/cdn.shopify.com\/s\/files\/1\/0451\/8520\/4379\/products\/womens-walking-shoes-slip-on-sock-sneakers-ladies-nursing-work-air-cushion-mesh-casual-running-jogging-shoes-light-grey.jpg?v=1601197931","variant_ids":[36165033099419,36165033132187,36165033164955,36165033197723,36165033230491,36165033263259,36165033296027,36165033328795]},"available":true,"name":"Women's Walking Shoes Slip-on - Sock Sneakers Ladies Nursing Work Air Cushion Mesh Casual Running Jogging Shoes - Light Grey \/ 10","public_title":"Light Grey \/ 10","options":["Light Grey","10"],"price":4999,"weight":0,"compare_at_price":7585,"inventory_management":null,"barcode":null,"featured_media":{"alt":null,"id":11520414515355,"position":12,"preview_image":{"aspect_ratio":1.0,"height":500,"width":500,"src":"https:\/\/cdn.shopify.com\/s\/files\/1\/0451\/8520\/4379\/products\/womens-walking-shoes-slip-on-sock-sneakers-ladies-nursing-work-air-cushion-mesh-casual-running-jogging-shoes-light-grey.jpg?v=1601197930"}},"requires_selling_plan":false,"selling_plan_allocations":[]},{"id":36165033328795,"title":"Light Grey \/ 11","option1":"Light Grey","option2":"11","option3":null,"sku":"","requires_shipping":true,"taxable":true,"featured_image":{"id":19345280106651,"product_id":5657224675483,"position":12,"created_at":"2020-09-27T02:12:10-07:00","updated_at":"2020-09-27T02:12:11-07:00","alt":null,"width":500,"height":500,"src":"https:\/\/cdn.shopify.com\/s\/files\/1\/0451\/8520\/4379\/products\/womens-walking-shoes-slip-on-sock-sneakers-ladies-nursing-work-air-cushion-mesh-casual-running-jogging-shoes-light-grey.jpg?v=1601197931","variant_ids":[36165033099419,36165033132187,36165033164955,36165033197723,36165033230491,36165033263259,36165033296027,36165033328795]},"available":true,"name":"Women's Walking Shoes Slip-on - Sock Sneakers Ladies Nursing Work Air Cushion Mesh Casual Running Jogging Shoes - Light Grey \/ 11","public_title":"Light Grey \/ 11","options":["Light Grey","11"],"price":4999,"weight":0,"compare_at_price":7585,"inventory_management":null,"barcode":null,"featured_media":{"alt":null,"id":11520414515355,"position":12,"preview_image":{"aspect_ratio":1.0,"height":500,"width":500,"src":"https:\/\/cdn.shopify.com\/s\/files\/1\/0451\/8520\/4379\/products\/womens-walking-shoes-slip-on-sock-sneakers-ladies-nursing-work-air-cushion-mesh-casual-running-jogging-shoes-light-grey.jpg?v=1601197930"}},"requires_selling_plan":false,"selling_plan_allocations":[]},{"id":36165033361563,"title":"Navy Blue \/ 5.5","option1":"Navy Blue","option2":"5.5","option3":null,"sku":"","requires_shipping":true,"taxable":true,"featured_image":{"id":19345280499867,"product_id":5657224675483,"position":13,"created_at":"2020-09-27T02:12:11-07:00","updated_at":"2020-09-27T02:12:11-07:00","alt":null,"width":500,"height":500,"src":"https:\/\/cdn.shopify.com\/s\/files\/1\/0451\/8520\/4379\/products\/womens-walking-shoes-slip-on-sock-sneakers-ladies-nursing-work-air-cushion-mesh-casual-running-jogging-shoes-Navy-blue.jpg?v=1601197931","variant_ids":[36165033361563,36165033394331,36165033427099,36165033459867,36165033492635,36165033525403,36165033558171,36165033590939]},"available":true,"name":"Women's Walking Shoes Slip-on - Sock Sneakers Ladies Nursing Work Air Cushion Mesh Casual Running Jogging Shoes - Navy Blue \/ 5.5","public_title":"Navy Blue \/ 5.5","options":["Navy Blue","5.5"],"price":4999,"weight":0,"compare_at_price":7585,"inventory_management":null,"barcode":null,"featured_media":{"alt":null,"id":11520414548123,"position":13,"preview_image":{"aspect_ratio":1.0,"height":500,"width":500,"src":"https:\/\/cdn.shopify.com\/s\/files\/1\/0451\/8520\/4379\/products\/womens-walking-shoes-slip-on-sock-sneakers-ladies-nursing-work-air-cushion-mesh-casual-running-jogging-shoes-Navy-blue.jpg?v=1601197931"}},"requires_selling_plan":false,"selling_plan_allocations":[]},{"id":36165033394331,"title":"Navy Blue \/ 6.5","option1":"Navy Blue","option2":"6.5","option3":null,"sku":"","requires_shipping":true,"taxable":true,"featured_image":{"id":19345280499867,"product_id":5657224675483,"position":13,"created_at":"2020-09-27T02:12:11-07:00","updated_at":"2020-09-27T02:12:11-07:00","alt":null,"width":500,"height":500,"src":"https:\/\/cdn.shopify.com\/s\/files\/1\/0451\/8520\/4379\/products\/womens-walking-shoes-slip-on-sock-sneakers-ladies-nursing-work-air-cushion-mesh-casual-running-jogging-shoes-Navy-blue.jpg?v=1601197931","variant_ids":[36165033361563,36165033394331,36165033427099,36165033459867,36165033492635,36165033525403,36165033558171,36165033590939]},"available":true,"name":"Women's Walking Shoes Slip-on - Sock Sneakers Ladies Nursing Work Air Cushion Mesh Casual Running Jogging Shoes - Navy Blue \/ 6.5","public_title":"Navy Blue \/ 6.5","options":["Navy Blue","6.5"],"price":4999,"weight":0,"compare_at_price":7585,"inventory_management":null,"barcode":null,"featured_media":{"alt":null,"id":11520414548123,"position":13,"preview_image":{"aspect_ratio":1.0,"height":500,"width":500,"src":"https:\/\/cdn.shopify.com\/s\/files\/1\/0451\/8520\/4379\/products\/womens-walking-shoes-slip-on-sock-sneakers-ladies-nursing-work-air-cushion-mesh-casual-running-jogging-shoes-Navy-blue.jpg?v=1601197931"}},"requires_selling_plan":false,"selling_plan_allocations":[]},{"id":36165033427099,"title":"Navy Blue \/ 7","option1":"Navy Blue","option2":"7","option3":null,"sku":"","requires_shipping":true,"taxable":true,"featured_image":{"id":19345280499867,"product_id":5657224675483,"position":13,"created_at":"2020-09-27T02:12:11-07:00","updated_at":"2020-09-27T02:12:11-07:00","alt":null,"width":500,"height":500,"src":"https:\/\/cdn.shopify.com\/s\/files\/1\/0451\/8520\/4379\/products\/womens-walking-shoes-slip-on-sock-sneakers-ladies-nursing-work-air-cushion-mesh-casual-running-jogging-shoes-Navy-blue.jpg?v=1601197931","variant_ids":[36165033361563,36165033394331,36165033427099,36165033459867,36165033492635,36165033525403,36165033558171,36165033590939]},"available":true,"name":"Women's Walking Shoes Slip-on - Sock Sneakers Ladies Nursing Work Air Cushion Mesh Casual Running Jogging Shoes - Navy Blue \/ 7","public_title":"Navy Blue \/ 7","options":["Navy Blue","7"],"price":4999,"weight":0,"compare_at_price":7585,"inventory_management":null,"barcode":null,"featured_media":{"alt":null,"id":11520414548123,"position":13,"preview_image":{"aspect_ratio":1.0,"height":500,"width":500,"src":"https:\/\/cdn.shopify.com\/s\/files\/1\/0451\/8520\/4379\/products\/womens-walking-shoes-slip-on-sock-sneakers-ladies-nursing-work-air-cushion-mesh-casual-running-jogging-shoes-Navy-blue.jpg?v=1601197931"}},"requires_selling_plan":false,"selling_plan_allocations":[]},{"id":36165033459867,"title":"Navy Blue \/ 8","option1":"Navy Blue","option2":"8","option3":null,"sku":"","requires_shipping":true,"taxable":true,"featured_image":{"id":19345280499867,"product_id":5657224675483,"position":13,"created_at":"2020-09-27T02:12:11-07:00","updated_at":"2020-09-27T02:12:11-07:00","alt":null,"width":500,"height":500,"src":"https:\/\/cdn.shopify.com\/s\/files\/1\/0451\/8520\/4379\/products\/womens-walking-shoes-slip-on-sock-sneakers-ladies-nursing-work-air-cushion-mesh-casual-running-jogging-shoes-Navy-blue.jpg?v=1601197931","variant_ids":[36165033361563,36165033394331,36165033427099,36165033459867,36165033492635,36165033525403,36165033558171,36165033590939]},"available":true,"name":"Women's Walking Shoes Slip-on - Sock Sneakers Ladies Nursing Work Air Cushion Mesh Casual Running Jogging Shoes - Navy Blue \/ 8","public_title":"Navy Blue \/ 8","options":["Navy Blue","8"],"price":4999,"weight":0,"compare_at_price":7585,"inventory_management":null,"barcode":null,"featured_media":{"alt":null,"id":11520414548123,"position":13,"preview_image":{"aspect_ratio":1.0,"height":500,"width":500,"src":"https:\/\/cdn.shopify.com\/s\/files\/1\/0451\/8520\/4379\/products\/womens-walking-shoes-slip-on-sock-sneakers-ladies-nursing-work-air-cushion-mesh-casual-running-jogging-shoes-Navy-blue.jpg?v=1601197931"}},"requires_selling_plan":false,"selling_plan_allocations":[]},{"id":36165033492635,"title":"Navy Blue \/ 8.5","option1":"Navy Blue","option2":"8.5","option3":null,"sku":"","requires_shipping":true,"taxable":true,"featured_image":{"id":19345280499867,"product_id":5657224675483,"position":13,"created_at":"2020-09-27T02:12:11-07:00","updated_at":"2020-09-27T02:12:11-07:00","alt":null,"width":500,"height":500,"src":"https:\/\/cdn.shopify.com\/s\/files\/1\/0451\/8520\/4379\/products\/womens-walking-shoes-slip-on-sock-sneakers-ladies-nursing-work-air-cushion-mesh-casual-running-jogging-shoes-Navy-blue.jpg?v=1601197931","variant_ids":[36165033361563,36165033394331,36165033427099,36165033459867,36165033492635,36165033525403,36165033558171,36165033590939]},"available":true,"name":"Women's Walking Shoes Slip-on - Sock Sneakers Ladies Nursing Work Air Cushion Mesh Casual Running Jogging Shoes - Navy Blue \/ 8.5","public_title":"Navy Blue \/ 8.5","options":["Navy Blue","8.5"],"price":4999,"weight":0,"compare_at_price":7585,"inventory_management":null,"barcode":null,"featured_media":{"alt":null,"id":11520414548123,"position":13,"preview_image":{"aspect_ratio":1.0,"height":500,"width":500,"src":"https:\/\/cdn.shopify.com\/s\/files\/1\/0451\/8520\/4379\/products\/womens-walking-shoes-slip-on-sock-sneakers-ladies-nursing-work-air-cushion-mesh-casual-running-jogging-shoes-Navy-blue.jpg?v=1601197931"}},"requires_selling_plan":false,"selling_plan_allocations":[]},{"id":36165033525403,"title":"Navy Blue \/ 9.5","option1":"Navy Blue","option2":"9.5","option3":null,"sku":"","requires_shipping":true,"taxable":true,"featured_image":{"id":19345280499867,"product_id":5657224675483,"position":13,"created_at":"2020-09-27T02:12:11-07:00","updated_at":"2020-09-27T02:12:11-07:00","alt":null,"width":500,"height":500,"src":"https:\/\/cdn.shopify.com\/s\/files\/1\/0451\/8520\/4379\/products\/womens-walking-shoes-slip-on-sock-sneakers-ladies-nursing-work-air-cushion-mesh-casual-running-jogging-shoes-Navy-blue.jpg?v=1601197931","variant_ids":[36165033361563,36165033394331,36165033427099,36165033459867,36165033492635,36165033525403,36165033558171,36165033590939]},"available":true,"name":"Women's Walking Shoes Slip-on - Sock Sneakers Ladies Nursing Work Air Cushion Mesh Casual Running Jogging Shoes - Navy Blue \/ 9.5","public_title":"Navy Blue \/ 9.5","options":["Navy Blue","9.5"],"price":4999,"weight":0,"compare_at_price":7585,"inventory_management":null,"barcode":null,"featured_media":{"alt":null,"id":11520414548123,"position":13,"preview_image":{"aspect_ratio":1.0,"height":500,"width":500,"src":"https:\/\/cdn.shopify.com\/s\/files\/1\/0451\/8520\/4379\/products\/womens-walking-shoes-slip-on-sock-sneakers-ladies-nursing-work-air-cushion-mesh-casual-running-jogging-shoes-Navy-blue.jpg?v=1601197931"}},"requires_selling_plan":false,"selling_plan_allocations":[]},{"id":36165033558171,"title":"Navy Blue \/ 10","option1":"Navy Blue","option2":"10","option3":null,"sku":"","requires_shipping":true,"taxable":true,"featured_image":{"id":19345280499867,"product_id":5657224675483,"position":13,"created_at":"2020-09-27T02:12:11-07:00","updated_at":"2020-09-27T02:12:11-07:00","alt":null,"width":500,"height":500,"src":"https:\/\/cdn.shopify.com\/s\/files\/1\/0451\/8520\/4379\/products\/womens-walking-shoes-slip-on-sock-sneakers-ladies-nursing-work-air-cushion-mesh-casual-running-jogging-shoes-Navy-blue.jpg?v=1601197931","variant_ids":[36165033361563,36165033394331,36165033427099,36165033459867,36165033492635,36165033525403,36165033558171,36165033590939]},"available":true,"name":"Women's Walking Shoes Slip-on - Sock Sneakers Ladies Nursing Work Air Cushion Mesh Casual Running Jogging Shoes - Navy Blue \/ 10","public_title":"Navy Blue \/ 10","options":["Navy Blue","10"],"price":4999,"weight":0,"compare_at_price":7585,"inventory_management":null,"barcode":null,"featured_media":{"alt":null,"id":11520414548123,"position":13,"preview_image":{"aspect_ratio":1.0,"height":500,"width":500,"src":"https:\/\/cdn.shopify.com\/s\/files\/1\/0451\/8520\/4379\/products\/womens-walking-shoes-slip-on-sock-sneakers-ladies-nursing-work-air-cushion-mesh-casual-running-jogging-shoes-Navy-blue.jpg?v=1601197931"}},"requires_selling_plan":false,"selling_plan_allocations":[]},{"id":36165033590939,"title":"Navy Blue \/ 11","option1":"Navy Blue","option2":"11","option3":null,"sku":"","requires_shipping":true,"taxable":true,"featured_image":{"id":19345280499867,"product_id":5657224675483,"position":13,"created_at":"2020-09-27T02:12:11-07:00","updated_at":"2020-09-27T02:12:11-07:00","alt":null,"width":500,"height":500,"src":"https:\/\/cdn.shopify.com\/s\/files\/1\/0451\/8520\/4379\/products\/womens-walking-shoes-slip-on-sock-sneakers-ladies-nursing-work-air-cushion-mesh-casual-running-jogging-shoes-Navy-blue.jpg?v=1601197931","variant_ids":[36165033361563,36165033394331,36165033427099,36165033459867,36165033492635,36165033525403,36165033558171,36165033590939]},"available":true,"name":"Women's Walking Shoes Slip-on - Sock Sneakers Ladies Nursing Work Air Cushion Mesh Casual Running Jogging Shoes - Navy Blue \/ 11","public_title":"Navy Blue \/ 11","options":["Navy Blue","11"],"price":4999,"weight":0,"compare_at_price":7585,"inventory_management":null,"barcode":null,"featured_media":{"alt":null,"id":11520414548123,"position":13,"preview_image":{"aspect_ratio":1.0,"height":500,"width":500,"src":"https:\/\/cdn.shopify.com\/s\/files\/1\/0451\/8520\/4379\/products\/womens-walking-shoes-slip-on-sock-sneakers-ladies-nursing-work-air-cushion-mesh-casual-running-jogging-shoes-Navy-blue.jpg?v=1601197931"}},"requires_selling_plan":false,"selling_plan_allocations":[]},{"id":36165033623707,"title":"Red \/ 5.5","option1":"Red","option2":"5.5","option3":null,"sku":"","requires_shipping":true,"taxable":true,"featured_image":{"id":19345280434331,"product_id":5657224675483,"position":14,"created_at":"2020-09-27T02:12:11-07:00","updated_at":"2020-09-27T02:12:11-07:00","alt":null,"width":500,"height":500,"src":"https:\/\/cdn.shopify.com\/s\/files\/1\/0451\/8520\/4379\/products\/womens-walking-shoes-slip-on-sock-sneakers-ladies-nursing-work-air-cushion-mesh-casual-running-jogging-shoes-Red.jpg?v=1601197931","variant_ids":[36165033623707,36165033656475,36165033689243,36165033722011,36165033754779,36165033787547,36165033820315,36165033853083]},"available":true,"name":"Women's Walking Shoes Slip-on - Sock Sneakers Ladies Nursing Work Air Cushion Mesh Casual Running Jogging Shoes - Red \/ 5.5","public_title":"Red \/ 5.5","options":["Red","5.5"],"price":4999,"weight":0,"compare_at_price":7585,"inventory_management":null,"barcode":null,"featured_media":{"alt":null,"id":11520414580891,"position":14,"preview_image":{"aspect_ratio":1.0,"height":500,"width":500,"src":"https:\/\/cdn.shopify.com\/s\/files\/1\/0451\/8520\/4379\/products\/womens-walking-shoes-slip-on-sock-sneakers-ladies-nursing-work-air-cushion-mesh-casual-running-jogging-shoes-Red.jpg?v=1601197931"}},"requires_selling_plan":false,"selling_plan_allocations":[]},{"id":36165033656475,"title":"Red \/ 6.5","option1":"Red","option2":"6.5","option3":null,"sku":"","requires_shipping":true,"taxable":true,"featured_image":{"id":19345280434331,"product_id":5657224675483,"position":14,"created_at":"2020-09-27T02:12:11-07:00","updated_at":"2020-09-27T02:12:11-07:00","alt":null,"width":500,"height":500,"src":"https:\/\/cdn.shopify.com\/s\/files\/1\/0451\/8520\/4379\/products\/womens-walking-shoes-slip-on-sock-sneakers-ladies-nursing-work-air-cushion-mesh-casual-running-jogging-shoes-Red.jpg?v=1601197931","variant_ids":[36165033623707,36165033656475,36165033689243,36165033722011,36165033754779,36165033787547,36165033820315,36165033853083]},"available":true,"name":"Women's Walking Shoes Slip-on - Sock Sneakers Ladies Nursing Work Air Cushion Mesh Casual Running Jogging Shoes - Red \/ 6.5","public_title":"Red \/ 6.5","options":["Red","6.5"],"price":4999,"weight":0,"compare_at_price":7585,"inventory_management":null,"barcode":null,"featured_media":{"alt":null,"id":11520414580891,"position":14,"preview_image":{"aspect_ratio":1.0,"height":500,"width":500,"src":"https:\/\/cdn.shopify.com\/s\/files\/1\/0451\/8520\/4379\/products\/womens-walking-shoes-slip-on-sock-sneakers-ladies-nursing-work-air-cushion-mesh-casual-running-jogging-shoes-Red.jpg?v=1601197931"}},"requires_selling_plan":false,"selling_plan_allocations":[]},{"id":36165033689243,"title":"Red \/ 7","option1":"Red","option2":"7","option3":null,"sku":"","requires_shipping":true,"taxable":true,"featured_image":{"id":19345280434331,"product_id":5657224675483,"position":14,"created_at":"2020-09-27T02:12:11-07:00","updated_at":"2020-09-27T02:12:11-07:00","alt":null,"width":500,"height":500,"src":"https:\/\/cdn.shopify.com\/s\/files\/1\/0451\/8520\/4379\/products\/womens-walking-shoes-slip-on-sock-sneakers-ladies-nursing-work-air-cushion-mesh-casual-running-jogging-shoes-Red.jpg?v=1601197931","variant_ids":[36165033623707,36165033656475,36165033689243,36165033722011,36165033754779,36165033787547,36165033820315,36165033853083]},"available":true,"name":"Women's Walking Shoes Slip-on - Sock Sneakers Ladies Nursing Work Air Cushion Mesh Casual Running Jogging Shoes - Red \/ 7","public_title":"Red \/ 7","options":["Red","7"],"price":4999,"weight":0,"compare_at_price":7585,"inventory_management":null,"barcode":null,"featured_media":{"alt":null,"id":11520414580891,"position":14,"preview_image":{"aspect_ratio":1.0,"height":500,"width":500,"src":"https:\/\/cdn.shopify.com\/s\/files\/1\/0451\/8520\/4379\/products\/womens-walking-shoes-slip-on-sock-sneakers-ladies-nursing-work-air-cushion-mesh-casual-running-jogging-shoes-Red.jpg?v=1601197931"}},"requires_selling_plan":false,"selling_plan_allocations":[]},{"id":36165033722011,"title":"Red \/ 8","option1":"Red","option2":"8","option3":null,"sku":"","requires_shipping":true,"taxable":true,"featured_image":{"id":19345280434331,"product_id":5657224675483,"position":14,"created_at":"2020-09-27T02:12:11-07:00","updated_at":"2020-09-27T02:12:11-07:00","alt":null,"width":500,"height":500,"src":"https:\/\/cdn.shopify.com\/s\/files\/1\/0451\/8520\/4379\/products\/womens-walking-shoes-slip-on-sock-sneakers-ladies-nursing-work-air-cushion-mesh-casual-running-jogging-shoes-Red.jpg?v=1601197931","variant_ids":[36165033623707,36165033656475,36165033689243,36165033722011,36165033754779,36165033787547,36165033820315,36165033853083]},"available":true,"name":"Women's Walking Shoes Slip-on - Sock Sneakers Ladies Nursing Work Air Cushion Mesh Casual Running Jogging Shoes - Red \/ 8","public_title":"Red \/ 8","options":["Red","8"],"price":4999,"weight":0,"compare_at_price":7585,"inventory_management":null,"barcode":null,"featured_media":{"alt":null,"id":11520414580891,"position":14,"preview_image":{"aspect_ratio":1.0,"height":500,"width":500,"src":"https:\/\/cdn.shopify.com\/s\/files\/1\/0451\/8520\/4379\/products\/womens-walking-shoes-slip-on-sock-sneakers-ladies-nursing-work-air-cushion-mesh-casual-running-jogging-shoes-Red.jpg?v=1601197931"}},"requires_selling_plan":false,"selling_plan_allocations":[]},{"id":36165033754779,"title":"Red \/ 8.5","option1":"Red","option2":"8.5","option3":null,"sku":"","requires_shipping":true,"taxable":true,"featured_image":{"id":19345280434331,"product_id":5657224675483,"position":14,"created_at":"2020-09-27T02:12:11-07:00","updated_at":"2020-09-27T02:12:11-07:00","alt":null,"width":500,"height":500,"src":"https:\/\/cdn.shopify.com\/s\/files\/1\/0451\/8520\/4379\/products\/womens-walking-shoes-slip-on-sock-sneakers-ladies-nursing-work-air-cushion-mesh-casual-running-jogging-shoes-Red.jpg?v=1601197931","variant_ids":[36165033623707,36165033656475,36165033689243,36165033722011,36165033754779,36165033787547,36165033820315,36165033853083]},"available":true,"name":"Women's Walking Shoes Slip-on - Sock Sneakers Ladies Nursing Work Air Cushion Mesh Casual Running Jogging Shoes - Red \/ 8.5","public_title":"Red \/ 8.5","options":["Red","8.5"],"price":4999,"weight":0,"compare_at_price":7585,"inventory_management":null,"barcode":null,"featured_media":{"alt":null,"id":11520414580891,"position":14,"preview_image":{"aspect_ratio":1.0,"height":500,"width":500,"src":"https:\/\/cdn.shopify.com\/s\/files\/1\/0451\/8520\/4379\/products\/womens-walking-shoes-slip-on-sock-sneakers-ladies-nursing-work-air-cushion-mesh-casual-running-jogging-shoes-Red.jpg?v=1601197931"}},"requires_selling_plan":false,"selling_plan_allocations":[]},{"id":36165033787547,"title":"Red \/ 9.5","option1":"Red","option2":"9.5","option3":null,"sku":"","requires_shipping":true,"taxable":true,"featured_image":{"id":19345280434331,"product_id":5657224675483,"position":14,"created_at":"2020-09-27T02:12:11-07:00","updated_at":"2020-09-27T02:12:11-07:00","alt":null,"width":500,"height":500,"src":"https:\/\/cdn.shopify.com\/s\/files\/1\/0451\/8520\/4379\/products\/womens-walking-shoes-slip-on-sock-sneakers-ladies-nursing-work-air-cushion-mesh-casual-running-jogging-shoes-Red.jpg?v=1601197931","variant_ids":[36165033623707,36165033656475,36165033689243,36165033722011,36165033754779,36165033787547,36165033820315,36165033853083]},"available":true,"name":"Women's Walking Shoes Slip-on - Sock Sneakers Ladies Nursing Work Air Cushion Mesh Casual Running Jogging Shoes - Red \/ 9.5","public_title":"Red \/ 9.5","options":["Red","9.5"],"price":4999,"weight":0,"compare_at_price":7585,"inventory_management":null,"barcode":null,"featured_media":{"alt":null,"id":11520414580891,"position":14,"preview_image":{"aspect_ratio":1.0,"height":500,"width":500,"src":"https:\/\/cdn.shopify.com\/s\/files\/1\/0451\/8520\/4379\/products\/womens-walking-shoes-slip-on-sock-sneakers-ladies-nursing-work-air-cushion-mesh-casual-running-jogging-shoes-Red.jpg?v=1601197931"}},"requires_selling_plan":false,"selling_plan_allocations":[]},{"id":36165033820315,"title":"Red \/ 10","option1":"Red","option2":"10","option3":null,"sku":"","requires_shipping":true,"taxable":true,"featured_image":{"id":19345280434331,"product_id":5657224675483,"position":14,"created_at":"2020-09-27T02:12:11-07:00","updated_at":"2020-09-27T02:12:11-07:00","alt":null,"width":500,"height":500,"src":"https:\/\/cdn.shopify.com\/s\/files\/1\/0451\/8520\/4379\/products\/womens-walking-shoes-slip-on-sock-sneakers-ladies-nursing-work-air-cushion-mesh-casual-running-jogging-shoes-Red.jpg?v=1601197931","variant_ids":[36165033623707,36165033656475,36165033689243,36165033722011,36165033754779,36165033787547,36165033820315,36165033853083]},"available":true,"name":"Women's Walking Shoes Slip-on - Sock Sneakers Ladies Nursing Work Air Cushion Mesh Casual Running Jogging Shoes - Red \/ 10","public_title":"Red \/ 10","options":["Red","10"],"price":4999,"weight":0,"compare_at_price":7585,"inventory_management":null,"barcode":null,"featured_media":{"alt":null,"id":11520414580891,"position":14,"preview_image":{"aspect_ratio":1.0,"height":500,"width":500,"src":"https:\/\/cdn.shopify.com\/s\/files\/1\/0451\/8520\/4379\/products\/womens-walking-shoes-slip-on-sock-sneakers-ladies-nursing-work-air-cushion-mesh-casual-running-jogging-shoes-Red.jpg?v=1601197931"}},"requires_selling_plan":false,"selling_plan_allocations":[]},{"id":36165033853083,"title":"Red \/ 11","option1":"Red","option2":"11","option3":null,"sku":"","requires_shipping":true,"taxable":true,"featured_image":{"id":19345280434331,"product_id":5657224675483,"position":14,"created_at":"2020-09-27T02:12:11-07:00","updated_at":"2020-09-27T02:12:11-07:00","alt":null,"width":500,"height":500,"src":"https:\/\/cdn.shopify.com\/s\/files\/1\/0451\/8520\/4379\/products\/womens-walking-shoes-slip-on-sock-sneakers-ladies-nursing-work-air-cushion-mesh-casual-running-jogging-shoes-Red.jpg?v=1601197931","variant_ids":[36165033623707,36165033656475,36165033689243,36165033722011,36165033754779,36165033787547,36165033820315,36165033853083]},"available":true,"name":"Women's Walking Shoes Slip-on - Sock Sneakers Ladies Nursing Work Air Cushion Mesh Casual Running Jogging Shoes - Red \/ 11","public_title":"Red \/ 11","options":["Red","11"],"price":4999,"weight":0,"compare_at_price":7585,"inventory_management":null,"barcode":null,"featured_media":{"alt":null,"id":11520414580891,"position":14,"preview_image":{"aspect_ratio":1.0,"height":500,"width":500,"src":"https:\/\/cdn.shopify.com\/s\/files\/1\/0451\/8520\/4379\/products\/womens-walking-shoes-slip-on-sock-sneakers-ladies-nursing-work-air-cushion-mesh-casual-running-jogging-shoes-Red.jpg?v=1601197931"}},"requires_selling_plan":false,"selling_plan_allocations":[]}],"images":["\/\/cdn.shopify.com\/s\/files\/1\/0451\/8520\/4379\/products\/911-PYemqPL._AC_UL1500.jpg?v=1601197231","\/\/cdn.shopify.com\/s\/files\/1\/0451\/8520\/4379\/products\/61ryins_2BfkL._AC_UL1000.jpg?v=1601197231","\/\/cdn.shopify.com\/s\/files\/1\/0451\/8520\/4379\/products\/81uLkNUV5wL._AC_UL1500.jpg?v=1601197231","\/\/cdn.shopify.com\/s\/files\/1\/0451\/8520\/4379\/products\/91Hpb6wYvUL._AC_UL1500.jpg?v=1601197231","\/\/cdn.shopify.com\/s\/files\/1\/0451\/8520\/4379\/products\/81dzyb-2g5L._AC_UL1500.jpg?v=1601197231","\/\/cdn.shopify.com\/s\/files\/1\/0451\/8520\/4379\/products\/91F9dynjMdL._AC_UL1500.jpg?v=1601197231","\/\/cdn.shopify.com\/s\/files\/1\/0451\/8520\/4379\/products\/91EjZnQJhaL._AC_UL1500.jpg?v=1601197231","\/\/cdn.shopify.com\/s\/files\/1\/0451\/8520\/4379\/products\/womens-walking-shoes-slip-on-sock-sneakers-ladies-nursing-work-air-cushion-mesh-casual-running-jogging-shoes-All-black.jpg?v=1601197930","\/\/cdn.shopify.com\/s\/files\/1\/0451\/8520\/4379\/products\/womens-walking-shoes-slip-on-sock-sneakers-ladies-nursing-work-air-cushion-mesh-casual-running-jogging-shoes-Dark-gray.jpg?v=1601197930","\/\/cdn.shopify.com\/s\/files\/1\/0451\/8520\/4379\/products\/womens-walking-shoes-slip-on-sock-sneakers-ladies-nursing-work-air-cushion-mesh-casual-running-jogging-shoes-dark-purple.jpg?v=1601197930","\/\/cdn.shopify.com\/s\/files\/1\/0451\/8520\/4379\/products\/womens-walking-shoes-slip-on-sock-sneakers-ladies-nursing-work-air-cushion-mesh-casual-running-jogging-shoes-light-blue.jpg?v=1601197931","\/\/cdn.shopify.com\/s\/files\/1\/0451\/8520\/4379\/products\/womens-walking-shoes-slip-on-sock-sneakers-ladies-nursing-work-air-cushion-mesh-casual-running-jogging-shoes-light-grey.jpg?v=1601197931","\/\/cdn.shopify.com\/s\/files\/1\/0451\/8520\/4379\/products\/womens-walking-shoes-slip-on-sock-sneakers-ladies-nursing-work-air-cushion-mesh-casual-running-jogging-shoes-Navy-blue.jpg?v=1601197931","\/\/cdn.shopify.com\/s\/files\/1\/0451\/8520\/4379\/products\/womens-walking-shoes-slip-on-sock-sneakers-ladies-nursing-work-air-cushion-mesh-casual-running-jogging-shoes-Red.jpg?v=1601197931"],"featured_image":"\/\/cdn.shopify.com\/s\/files\/1\/0451\/8520\/4379\/products\/911-PYemqPL._AC_UL1500.jpg?v=1601197231","options":["Color","Size"],"media":[{"alt":null,"id":11520267976859,"position":1,"preview_image":{"aspect_ratio":1.02,"height":1471,"width":1500,"src":"https:\/\/cdn.shopify.com\/s\/files\/1\/0451\/8520\/4379\/products\/911-PYemqPL._AC_UL1500.jpg?v=1601197231"},"aspect_ratio":1.02,"height":1471,"media_type":"image","src":"https:\/\/cdn.shopify.com\/s\/files\/1\/0451\/8520\/4379\/products\/911-PYemqPL._AC_UL1500.jpg?v=1601197231","width":1500},{"alt":null,"id":11520268009627,"position":2,"preview_image":{"aspect_ratio":1.256,"height":796,"width":1000,"src":"https:\/\/cdn.shopify.com\/s\/files\/1\/0451\/8520\/4379\/products\/61ryins_2BfkL._AC_UL1000.jpg?v=1601197231"},"aspect_ratio":1.256,"height":796,"media_type":"image","src":"https:\/\/cdn.shopify.com\/s\/files\/1\/0451\/8520\/4379\/products\/61ryins_2BfkL._AC_UL1000.jpg?v=1601197231","width":1000},{"alt":null,"id":11520268075163,"position":3,"preview_image":{"aspect_ratio":0.669,"height":1500,"width":1004,"src":"https:\/\/cdn.shopify.com\/s\/files\/1\/0451\/8520\/4379\/products\/81uLkNUV5wL._AC_UL1500.jpg?v=1601197231"},"aspect_ratio":0.669,"height":1500,"media_type":"image","src":"https:\/\/cdn.shopify.com\/s\/files\/1\/0451\/8520\/4379\/products\/81uLkNUV5wL._AC_UL1500.jpg?v=1601197231","width":1004},{"alt":null,"id":11520268107931,"position":4,"preview_image":{"aspect_ratio":2.355,"height":637,"width":1500,"src":"https:\/\/cdn.shopify.com\/s\/files\/1\/0451\/8520\/4379\/products\/91Hpb6wYvUL._AC_UL1500.jpg?v=1601197231"},"aspect_ratio":2.355,"height":637,"media_type":"image","src":"https:\/\/cdn.shopify.com\/s\/files\/1\/0451\/8520\/4379\/products\/91Hpb6wYvUL._AC_UL1500.jpg?v=1601197231","width":1500},{"alt":null,"id":11520268140699,"position":5,"preview_image":{"aspect_ratio":2.344,"height":640,"width":1500,"src":"https:\/\/cdn.shopify.com\/s\/files\/1\/0451\/8520\/4379\/products\/81dzyb-2g5L._AC_UL1500.jpg?v=1601197231"},"aspect_ratio":2.344,"height":640,"media_type":"image","src":"https:\/\/cdn.shopify.com\/s\/files\/1\/0451\/8520\/4379\/products\/81dzyb-2g5L._AC_UL1500.jpg?v=1601197231","width":1500},{"alt":null,"id":11520268173467,"position":6,"preview_image":{"aspect_ratio":1.761,"height":852,"width":1500,"src":"https:\/\/cdn.shopify.com\/s\/files\/1\/0451\/8520\/4379\/products\/91F9dynjMdL._AC_UL1500.jpg?v=1601197231"},"aspect_ratio":1.761,"height":852,"media_type":"image","src":"https:\/\/cdn.shopify.com\/s\/files\/1\/0451\/8520\/4379\/products\/91F9dynjMdL._AC_UL1500.jpg?v=1601197231","width":1500},{"alt":null,"id":11520268206235,"position":7,"preview_image":{"aspect_ratio":1.223,"height":1226,"width":1500,"src":"https:\/\/cdn.shopify.com\/s\/files\/1\/0451\/8520\/4379\/products\/91EjZnQJhaL._AC_UL1500.jpg?v=1601197231"},"aspect_ratio":1.223,"height":1226,"media_type":"image","src":"https:\/\/cdn.shopify.com\/s\/files\/1\/0451\/8520\/4379\/products\/91EjZnQJhaL._AC_UL1500.jpg?v=1601197231","width":1500},{"alt":null,"id":11520414351515,"position":8,"preview_image":{"aspect_ratio":1.0,"height":500,"width":500,"src":"https:\/\/cdn.shopify.com\/s\/files\/1\/0451\/8520\/4379\/products\/womens-walking-shoes-slip-on-sock-sneakers-ladies-nursing-work-air-cushion-mesh-casual-running-jogging-shoes-All-black.jpg?v=1601197930"},"aspect_ratio":1.0,"height":500,"media_type":"image","src":"https:\/\/cdn.shopify.com\/s\/files\/1\/0451\/8520\/4379\/products\/womens-walking-shoes-slip-on-sock-sneakers-ladies-nursing-work-air-cushion-mesh-casual-running-jogging-shoes-All-black.jpg?v=1601197930","width":500},{"alt":null,"id":11520414417051,"position":9,"preview_image":{"aspect_ratio":1.0,"height":500,"width":500,"src":"https:\/\/cdn.shopify.com\/s\/files\/1\/0451\/8520\/4379\/products\/womens-walking-shoes-slip-on-sock-sneakers-ladies-nursing-work-air-cushion-mesh-casual-running-jogging-shoes-Dark-gray.jpg?v=1601197930"},"aspect_ratio":1.0,"height":500,"media_type":"image","src":"https:\/\/cdn.shopify.com\/s\/files\/1\/0451\/8520\/4379\/products\/womens-walking-shoes-slip-on-sock-sneakers-ladies-nursing-work-air-cushion-mesh-casual-running-jogging-shoes-Dark-gray.jpg?v=1601197930","width":500},{"alt":null,"id":11520414449819,"position":10,"preview_image":{"aspect_ratio":1.0,"height":500,"width":500,"src":"https:\/\/cdn.shopify.com\/s\/files\/1\/0451\/8520\/4379\/products\/womens-walking-shoes-slip-on-sock-sneakers-ladies-nursing-work-air-cushion-mesh-casual-running-jogging-shoes-dark-purple.jpg?v=1601197930"},"aspect_ratio":1.0,"height":500,"media_type":"image","src":"https:\/\/cdn.shopify.com\/s\/files\/1\/0451\/8520\/4379\/products\/womens-walking-shoes-slip-on-sock-sneakers-ladies-nursing-work-air-cushion-mesh-casual-running-jogging-shoes-dark-purple.jpg?v=1601197930","width":500},{"alt":null,"id":11520414482587,"position":11,"preview_image":{"aspect_ratio":1.0,"height":500,"width":500,"src":"https:\/\/cdn.shopify.com\/s\/files\/1\/0451\/8520\/4379\/products\/womens-walking-shoes-slip-on-sock-sneakers-ladies-nursing-work-air-cushion-mesh-casual-running-jogging-shoes-light-blue.jpg?v=1601197931"},"aspect_ratio":1.0,"height":500,"media_type":"image","src":"https:\/\/cdn.shopify.com\/s\/files\/1\/0451\/8520\/4379\/products\/womens-walking-shoes-slip-on-sock-sneakers-ladies-nursing-work-air-cushion-mesh-casual-running-jogging-shoes-light-blue.jpg?v=1601197931","width":500},{"alt":null,"id":11520414515355,"position":12,"preview_image":{"aspect_ratio":1.0,"height":500,"width":500,"src":"https:\/\/cdn.shopify.com\/s\/files\/1\/0451\/8520\/4379\/products\/womens-walking-shoes-slip-on-sock-sneakers-ladies-nursing-work-air-cushion-mesh-casual-running-jogging-shoes-light-grey.jpg?v=1601197930"},"aspect_ratio":1.0,"height":500,"media_type":"image","src":"https:\/\/cdn.shopify.com\/s\/files\/1\/0451\/8520\/4379\/products\/womens-walking-shoes-slip-on-sock-sneakers-ladies-nursing-work-air-cushion-mesh-casual-running-jogging-shoes-light-grey.jpg?v=1601197930","width":500},{"alt":null,"id":11520414548123,"position":13,"preview_image":{"aspect_ratio":1.0,"height":500,"width":500,"src":"https:\/\/cdn.shopify.com\/s\/files\/1\/0451\/8520\/4379\/products\/womens-walking-shoes-slip-on-sock-sneakers-ladies-nursing-work-air-cushion-mesh-casual-running-jogging-shoes-Navy-blue.jpg?v=1601197931"},"aspect_ratio":1.0,"height":500,"media_type":"image","src":"https:\/\/cdn.shopify.com\/s\/files\/1\/0451\/8520\/4379\/products\/womens-walking-shoes-slip-on-sock-sneakers-ladies-nursing-work-air-cushion-mesh-casual-running-jogging-shoes-Navy-blue.jpg?v=1601197931","width":500},{"alt":null,"id":11520414580891,"position":14,"preview_image":{"aspect_ratio":1.0,"height":500,"width":500,"src":"https:\/\/cdn.shopify.com\/s\/files\/1\/0451\/8520\/4379\/products\/womens-walking-shoes-slip-on-sock-sneakers-ladies-nursing-work-air-cushion-mesh-casual-running-jogging-shoes-Red.jpg?v=1601197931"},"aspect_ratio":1.0,"height":500,"media_type":"image","src":"https:\/\/cdn.shopify.com\/s\/files\/1\/0451\/8520\/4379\/products\/womens-walking-shoes-slip-on-sock-sneakers-ladies-nursing-work-air-cushion-mesh-casual-running-jogging-shoes-Red.jpg?v=1601197931","width":500}],"requires_selling_plan":false,"selling_plan_groups":[],"content":"\u003cp\u003e\u003cspan style=\"font-size: 1.4em;\"\u003eMD+Air Cushion sole\u003c\/span\u003e\u003c\/p\u003e\n\u003cp\u003e\u003cbr\u003e\u003cspan style=\"font-size: 1.4em;\"\u003eEASY SLIP-ON DESIGN: Women's walking shoes can be pulled on and off easily.\u003c\/span\u003e\u003c\/p\u003e\n\u003cp\u003e\u003cbr\u003e\u003cspan style=\"font-size: 1.4em;\"\u003eCOMFORTABLE AND BREATHABLE MATERIAL: \u003c\/span\u003e\u003cspan style=\"font-size: 1.4em;\"\u003eThis\u003c\/span\u003e\u003cspan style=\"font-size: 1.4em;\"\u003e road running shoes' Upper with breathable lightweight air fly woven, it is excellent, flexible, and comfortable.\u003c\/span\u003e\u003c\/p\u003e\n\u003cp\u003e\u003cbr\u003e\u003cspan style=\"font-size: 1.4em;\"\u003eMD PLATFORM SOLE: \u003c\/span\u003e\u003cspan style=\"font-size: 1.4em;\"\u003eWomen\u003c\/span\u003e\u003cspan style=\"font-size: 1.4em;\"\u003e sock sneakers' soft updated air-cushion sole is made from durable and MD sole, which provides the user with enough buffer between feet and ground.\u003c\/span\u003e\u003c\/p\u003e\n\u003cp\u003e\u003cbr\u003e\u003cspan style=\"font-size: 1.4em;\"\u003eSUITABLE FOR ALL OCCASION: Daily walking,casual running,nursing,working,tennis,shopping,traveling,long standing,outdoor sports,driving,yoga,pilates,dancing and indoor activities,etc.\u003c\/span\u003e\u003c\/p\u003e\n\u003cp\u003e\u003cspan style=\"font-size: 1.4em;\"\u003e\u003cimg alt=\"\" src=\"https:\/\/cdn.shopifycdn.net\/s\/files\/1\/0451\/8520\/4379\/files\/womens-walking-shoes-slip-on-sock-sneakers-ladies-nursing-work-air-cushion-mesh-casual-running-jogging-shoes-details.jpg?v=1601198233\"\u003e\u003c\/span\u003e\u003c\/p\u003e\n\u003cp\u003e\u003cbr\u003e\u003cspan style=\"font-size: 1.4em;\"\u003eABOUT SIZE: Please refer to our size chart to choose the size. if there's any question, please contact us.\u003c\/span\u003e\u003cbr\u003e\u003c\/p\u003e\n\u003cp\u003e\u003cspan style=\"font-size: 1.4em;\"\u003e\u003cimg alt=\"\" src=\"https:\/\/cdn.shopifycdn.net\/s\/files\/1\/0451\/8520\/4379\/files\/womens-shoe-size-conversion-2020090802.jpg?v=1599529686\" data-mce-selected=\"1\"\u003e\u003c\/span\u003e\u003c\/p\u003e"}
Women's Walking Shoes Slip-on - Sock Sneakers Ladies Nursing Work Air Cushion Mesh Casual Running Jogging Shoes
Product Description
MD+Air Cushion sole

EASY SLIP-ON DESIGN: Women's walking shoes can be pulled on and off easily.

COMFORTABLE AND BREATHABLE MATERIAL: This road running shoes' Upper with breathable lightweight air fly woven, it is excellent, flexible, and comfortable.

MD PLATFORM SOLE: Women sock sneakers' soft updated air-cushion sole is made from durable and MD sole, which provides the user with enough buffer between feet and ground.

SUITABLE FOR ALL OCCASION: Daily walking,casual running,nursing,working,tennis,shopping,traveling,long standing,outdoor sports,driving,yoga,pilates,dancing and indoor activities,etc.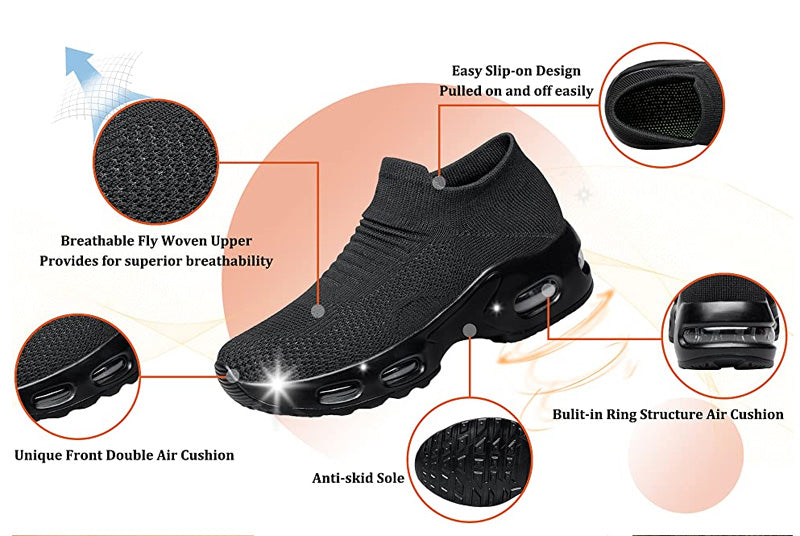 ABOUT SIZE: Please refer to our size chart to choose the size. if there's any question, please contact us.